NCAA Championship Game 2012: Anthony Davis and More Players Who'll Lead Kentucky
April 2, 2012

Ronald Martinez/Getty Images
The Kentucky Wildcats are heavy favorites to win the National Championship.
Anthony Davis, the national player of the year, and others are the reasons why.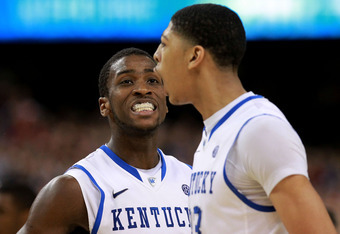 Ronald Martinez/Getty Images
Anthony Davis
The standout freshman forward has been a force for the Wildcats during their run to the National Championship game averaging 15.2 points and 11.6 rebounds in the tournament. Davis has also recorded 23 blocks.
The only game in which Davis was a non-factor was Kentucky's Sweet-16 victory over Indiana.
Despite foul trouble keeping Davis off the court for 15 of the 40 minutes, Kentucky still pulled away from the Hoosiers, winning 102-90, because of the talent around Davis.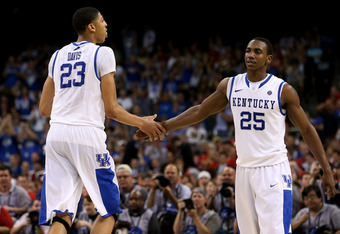 Ronald Martinez/Getty Images
Michael Kidd-Gilchrist
When Davis was on the bench during the Indiana game, Kidd-Gilchrist came to the rescue with his best game of the tournament — 24 points on 7-15 shooting (.467). 
Kidd-Gilchrist's performance carried over into the Elite 8, where he scored 19 points in a blowout victory over Baylor.
If Kentucky wants to cut down the nets tonight, Kidd-Gilchrist will have to be a factor.
Marquis Teague
Kentucky's offense starts with their dynamic point guard, Marquis Teague.
Teague has played at least 30 minutes in each game, and has carried the offense when needed, like when he scored 24 points in a win against Iowa Sate in the Round of 32. 
When these two teams met earlier this season Kentucky dominated, winning 75-65.
With their talent, they should have no problem doing it again.