Felix Mantilla Threw the 1959 Pennant to the Los Angeles Dodgers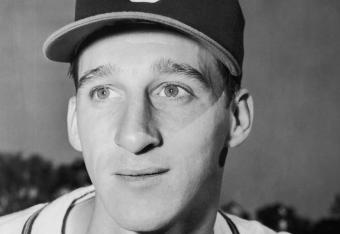 Warren Spahn Before the Braves Left Boston
Getty Images/Getty Images
The newly transplanted Los Angeles Dodgers had finished a dismal seventh their first season away from Brooklyn. Not much was expected for the 1959 season, but in a mediocre National League, the Dodgers won 86 games to tie the Milwaukee Braves for first place.
The teams would meet in a best-of-three playoff series to determine which team would have the opportunity to beat the first Chicago White Sox to play in the World Series since 1919. Everyone knows how that turned out.
On Sept. 28, left-hander Danny McDevitt, who finished the season with a record of 10-8, a 3.97 ERA and a 1.379 WHIP, started for the Dodgers against Carlton Willey at Milwaukee's County Stadium. Willey had finished the season at 5-9 with a 4.15 ERA and a 1.342 WHIP.
The Braves got rid of McDevitt in the second inning when they took a 2-1 lead, but much to their chagrin, they would not score off Larry Sherry, who shut them out the rest of the way. The Dodgers won, 3-2.
The series moved to Los Angeles the next day. Lew Burdette, a 21-game winner, faced the Dodgers' ace, 22-year-old Don Drysdale.
Two interesting asides: Burdette was 21-15 with a 4.07 ERA. Warren Spahn was 21-15 with a 2.96 ERA. So much for the significance of a pitcher's won-lost record as an evaluative measurement. Drysdale was 22 years old. He pitched 270.7 innings in 1959. Burdette worked 289.7 innings while the 38-year-old Spahn had pitched 292 innings. None had his career shortened by arm problems.
The Braves got to Drysdale quickly, scoring a pair of runs in the first inning and another in the second when Burdette singled home Johnny Logan for a 3-1 lead. When Eddie Mathews hit a home run in the fifth for a 4-2 lead, Drysdale walked the next batter—a fellow named Hank Aaron. Johnny Podres took over.
New York Yankees fans watching the game saw two of their team's greatest nemeses facing each other. Podres beat the Yankees in the 1955 World Series and Burdette beat them in 1957.
Going to the Dodgers' half of the ninth inning, the Braves held a seemingly commanding 5-2 lead, but in the 1951 playoff series against the New York Giants, the Dodgers discovered just how safe a three-run lead in the ninth inning really is.
Wally Moon, Duke Snider and Gil Hodges each singled to put the potential tying runs on base. Right-hander Don McMahon replaced Burdette. Imagine Yankees fans being happy that Snider and Hodges had what would become key hits.
Norm Larker, the only Dodger to hit at least .300, greeted McMahon with an opposite-field single to left, scoring two runs. Hodges wound up on third.
Warren Spahn relieved McMahon to face Carl Furillo, who tied the game with a sacrifice fly. When the switch-hitting Maury Wills singled to put Dodgers on first and second with one out, young Joey Jay took over for Spahn and retired the side.
With two outs and the bases empty, Hodges drew a walk off Bob Rush. Joe Pignatano singled Hodges to second, bringing up Furillo. Then shortstop Felix Mantilla made a costly mistake.
Furillo hit a ground ball past the mound and over second base. Mantilla fielded the ball. He probably had no real chance of getting Furillo, but he made a desperate throw toward first base that hit the Dodgers' first-base coach. Hodges scored the run that gave the Dodgers the pennant.
When one mentions "Dodgers" and "playoffs," 1951 and Bobby Thomson usually come to mind. In 1959, the Dodgers mounted a ninth-inning comeback that rivals any in playoff history.
That means real playoffs that were forced by two teams being tied for the pennant, not NLDS or NLCS regularly scheduled games.
This article is
What is the duplicate article?
Why is this article offensive?
Where is this article plagiarized from?
Why is this article poorly edited?

Los Angeles Dodgers: Like this team?