John Calipari Makes It Hard to Root for Kentucky to Win NCAA Tournament
April 2, 2012

Kevin C. Cox/Getty Images
On the one hand, Kentucky is 40 minutes away from finishing off one of the greatest seasons in the history of college basketball with a stellar group of future NBA Stars. On the other hand, the Wildcats are 40 minutes away from John Calipari cutting down a Final Four net for the first time in his career.
As a fan of college basketball, I don't know how anyone can be okay with that.
To be fair, Calipari is a lot of things. He's an amazing recruiter. He's an extremely good coach. He's a tireless worker. He's a charitable soul. He's a known an assumed cheater.
Oh, right, that's why people can't root for Calipari: They think he's a cheater.
There is a reason the third paragraph of Rick Pitino's bio at Louisville starts like this:
The only coach in NCAA history to take three different teams to the NCAA Final Four, Pitino…
Calipari has also taken three schools to the Final Four. In 1996, Calipari led UMass to the Final Four, an honor that was later vacated after the NCAA determined that national player of the year Marcus Camby had accepted thousands of dollars and gifts (including hookers) while at UMass. Calipari claimed to have been unaware of the extra benefits.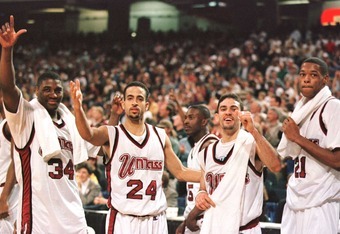 Al Bello/Getty Images
Calipari also seemed to be unaware of how Lou Roe miraculously became eligible to play at UMass when nobody in America thought the Atlantic City star would ever qualify for school. That situation played itself out again at Memphis (after a lengthy stop in the NBA before rebooting his college coaching career) when academic eligibility questions followed Calipari down south. 
In the wake of the scandal surrounding current Bulls All-Star Derrick Rose's invalid SAT scores, Calipari had his second Final Four erased.
It surely didn't stop him from moving up in the college basketball world, as Calipari jumped ship from Memphis for Kentucky five months before the NCAA investigation was completed. Calipari was already deep into his first recruiting class at Kentucky before the ink was dry on the sanctions at Memphis.
Now that he's coaching in his second Final Four at Kentucky, college basketball fans are left wondering how this run will be remembered in a few years. Heck, fans are left wondering if this run will be remembered—at least in the NCAA record books—in a few years. 
Throughout his collegiate coaching career, Calipari hasn't just beaten the system, he became the system.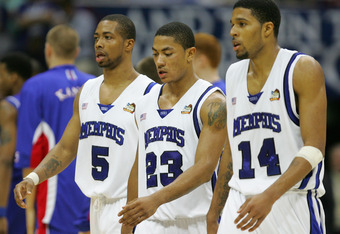 Streeter Lecka/Getty Images
The NBA didn't care about extra benefits or some questionable academic issues when Cal left UMass to head the Nets. The NBA only cares about winning. Calipari was an easy hire. 
Years had passed since his time with the Minutemen, giving Memphis an easy excuse to forget about his past transgressions in the college game. Calipari was an easy hire.
When Kentucky hired Calipari, they needed a coach who could win and win right away in the wake of the Billy Gillispie termination. Calipari was the right guy at the right time, making a smooth transition from Memphis to Kentucky. Again, Calipari was an easy hire. 
Then the Memphis shoe dropped. 
Shoe? Vacating 38 wins and a trip to the Final Four was more like a piano dropping. Calipari was able to step out of the way just before it landed.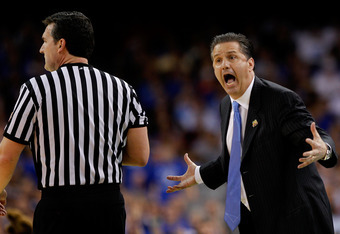 Chris Graythen/Getty Images
Now at Kentucky, Calipari has again compiled a run of great teams, making two straight Final Fours following a year where Kentucky just missed the Final Four as a No. 1 seed in the NCAA Tournament.
Fans are left wondering when that other shoe (or piano) is going to drop.
Has Calipari suddenly changed now that he's at one of the storied institutions in the country? Do his teams no longer need to beat the system or take fliers on kids who are academic liabilities? Are we to assume there are no recruiting, academic or extra benefit violations going on with his one-or-two-and-done NBA factory in Lexington? (Note: this doesn't even include the back-and-forth Enes Kanter situation.)
Calipari is not the first coach to succeed with questionable methods. Jim Calhoun created a mess at Connecticut before they won the title last season. Syracuse has been embroiled in controversy all season, something like likes of Kentucky has never seen under Calipari, and Jim Boeheim almost got the Orange back to the Final Four as a No. 1 seed. 
Calipari may not even be the worst offender in his field. It's just that he's the best at it.
He has perfected the system all other coaches are trying to beat, and that angers a lot of people who must face the fact that just 40 minutes stand between Calipari and climbing a ladder to cut down his first championship net.
If that happens, will we have to wait for the NCAA to tell us if it really happened?