Kentucky vs. Kansas: Elijah Johnson and More Championship Game X-Factors
April 2, 2012

Dilip Vishwanat/Getty Images
The 2012 NCAA Tournament is concluding tonight with an epic championship game between two of the all-time greatest schools in college basketball.
Kentucky is a heavy favorite because of Anthony Davis, Michael Kidd-Gilchrist and its other superstar freshman, but Kansas has the experience and heart to pull off an upset on the shoulders of Thomas Robinson.
Let's take a look at a few X-factors who must come up big if they want to insure their respective team a chance to win. 
Kentucky
Doron Lamb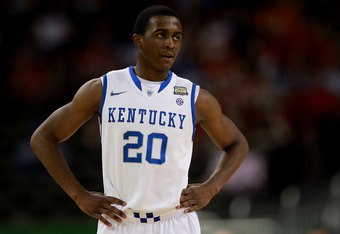 Ronald Martinez/Getty Images
Lamb has the ability to fill it up from outside, as evidenced by his five of eight performance from three against Iowa State in the Wildcats' second tournament game.
However, he has only hit two long-range shots since that March 17 game and should be looking to find his stroke against Kansas.
If he does, Kentucky will have no problem winning this thing.
Darius Miler
Miller is the rare senior logging significant minutes on a team full of youthful superstars.
He's been providing much-needed leadership and veteran savvy off the bench and must continue that role tonight to finish his collegiate career off right.
Kansas
Elijah Johnson
Johnson has finally harnessed the talent that the Jayhawks knew he had inside of him.
Against Ohio State, he came up with 10 huge rebounds to go along with his 13 points on 66.7 percent shooting.
If Johnson can continue stroking the rock with great accuracy and play bigger than his 6'4" frame, his team may just get the upset victory.
Travis Releford
The junior guard played nearly the entire game against the Buckeyes and did not disappoint.
He chipped in an unexpected 15 points, six rebounds, two steals and an assist while burying a three-pointer for good measure.
You cannot ask for more, and Releford has to repeat that performance if the Jayhawks want to keep it close.