Major League Soccer Power Rankings Week 4: Galaxy Lose Big to Revs
April 2, 2012

Joe Scarnici/Getty Images
Sporting Kansas City continues to truck along while the New York Red Bulls finally live up to expectations and the Los Angeles Galaxy continue to fall apart. 
1. Sporting Kansas City (4-0-0, 12 pts.) Kansas City beat a Chivas team coming off the high of winning at Real Salt Lake to keep its perfect record.
2. San Jose Earthquakes (3-1-0, 9 pts.) Winning in Seattle isn't easy, but San Jose did it with a Chris Wondolowski penalty and stalwart defense. 
3. Vancouver Whitecaps (2-0-2, 8 pts.) Another draw for the Whitecaps and another goalless game for a team full of attacking potential. But Martin Rennie will be happy to show off his team's impenetrable defense. Goals will come, and when they do, look out because the Whitecaps will be untouchable if they keep playing this kind of defense.
4. Real Salt Lake (3-1-0, 9 pts.) Coming off a tough loss to Chivas at home, what does RSL do? It makes an impossible looking comeback in Portland to steal three points from the Timbers. Things look normal again.
5. Colorado Rapids (3-1-0, 9 pts.) The Rapids keep plodding along. Another good win this week with a 2-0 win at home over Chicago,
6. Seattle Sounders (2-1-0, 6 pts.) San Jose's defense is proving a tough nut to crack, but if there was any team that could do it, it would be the Sounders at home. Things didn't work out for the Sounders, but there is still plenty of positives to take from the game.
7. Houston Dynamo (2-1-0, 6 pts.) No game for the Dynamo this week or next week.
8. New York Red Bulls (2-2-0, 6 pts.) Thierry Henry and Kenny Cooper look almost unstoppable together. A solid 5-2 drumming of Montreal was good, but there are still questions to be answered of Hans Backe's backline.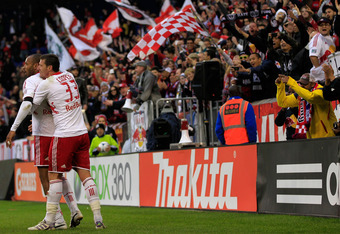 Chris Trotman/Getty Images
9. New England Revolution (2-0-2, 6 pts.) The Galaxy didn't lose the game against the Revs. New England dominated the reigning MLS Cup and Supporter's Shield winners from start to finish on Saturday night. It was an impressive win for a young team on the rise. Is anyone questioning the hiring of Jay Heaps right now? Probably not.
10. Columbus Crew (2-1-0, 6 pts.) The Crew come back every year with a new cast of characters, and every year they plod along with solid performances week in and week out. Beating a tired Toronto side was expected, but it doesn't mean it was easy.
11. Los Angeles Galaxy (1-2-0, 3 pts.) It was ugly at the Home Depot Center on Saturday night as the Galaxy were embarrassed by the Revolution, 3-1. Beckham came off at halftime for "tactical reasons." Things are getting interesting in the city of Angels again.
12. FC Dallas (1-2-1, 4 pts.) Injuries have crushed the Hoops. After losing to D.C., Dallas now has to host a confident New England team on a short week. 
13. D.C. United (1-2-1, 4 pts.) Ben Olsen has his team playing with heart, and the 4-1 defeat of F.C. Dallas was exactly what he expected of his team at home. 
14. Portland Timbers (1-2-1, 4 pts.) The Timbers have the MLS player of the future in Darlington Nagbe, but right now John Spencer needs to find a way to get his team to play for a full 90 minutes. The loss to Salt Lake was heart breaking. 
15. Chicago Fire (1-2-1, 4 pts.) A week off will do Chicago good after its loss to Colorado. 
16. Chivas USA (1-0-3, 3 pts.) After upsetting RSL at Rio Tinto, Chivas had another chance to upset a top-tier team. Instead, Sporting Kansas City showed its class, and Chivas finds itself again looking for answers.
17. Montreal Impact (0-3-1, 1 pts.) There was hope for much of the game against New York. Then, Henry turned on his magic and the Impact had no answers, which, to be fair, most teams won't have either. 
18. Toronto FC (0-3-0, 0 pts.) Toronto is still searching for its first league win, but a 1-1 draw with Santos Laguna in the CONCACAF Champions League at home showed this team has potential to move up. Now it just has to survive in Mexico, something Seattle failed to do.
19. Philadelphia Union (0-3-1, 1 pts.) The Union got its first point. But there are still too many questions surrounding this team (i.e. who will score?).