Masters Predictions 2012: Tiger Woods and Top 5 Contenders
April 2, 2012

Ross Kinnaird/Getty Images
The top golfers in the world will congregate next week for the Masters at Augusta National Golf Club.
There will be 100 or so players in the 2012 Masters field, but in reality, there will only be five or six true contenders not named Tiger Woods.  Here is a listing of the top five with the best odds of winning. 
Tiger Woods, coming off his first win in over three years at the Arnold Palmer Invitational, is listed by Ladbrokes (www.ladbrokes.com) as the betting favorite at 4/1.
In the 2010 and 2011 Masters, Tiger definitely was not at the top of his game and still managed to post T-4 both years.  He revels in the history of Augusta National and it is a perfect track for him.  He always performs well there.
With his recent win at the Palmer, he has jumped back into the top 10 on the Official World Golf Rankings (OWGR) and he has moved up 24 spots to seventh in the FedEx Cup standings. 
Tiger is driving the ball better than ever.  He is having a problem controlling exact distance with his short irons and that could be a huge problem at Augusta National where precise iron shots to exact spots on the severely undulating greens are essential.  His putting is still a little suspect, but appears to be improving.
Tiger's last win at the Masters was in 2005, but he does have four Green Jackets in his closet. 
Will he add a fifth in 2012 and get one major title closer to Jack Nicklaus?
Twenty-two-year-old Rory McIlroy is ranked No. 2 in the world, No. 2 on the FedEx Cup, and is the reigning U. S. Open Champion.  He is rated as a 5/1 favorite to don the Green Jacket on Sunday.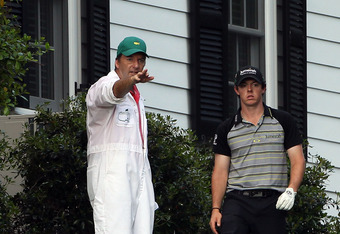 Andrew Redington/Getty Images
Rory had the 2011 Masters well in hand with a four-shot lead heading into the final round.  An errant tee shot on the 10th resulted in a triple bogy and a four-putt double on the 12th hole knocked him out of contention and fell to a T-15 finish.  
Rory jumped ahead of Luke Donald as the No. 1 ranked player in the world for two weeks this year after his win at the Honda Classic. 
Even though Luke Donald regained the top spot and is ahead of McIlroy in the OWGR, most golf fans feel that Rory is the best player in the world right now.
Rory led the 2011 Masters for 63 holes.  Just two months after his fiasco at Augusta, he won the 2011 U. S. Open in spectacular fashion.  He knows what it takes to win here and he has the talent to finish the job this year.
Three-time Masters champion Phil Mickelson is one of the favorites to win the 2012 Masters at 10/1.
Phil took down Tiger Woods in grand fashion with his AT&T win at Pebble Beach earlier this year.  He followed up the next week with a runner-up finish at the Northern Trust Open at Riviera where he lost in a playoff to Bill Haas.
He seems to be re-energized and appears to be on top of his game heading into Augusta.
2011 PGA Tour Player of the Year, Luke Donald is next at 14/1 odds for the win.
Luke had four worldwide wins, won the PGA and European Tours Money Titles and took over the top spot on the OWGR last year.  For most golfers, that would be a career.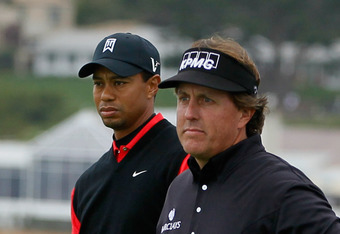 Jeff Gross/Getty Images
He has done everything to be recognized as one of the elite golfers in the world except win a major championship.
Donald definitely does not get the respect that he deserves from the golf community because of that slight flaw in an otherwise perfect golf game.
His total focus in 2012 is on winning majors.  The only problem with that is Tiger, Phil, Lee and Rory are focusing on the same thing.  It gets pretty crowded at the top.
He has the short game to handle the severe greens and the occasional errant tee shot won't hurt him nearly as much with the forgiving rough on Augusta National. 
Control players with outstanding short games like; Larry Mize, Mike Weir, and Zach Johnson have won the Masters in the past. 
Why can't Luke Donald win it this year?
Lee Westwood is ranked No. 3 on the OWGR and has committed to play more events on the PGA Tour.  He is obviously one of the best in the world from tee to green. 
At 16/1 odds for the win, this might be a sucker bet.
Lee's chipping may not hold up to the tightly cut fairways and run off areas around the greens.  If his long irons into the greens are off just a bit, he will find himself with 3-putts waiting to happen over the elephant burial grounds that are Augusta National's greens.
Westwood has had an exceptional career.  He has been a top European player for many years.  He like Luke Donald needs a major to assure his place in golf history.  He doesn't want to end up like fellow Englishman Colin Montgomerie.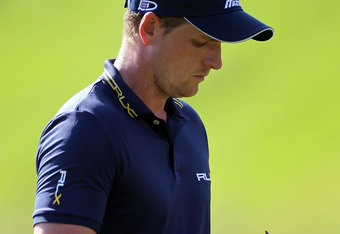 Sam Greenwood/Getty Images
The odds are not good, however, that his first major win will come at the Masters this year.
Adam Scott is rated at 33/1 to win the 2012 Masters.  He is 31 years old and has been one of the top players in the game for over 10 years. 
He has won 18 professional events in his career and put on some outstanding performances.  Scott seems to have everything needed to be a major winner. 
Adam has not performed well in majors, however.  He has missed 15 cuts in 43 major starts.
After a birdie on the par-three 16th hole in the 2011 Masters, Scott held a two shot lead late on Sunday until Charl Schwartzel went crazy and birdied his last four holes to take the Green Jacket off Scott's back. 
Adam does seem to playing with a new self-confidence and his new caddy Steve Williams appears to be adding something to the mix. 
Adam has the all around game to win at Augusta if he can control that long putter.
At 33/1 odds, the return may be just worth the bet.
Two other golfers coming into Masters week with a ton of confidence and hot golf games are Hunter Mahan (25/1) and Justin Rose (33/1). 
Mahan took down McIlroy and won the WGC-Accenture.  He also added the Shell Houston Open this week.
Rose picked up a big win at the WGC-Cadillac at storied Doral. 
Both are Sean Foley students that come into Augusta National with their golf games at top performance.