WWE WrestleMania 28 Speculation: Was Rock vs. Cena Finish Altered?
April 2, 2012

(Note: This is purely speculation. But I feel that this makes sense if you've seen the match.)
For those of you who didn't see…
Cena hoisted The Rock to his shoulders to receive the most epic Attitude Adjustment we've ever seen, he appeared focused—that the match was about to end, as scripted.
And then The Rock kicked out.
Cameras on Cena—"I know this is Miami, but come on!"
He was clearly upset, and not in the kayfabe way—reaction for the sake of reacting—in the "this wasn't supposed to happen" way.
Cena stood to attempt a lackluster sham-People's Elbow, and gives a smirk that he shouldn't have been doing what he was doing. It wasn't arrogance, it was pure uninspired and unnecessary improvisation. Then The Rock delivers the final Rock Bottom for the win.
Cena rolls out of the ring immediately.
This is the most telling moment of the match. Cena, the consummate giver of respect, would've been expected to at least climb back into the ring to give The Rock a handshake or something of merit—like seeing Jericho pat Punk's head after their match while they both still lay in the ring, which was a very moving gesture because they stole the show in my opinion—which is what we all would've expected. Or even at least The Rock giving Cena some nod of earned-respect.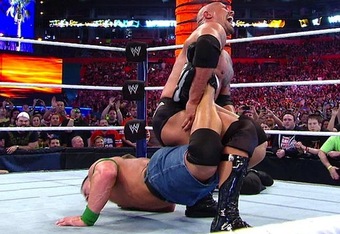 There was no passing of the torch. There was no burying the hatchet.
There was nothing.
Well, nothing except for The Rock embracing the referee.
Really? The referee?
Was there something else going on here?
To me, this reeks of a screwjob.
Maybe I'm reading into things way too much. But I've watched the entire match twice now and it seems there are moments to indicate this was Cena's match to win. The ending just didn't feel right.
Cena, for the sake of Rock's busy schedule, was obviously tasked with calling the entire match. They traded blows almost symmetrically, same with submissions and finishers.
But when Cena delivered an incredibly heroic token of strength and heaved the Rock with the AA—it was over. There's no way that move wasn't developed for any other ending.
Cena's surprise when The Rock kicked out seemed genuine; being able to hear his reaction perfectly added to the intensity of the moment—as it did throughout the night, namely crediting added deviousness for Jericho and the soap opera of Triple H vs. Undertaker.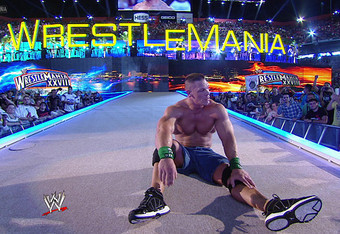 I want to believe this was a clean victory, but it seemed as though this ending wasn't the original intent.
It even seemed half-hearted when the Rock was celebrating, as Cena sat out on the ramp. There wasn't the usual swagger to a Rock victory. It was mechanical and forced; Rock won, but we didn't really feel like The Rock won. Cena was going to let Rock have his celebration, in what seemed to be an unlikely end in his mind.
Perhaps this was the anti-Wrestlemania moment for Cena—a man with many stunning 'Mania moments, a man now on a 'Mania losing streak.
Perhaps this was Cena paying an ultimate due to Vince McMahon, who may have ordered a Montreal Screwjob-esque move with The Rock and the referee being the only two people in on the "proper" and eventual ending. There was something fishy in the way the two did not show any gratitude toward the epic match they had just finished.
Yes, if Cena won there would've been riots—however, where does Rock's victory lead him?
Nowhere.
I know, I know, I know; everyone loves The Rock. I loved The Rock, but he dogged it in this match. He sold like he used to sell, but he was slow and was relegated to a number of locks and holds to slow the pace and gather his breath. It seemed like he didn't really know what he was supposed to bring tonight.
However, this loss could lead Cena into some interesting turns and feuds down the road. There could be a break in store for Cena, who has been working hard all day, every day since his last extensive break—which was God-knows-when.
Maybe this end just leads to more of a feud between the two, perhaps in SummerSlam with a Cena victory and tiebreaker at WrestleMania XXIX—which would render this "Once in a Lifetime" tagline erroneous and irrelevant.
Perhaps this was the plan and Cena is a MUCH better actor than The Rock, who dogged most of this match.
Perhaps I am way off with this. I just felt I needed to at least throw this out there to the world.
Did anyone else feel weird about the end of this match?
Let me know I'm wrong!
[Join the dialogue: @CrigBididman.]