WWE WrestleMania 28 Results: CM Punk Beats Chris Jericho and What It Means
April 2, 2012

At last night's extraordinary WrestleMania 28 event, we witnessed CM Punk exact his revenge on Chris Jericho and successfully retain his WWE Championship in the process. The match's end saw Jericho  submitting to Punk's patented Anaconda Vise maneuver.
Following Punk's historic promo last June, this was a dream match we all couldn't wait to see. Once Jericho returned to WWE at the dawn of 2012, the seeds were planted for one of the most intense rivalries on the WrestleMania card.
The feud originated over who of the two would claim the title of being the best in the world, but it slowly became personal over time. Jericho would soon take shots at Punk's troubled family, angering the WWE Champion in the process.
While the title bout may have been overshadowed by the other top matches on the card, their rivalry up to this point has without a doubt been entertaining, so I surely hope we see it continue. But the question that begs to be asked is "how so?"
Since making his anticipated comeback to the organization in January, Jericho has done little to solidify himself as a true threat to the title. He came up short of winning this year's Royal Rumble match, lost the Raw Elimination Chamber and was humiliated at the show of shows by tapping out to his arch nemesis.
After defeating the likes of Alberto Del Rio, The Miz, Dolph Ziggler and Chris Jericho, who is left to challenge for the WWE Championship? I believe Chris Jericho was the last credible Superstar on Raw to contend for the strap, and I don't see how he deserves another shot at the belt unless he wins another No. 1 contender match.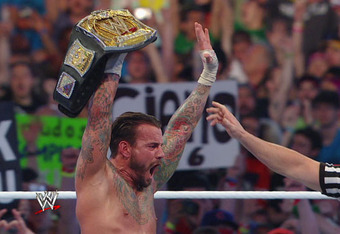 As much as I love Punk picking up the win here, it does a significant amount of damage to Jericho's character. It's been reported that Jericho has signed a new extension to his contract, so there's no reason why he couldn't have won the title at Mania and dropped back to the Second City Saint in his hometown of Chicago at Extreme Rules.
With this victory, WWE officials must be impressed with Punk and his lengthy title reign and look to continue it for the next few months. While Y2J may continue his feud with Punk for the remainder of the month, I don't see the point unless Punk is in chase mode.
What does the future hold for both Chris Jericho and CM Punk? Drop a comment below with your thoughts on their solid WrestleMania confrontation and what's next for each of them.
GSM out.
Visit my website at Next Era Wrestling as well as my WrestleRant and Spoilers podcasts for more of my thoughts and writings, along with WWE/TNA news, rumors, reviews and more.
Listen to Internet radio with Spoilerspodcast on Blog Talk Radio