WWE: WrestleMania 28 Undertaker vs. HHH, Battle of Legends and Emotions
April 2, 2012

On April 1, 2012, two immortals stepped into the ring in Miami, Florida.
Legends who mortal men aspire to be had a steal cage lowered around them, locking in their battle—surely a measure to ensure the safety of the outside world. With another legend acting as magistrate, these two men—whose career is best described as an epic odyssey—waged war, and with each punch, kick, hit and strike the earth shook, and the epicenter was Miami.
The bout started with Undertaker revealing that he's cut his long signature hair, once again evolving, as he often does, into yet another new intimidating and menacing foe. The striking began and Undertaker chipped away at the mountain that is Triple H. Punch after punch, hammering Triple H over and over with the intention of possibly tearing his head clear from his body.
The match went back and fourth until the introduction of the steel stairs and a spine buster by Triple H turned the tide in Hunter's favor. It looked that the advantage wouldn't last when Taker immediately applied the Hell's Gate submission move, the submission hold that ended last years battle. Triple H, however, was able to pick Taker up from the steel stairs he was laying on, while still in the Hell's Gate, and drop him to the mat, breaking the hold.
After the steps had served their purpose, it was time for Hunter to use a steel chair to repeatedly pummel Undertaker's back, almost instantly turning it black and blue. While all this is legal, Triple H's good friend—and ref for the match—begged Hunter to stop and attempted to calm Triple H down. He begged him to cover him, to end the devastation, but Hunter only replied with more brutal attacks.
Shawn asked Taker if he could continue and, clear as day, Undertaker responded with, "Don't you stop it—don't you dare stop it." More chair shots, more brutality, unbridled rage to Taker's spine, any mortal man would have been broken in half, crushed and dead. When the chairs were dented and seemed to not stop him, he held aloft his mighty hammer. And like Thor striking down a Frost giant, he put Taker to the mat, but it was still not enough.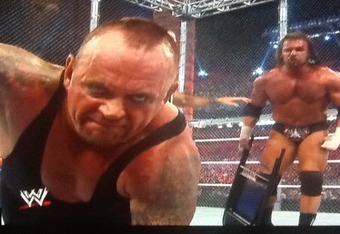 Out of nowhere, perhaps defensive instinct, The Undertaker grabbed HBK and put him in the Hell's Gate. When Triple H went to save his friend by driving another blow to Taker's skull, The Undertaker then was able to find the ability to once again lash out and put the move on Triple H. A new referee arrived to try and end the match, but even after a choke slam from Taker— Triple H was able to kick out. The new referee, however, didn't last long, he then became a recipient of a choke slam and was laid to rest in the ring.
Undertaker attempted to end it again but found himself getting hit with Sweet Chin Music, followed up by a Pedigree, and when what was sure to be a three count ended in only two, HBK's emotions exploded in the ring as he realized this war might have to end with one of these Gods of Olympus being utterly destroyed.
More punishment ensues, and at some point you stop cheering and say a silent prayer for it to just end before one of these men who've entertained you for 20 years is gone forever. Like the true mystical creature he is, The Undertaker somehow suddenly looks as though he has just stepped in the ring. Despite his massive visible wounds, he takes control of the match. He then does the unthinkable—he disarms Triple H of his sledge hammer.
Triple H sees his defeat in The Undertaker's eyes, knows there's no where else to go, delivers the suck it chop and takes the shot to the jaw. Taker delivers one last tombstone pile driver, a three count later and 20-0 ends an era.
Taker helps his fallen enemy and lifts him from the match. In the ultimate show of respect, the three men leave the ring, carrying one another. All have suffered tonight but another evolution has taken place. Undertaker's actions after winning suggests this might be his goodbye match, his final farewell.
This would also appear to be the last time we will see Hunter in the ring, with nothing left to prove, who would be a challenge for a man who's survived what he has. Shawn looked at the two of them knowing that it's their time to join him, to step out of the ring, put away the boots and join him in Valhalla.
Not just in the past 20 matches for Undertaker but in all of WrestleMania history this match will be listed as one of the greatest of all time.