Colorado Rockies: Shuffle at Third Base Has Now Become a Void.
April 2, 2012

Jeff Gross/Getty Images
When you think of third base and the Colorado Rockies, what comes to mind?
For me it's Vinny Castilla, the fan favorite who will always be remembered for a pinch-hit RBI single in his last at-bat at Coors Field. Not to mention he is still the best third baseman the Rockies have had in their 19-year history.
Since 2009, third base has become a major void in the Rockies lineup. This season is no different—in fact, it may be worse now.
The recent news of Casey Blake's release leaves much uncertainty before one meaningful game has even been played. Blake entered spring training coming off neck surgery and had already missed a week due to neck stiffness. The $2 million non-guaranteed contract was already a clear indication the Rockies were prepared to drop Blake from the roster in case he fell flat.
The plan looked good on paper: Bring in a solid veteran to hold down the fort until Nolan Arenado could become the star third baseman the organization is hoping for.
The plan has changed.
There has been a trend the last three years at third base: a never-ending shuffle. Go back to 2009. Garrett Atkins was struggling compared to his production in the years prior. His batting average took a dip from .301 in 2007 to .226 in 2009. Atkins was eventually replaced by Ian Stewart, whom the Rockies called their next All-Star at third base. Once the Rockies bought into Stewart's potential, Atkins wasn't much of a priority in the plans for the future. Atkins was released before the 2010 season.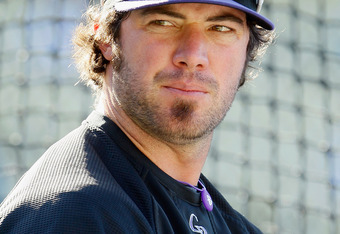 Jeff Gross/Getty Images
2010 saw the emergence of Stewart as an average player compared to the high expectations that were given to him. Reports came out that he never really put 100 percent into his play, and then came last season.
In 2011 Stewart came into the season looking confused at the plate and was sent down to Triple-A last April after only hitting .077. Stewart was then recalled in May, but in 48 games he only managed a .156 batting average. As part of a complete over haul in the clubhouse, Stewart was traded to the Chicago Cubs during this past offseason.
2011, along with Stewart, also saw Ty Wigginton man the hot corner. Wigginton was signed to a two-year deal. Wigginton also spent some games at first base filling in for Todd Helton. Wigginton had spurts of good hitting, including May when he batted .291, but he only managed two home runs from July until the end of the season. Wigginton's production at third was average, and he Rockies traded him this past November to the Phillies for cash and a player to be named later.
The Rockies desperately need better production at third base if they even want to think about contending in the NL West. Rockies third basemen were second worst in the National League in batting average last season and their fielding percentage wasn't much better at .943. Only the Mets and Pirates ranked lower.
So here we are, less than a week away for Opening Day and Rockies fans are not sure what to think about third base. The question is, who takes over? Jordan Pacheco and Chris Nelson are expected to split time at third with Casey Blake gone. Pacheco has shown promise this spring and in his short stint with the Rockies last September, when he hit .286 with two homers and 14 RBIs. Pacheco has a lot to improve on defensively if he is to remain a regular at third. Chris Nelson still has a lot to prove at the plate, but says he "feels really good" and "confident" at third base.
Rockies fans can only hope at least one out of Pacheco and Nelson can fill the void that has plagued the hot corner ever since Garrett Atkins was released. There is promise—but then again, there has been before.