2012 National Championship: Senior Darius Miller Is Becoming a Kentucky Legend
April 2, 2012

Throughout the early part of the John Calipari era at Kentucky, Wildcat fans have witnessed a non-stop wave of NBA lottery talent come onto the Kentucky campus. For the most part, the players come in as freshmen, take a stab at a championship with the Wildcats and then head off to the NBA to make millions.
There is one player though that has been at Kentucky throughout this entire era. You will not hear his name in the starting lineup on Monday night, you will not hear about him as an early pick in the NBA draft, but you certainly will hear the roar from the Big Blue Nation when he enters the game off the bench on Monday night and sets a new school record for most games played in a Kentucky uniform, with 152.
Darius Miller has been through it all at Kentucky, and without him the Wildcats would not be nearly as successful as they have been over the past three seasons under head coach John Calipari.
When Miller arrived on the scene as a freshman in 2008, the Wildcats were far from their glory days of old, and had not yet hit the Calipari era, which would bring with it a new wave of glory days. Instead they were playing in the NIT to close out their 2008-2009 campaign.
The next year brought with it Calipari and a star-studded freshman class, headlined by guard John Wall. Miller was a starter, but he certainly was not the star that everyone talked about. He was not one of those "fantastic Kentucky freshman" that the country raved about. Nevertheless, he continued to take the court each night and fulfill his role, ultimately helping Kentucky reach the Elite Eight.
The next season was very similar. Miller, this time a junior, continued to play his role for a Kentucky team that once again featured a star-studded freshman class. The Wildcats ultimately fell in the Final Four to eventual National Champion UConn, by one point. Without Miller though, they would have never been there.
Then 2011 came around. Once again there was another star-studded freshman class at Kentucky, but with so many stars this season, there was no room in the starting lineup for Darius Miller. Without complaint though, Miller became a sixth man for the Wildcats. He showed how unselfish he was through this role, and that all he wanted to do was help his team win, even if that meant not being on the court as much as he usually was in the past two seasons.
Even though he is not a starter now, Miller has continued to produce this season. Earlier this year, Miller was named the SEC Sixth Man of the Year, which acknowledges his extreme importance to the Wildcats.
Throughout his time at Kentucky, the stats have racked up for Miller. Currently in his collegiate career, Miller has 1,243 points, 483 rebounds, 278 assists, 98 blocks and 114 steals. These numbers make him one of the most versatile players in the great history of Kentucky basketball.
Although the never ending wave of new talent would be difficult for many players to deal with, Miller has loved it.
"I've actually had a lot of fun with it. I've been blessed to have the opportunities I have. I've played with a lot of great players, friends I call my brothers to this day. I still keep in contact with them. Just having an opportunity to know so many people who can help me out, I've been blessed to learn from so many people. I've had a great time with it."
Although many people around the country may have not noticed Darius Miller throughout his Kentucky career, coach Calipari indicates that he and Kentucky fans themselves certainly have been paying attention.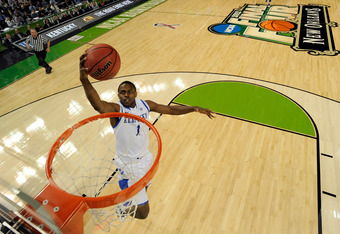 Pool/Getty Images
"We have six starters on this team," Calipari said in regards to Miller's role. He also said that Miller is "beloved" among Kentucky fans and that "If he wants to get into politics, he could run for governor and win."
Sophomore forward Terrance Jones, indicated that Miller is also very popular on the Kentucky campus. "He knows everybody," Jones said. "You see Darius with dudes you've never seen before, but you know they're cool because they're with him. He's almost been there since as long as I was in high school. He's an old man on campus. They've got a wheelchair for him. He's got his own parking spot."
Monday night the collegiate career of Darius Miller will come to an end at Kentucky. For the last time, Miller will take off the legendary Kentucky jersey that he has worn on the court more than anyone else ever has.
Darius Miller though, like he has throughout his entire career, is not thinking about himself, but of his team. "Right now, I'm just trying to enjoy the moment, have fun with everything, spending time with my teammates and the coaching staff and all my friends and family. It's my last go-around. I'm just trying to do whatever I can to keep the team alive."
As far as his legacy goes, Calipari said, "He's going to be one of those guys 50 years from now that they're going to be talking about."
Hopefully, when they talk about Darius Miller in 50 years, the words National Champion will be used. Hopefully at the end of the game Monday, Miller will have a National Champion t-shirt and hat to forever replace his blue and white Kentucky jersey.
Maybe then, Darius Miller will officially become a Kentucky basketball legend.