NASCAR at Martinsville: David Reutimann Did the Wrong Thing for the Right Reason
April 1, 2012

Chris Graythen/Getty Images
I'm a writer.
It's just what I do.
When I write, I am expected to be perfect. I am expected to say all the right things, put my words in an order that makes them flow, avoid grammatical errors and always, always, always tell a good story.
Sometimes I don't do all those things.
Sometimes I mess up.
Sometimes I'm not perfect.
Because I am human.
A few years ago, when I was working my way up through the sports blogosphere, I wrote a story about a certain NASCAR driver that was less than flattering. Essentially, without getting into detail, what I did was call into question things about that driver that should never be called into question about anyone.
It was rude. It was unprofessional. It was wrong.
But I did it for the right reasons.
I did it so that I could try and draw attention to my blog so that somebody would notice me (and they did, but for all the wrong reasons). I hoped somebody would notice me so that I could get a high-paying job with a major sports journalism outfit.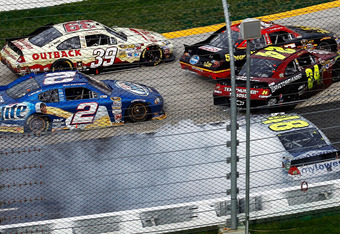 Jeff Zelevansky/Getty Images
I hoped I could get a high-paying job with a major sports journalism outfit so that a few years from now, when I have a family to feed, I'll be able to put food on the table for them.
I did the wrong thing for all the right reasons.
Such was the case with David Reutimann in Sunday's race at Martinsville.
In case you haven't heard, Reutimann is currently on the hook as NASCAR's punching bag after throwing Sunday's race for a loop late in the going.
With just a few laps to go, Reutimann was down several laps trying to nurse his car to the finish when a tie rod broke on his No. 10 car.
But instead of taking to pit road, Reutimann stayed on the track, hoping to finish the event.
With four laps to go, the motor quit working and Reutimann's car stalled at the entrance to Turn 1.
The result was mass chaos. On the ensuing restart, the dominant cars of the day—which belonged to Jeff Gordon and Jimmie Johnson, both of whom were attempting to earn car owner Rick Hendrick his 200th Sprint Cup win—were taken out in a crash with Clint Bowyer.
Ryan Newman would go on to win the race, while Reutimann was left visibly disturbed.
"Number one, I just hate it. I don't even know how the race ended up finishing, but I just hate that I was involved in anything that changed the complexion of the race so I got to apologize to the guys that it affected," Reutimann told NASCAR on Fox after the race.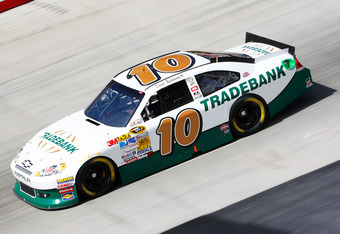 Geoff Burke/Getty Images
"The thing quit going down the back straightaway, and it shut off," he continued. "I just didn't stop there intentionally. I know it sucks. I hate it for everybody that it affected, but I mean I can't get out and push the thing. You know, it shut off. It's that simple."
Reutimann briefly mentioned the Top 35 points situation he currently finds himself in.
"I was just trying to finish the day out and trying to stay in top 35, which is why we were trying to limp around out there. They gave me the black flag. We were coming to pit road, and it shut off. And that's far as I could go."
Reutimann may have done the wrong thing by not coming down pit road, but he did it for all the right reasons.
Reutimann finished just three laps behind teammate Dave Blaney on Sunday, and would have finished ahead of Blaney had he been able to finish the race.
Reutimann's No. 10 car finds itself 36th in owner points after his 35th-place effort in Martinsville, one point behind Landon Cassill's No. 83 car.
That would be the one point he lost by falling behind Blaney, or the one point he wouldn't have lost had he finished the race, which is what he was trying to do when his car stalled on the track in the first place.
Had Reutimann been successful in his venture, he would find himself 35th in owner points with a guaranteed starting spot two weeks from now at Texas. As it is, he'll now have to qualify on time.
What you have to understand about Reutimann is that he's a race car driver. That's what he does. If he doesn't race, he doesn't get paid. If he doesn't get paid, his family doesn't get to eat.
That may be a bit of an exaggeration, but you get the idea. Racing is his livelihood, plain and simple.
Much like writing is for me, except Reutimann doesn't have a few years. He has to provide for his family now. He has to race now.
It may have been a mistake, but David Reutimann did not mean badly when he didn't come to pit road. All he was trying to do was make sure that when he goes to Texas two weeks from now, he doesn't have to worry about making the race. He doesn't have to worry about getting paid.
He doesn't have to worry about making a living.
No good provider for their family would ever be willing to take that chance of not getting paid, and Reutimann is no different. He wanted to do everything in his power to make sure that, two weeks from now, he doesn't have to wonder if he'll be collecting a pay check.
He just came up a little bit short.
David Reutimann may have done the wrong thing on Sunday at Martinsville.
But he did it for all the right reasons.