Chris Paul Leads the All-NFL Team of Entirely NBA Players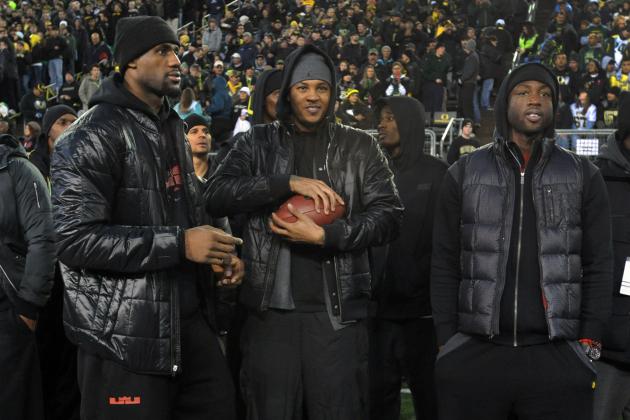 Steve Dykes/Getty Images

Have you ever caught yourself watching an NBA game and wondering how a certain player would translate to the NFL? Wonder no more! It's here... now introducing the All-NFL Team that consists of entirely current NBA players.
This list is going to include every offensive position, defensive position and even some special teams. We're going to name a head coach, offensive coordinator and defensive coordinator as well. Obviously, this is just for fun and completely hypothetical. Have suggestions? Were any players left off that you would of liked to see make the team? Let's discuss in the comments.
Without further ado, let's get started...
Begin Slideshow

»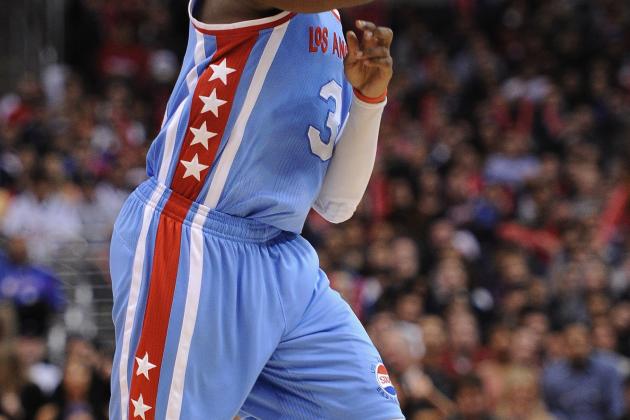 Harry How/Getty Images

Who better to QB your team than CP3?
I was torn deciding between a floor general or a sharpshooter (J.J. Redick), but had to lean towards a point guard in the end. Rajon Rondo and Deron Williams also got some consideration, but I couldn't go against Chris Paul.
In the end, Paul's vision, leadership and late game chops sealed it for me. If you have any questions about his accuracy, this video should answer them for you.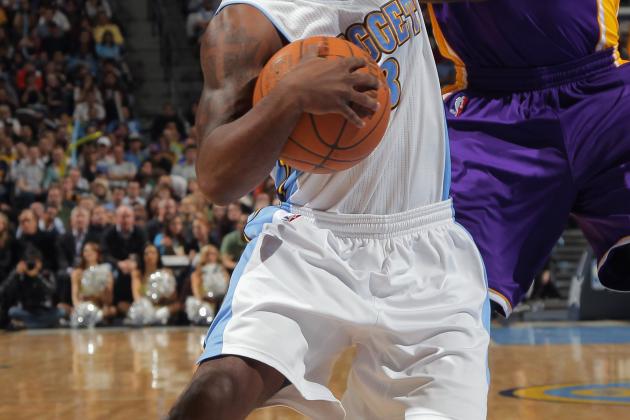 Doug Pensinger/Getty Images

Strong, super-athletic and versatile. Ty Lawson, here you go.
I wanted to go with a bruiser that could also be an every-down back, so Lawson seems to fit the mold. Could you imagine having to pin Lawson behind the line of scrimmage? Me either, he would be a nightmare for opposing defenses.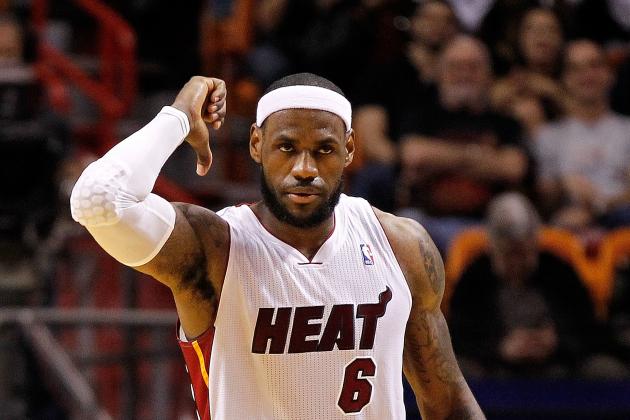 Mike Ehrmann/Getty Images

Ah, the obvious choice. LeBron was a All-State WR in high school, and I'm sure those skills would still translate.
If you need proof, check this out.
I would liken LeBron to a Calvin Johnson type wideout... throw the ball as high as you can and let him go get it. How's that for an option, CP3?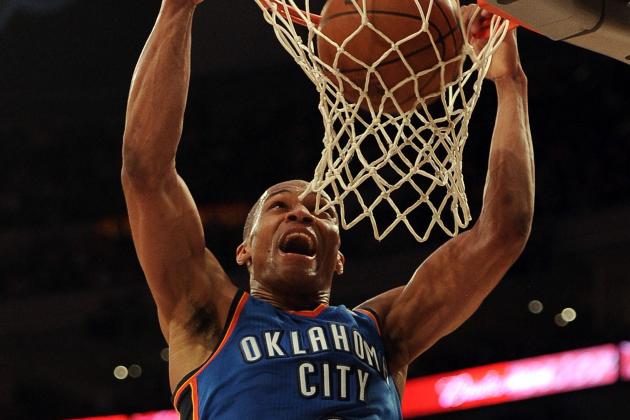 Harry How/Getty Images

This wouldn't be a bad second option. To offset the jump-ball receiver on the other side, one of the best athletes on the planet will be on the his side causing problems.
RW would have no problem going over the middle, not to mention that he would be a handful to bring down after the catch.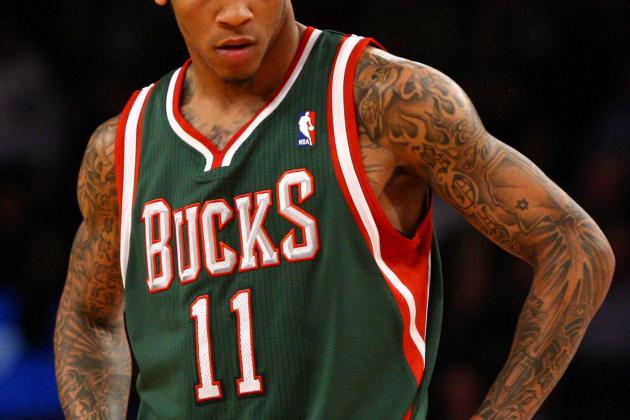 Chris Chambers/Getty Images

In the slot, we're going to need a crafty, athletic option.
I think Monta Ellis fits that description just fine. While LeBron and RW are causing havoc on the sidelines, Monta will work the middle of the field and make plays after the catch. Of course, he will have help in the middle of the field in the form of...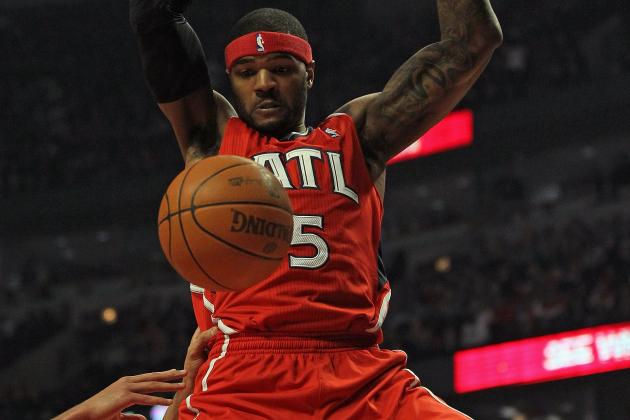 Jonathan Daniel/Getty Images

The closest thing to Jimmy Graham you will find in the NBA. Long, athletic and with tons of swagger, Josh Smith would fit into this offense just fine.
Can you imagine having Smith down around the goal line? Put the ball somewhere in the vicinity of his wingspan, and it will probably be brought in.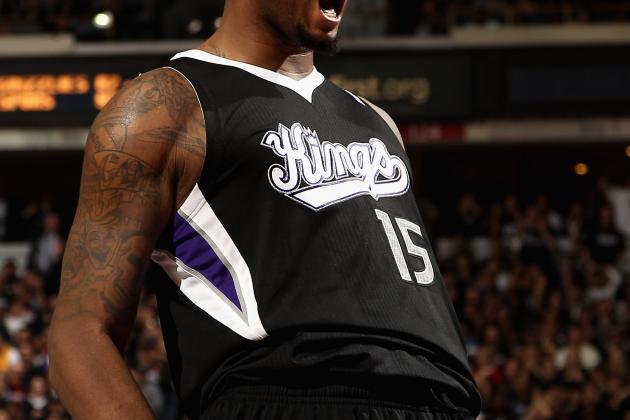 Ezra Shaw/Getty Images

DeMarcus Cousins is big, strong and mean. I can't think of a better option to protect CP3's blind side.
Of course, the guys will probably want to keep him happy, as he can lose focus from time to time. Having your offensive tackle lose focus isn't exactly the best thing.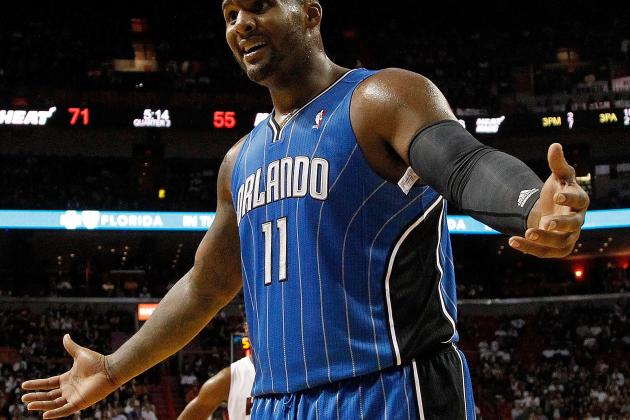 Mike Ehrmann/Getty Images

I would venture to guess that 95% of you thought of Glen Davis when it came to offensive guard.
He's plenty athletic, stout and strong enough to make an impact up front. Plus, he can clear some space pretty well.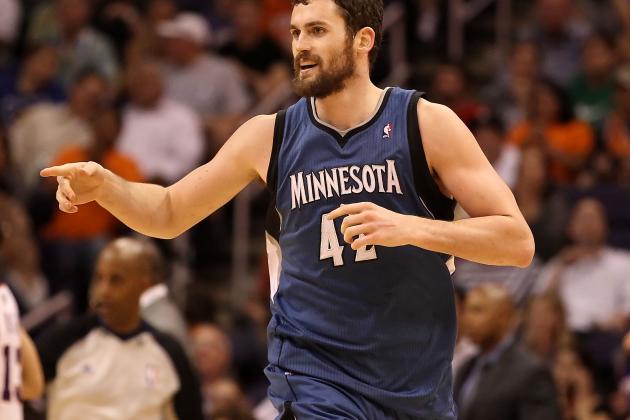 Christian Petersen/Getty Images

Kevin Love is pretty athletic, but let's put him at center anyway.
He is extremely intelligent and unselfish, so I think he would be the perfect anchor for the offensive line.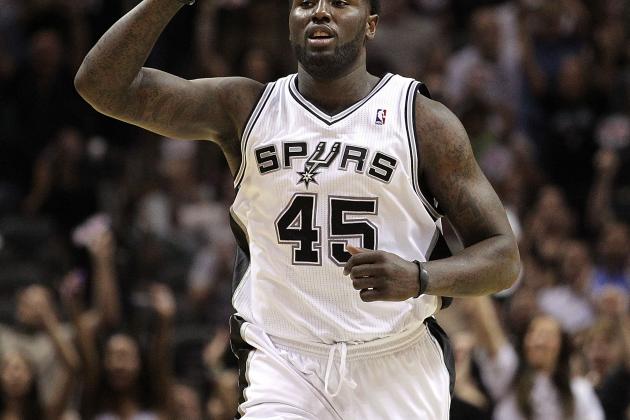 Ronald Martinez/Getty Images

Blair will give the line a little bit of tenacity.
Once again, it came down to strength, athletic ability and attitude. Blair has OG written all over him.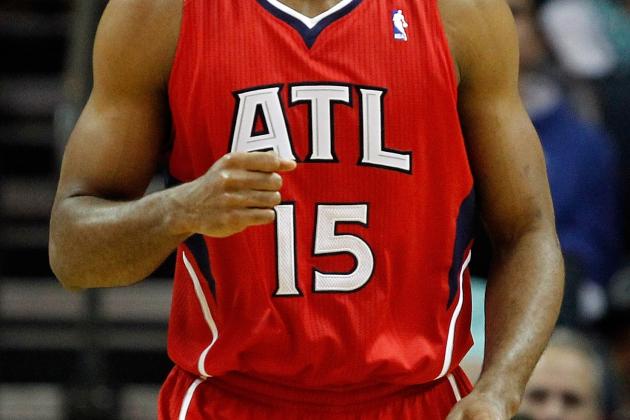 Streeter Lecka/Getty Images

Al Horford has been injured most of this season, so some of you may of forgotten about him.
To remind you; he's big, long and has some of the best feet in the NBA for a big man. All of those traits should translate well to offensive tackle.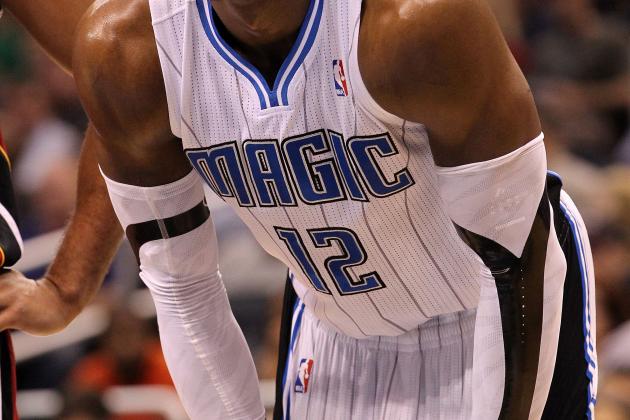 Sam Greenwood/Getty Images

Dwight Howard coming off of the edge would be a nightmare.
His length would allow him to get after the QB even faster than most, and would also be a huge help in knocking down passes.
Ronald Martinez/Getty Images

Z-Bo anchoring the middle of the defense?
Yep, I'm in.
I'm thinking he would have a little Ndamukong Suh in him, don't you? Here's a taste of that tenacity.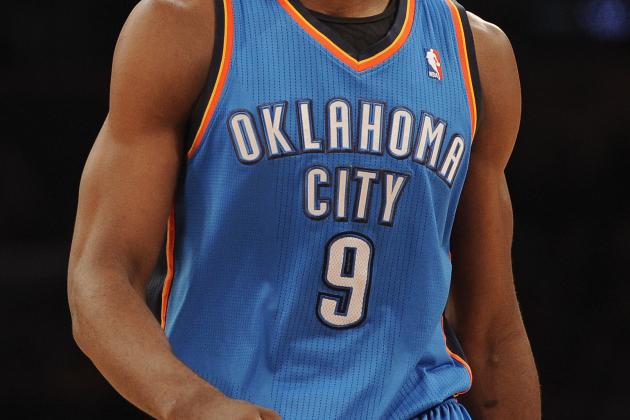 Harry How/Getty Images

I almost put Ibaka at defensive end, but I couldn't place him ahead of either of the guys I already have there.
As the next best thing, let's put Ibaka at defensive tackle. While Z-Bo is getting double teamed, Ibaka will make a living in the backfield.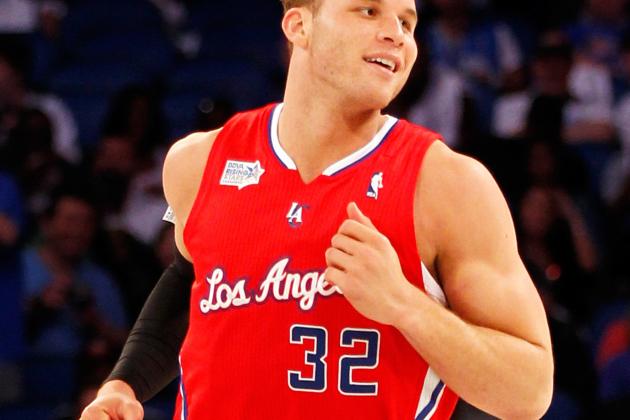 Mike Ehrmann/Getty Images

D12 on one side and Blake Griffin on the other? Good luck, offensive tackles.
His leaping ability would allow him to knock down a ton of passes and his athletic ability would come in handy protecting the edge in run support.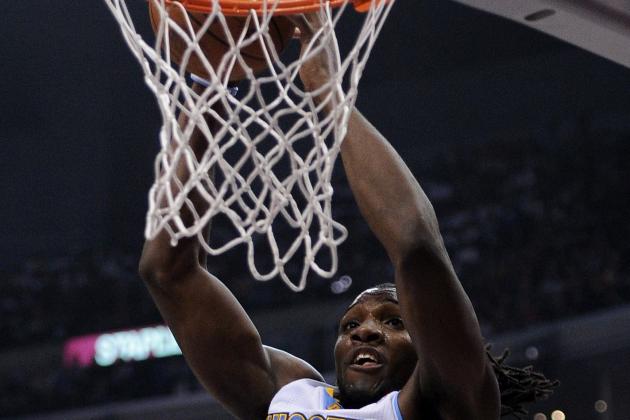 Harry How/Getty Images

Faried looks like a football player, doesn't he?
Obviously, I've never watched Faried play football, but I'm going to guess he would be a hard hitter.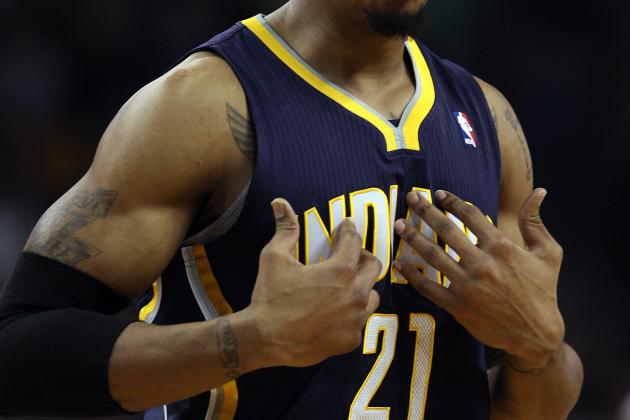 Elsa/Getty Images

As you can see from the picture, David West is a big man.
He's also hard-nosed and intense. He's the perfect Ray Lewis-type MLB for this squad.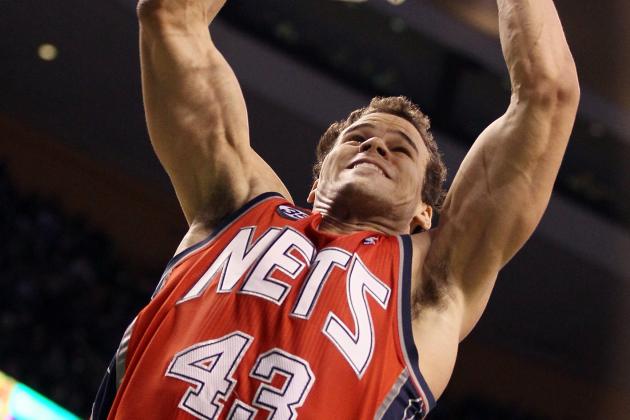 Elsa/Getty Images

I just had to put Hump on this team. It doesn't hurt that he's extremely athletic for how big he is, and he also has the strength to play linebacker.
If you don't think he is mean enough, check this out.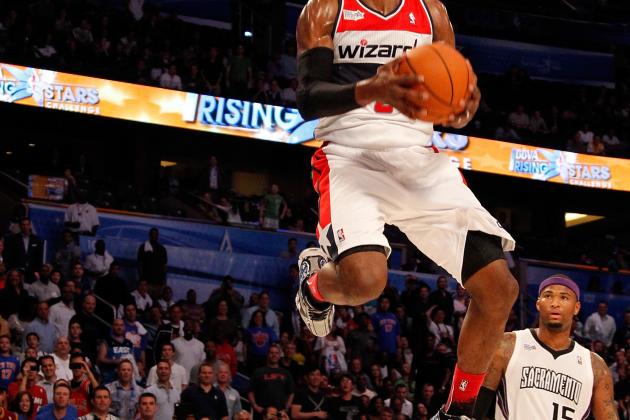 Mike Ehrmann/Getty Images

Outside of putting LeBron at WR, this was probably the easiest choice I had.
Wall is arguably the most athletic guy in the NBA, and his speed allows him to close on balls quicker than nearly anyone.
His 40-inch vertical doesn't hurt either.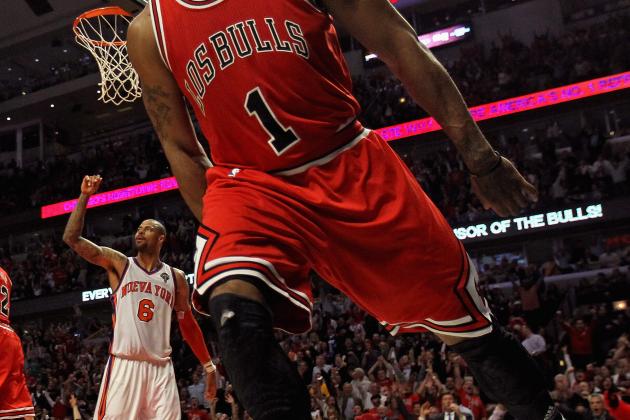 Jonathan Daniel/Getty Images

This was actually a tough choice. Rose can play nearly every position, so I had to choose the one that he would make the biggest impact.
At free safety he could move all around the defense, cause problem after problem for offenses, and use his speed to close on ball carriers immediately.
I like to think of him as Ed Reed 2.0. Look at this, and then tell me he wouldn't be a terror at the back end of a defense.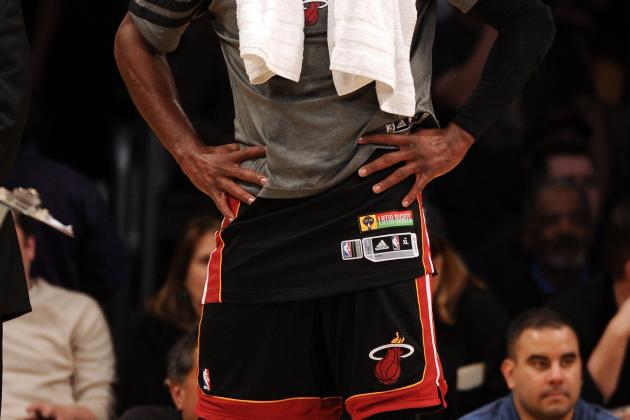 Harry How/Getty Images

Wade would fill the box to offer run support and hit hard.
He also has the athletic ability to recover and help in coverage. If you doubt his hitting ability, let me remind you.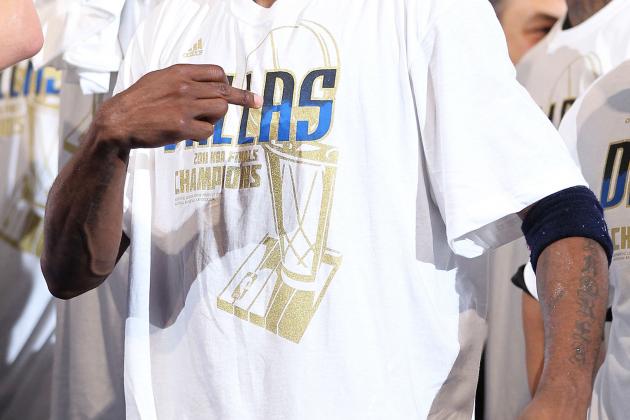 Mike Ehrmann/Getty Images

It always helps to have a crafty veteran at corner, especially when the other one is such an athletic freak.
I compare Jason Terry to Charles Woodson—they've been around awhile, but they can get it done and make big plays in big moments.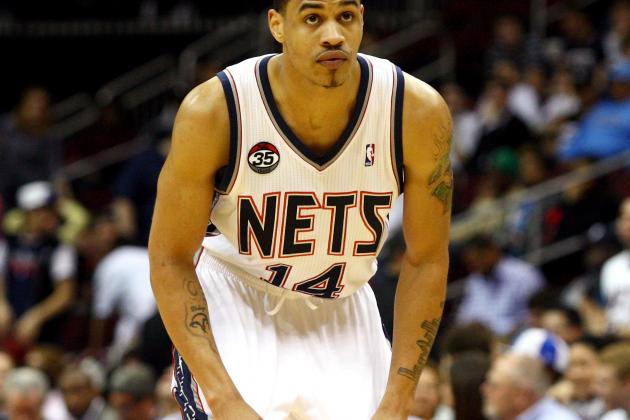 Chris Chambers/Getty Images

I like my kick returner to be the most athletic guy on the field. Green would fill that role.
Stephen Dunn/Getty Images

The decision to put Rondo as the punt returner came down to one aspect: vision.
Rondo has the ability to see two or three moves ahead on the basketball court, so I'm assuming he could see two or three blocks ahead as well.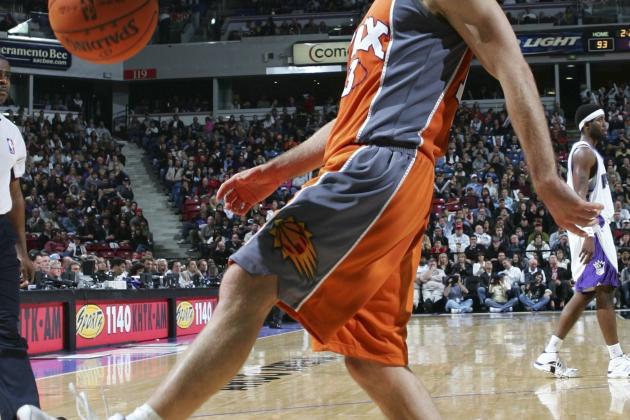 Jed Jacobsohn/Getty Images

This one is easy, doesn't everyone remember this?
A lifelong soccer player, Nash should move into the role of kicking quite easily.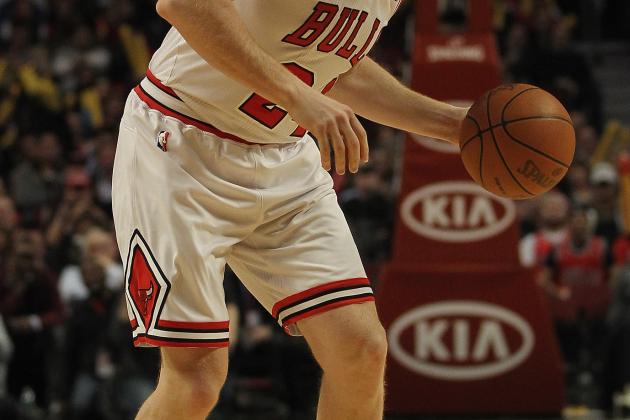 Jonathan Daniel/Getty Images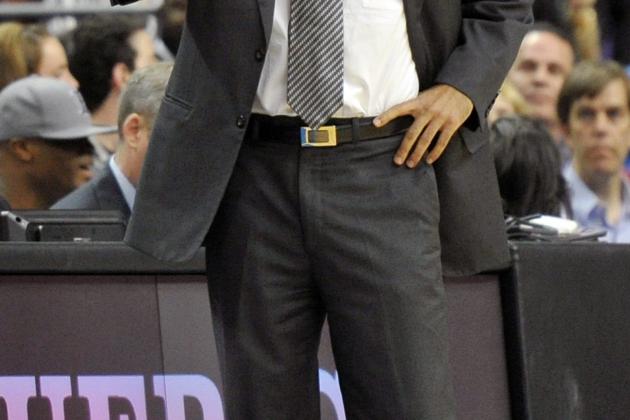 Drew Hallowell/Getty Images

This is the man I would want running my offense. I mean, look at this!
Spo is all about the fast pace, up and down offense. That would suit this team the best.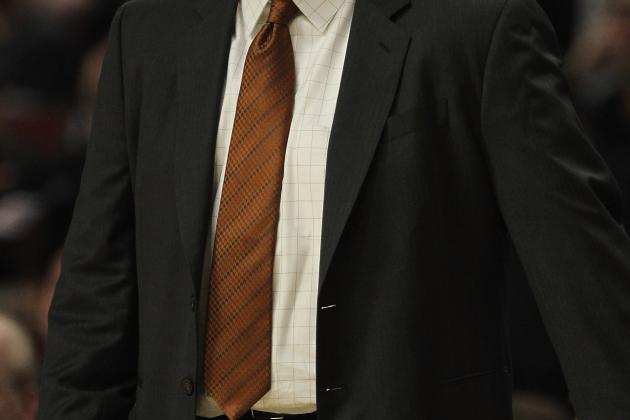 Jonathan Daniel/Getty Images

Thibs is probably the coach that translates to the NFL the best.
The Bulls have a very problematic defense, and I would choose him to carry that over to the football field. He also gives his guys a "bunker" mentality.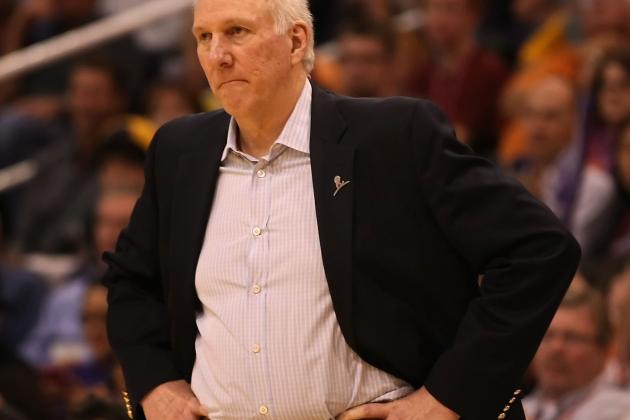 Christian Petersen/Getty Images

Not much doubt here. If Phil Jackson were still around, he would have been considered as well.
With that being said, Pop can handle big egos, has no problem doing things his way and can prepare better than nearly every other coach.