WWE WrestleMania 28 Results: What We Learned from the Undertaker's Win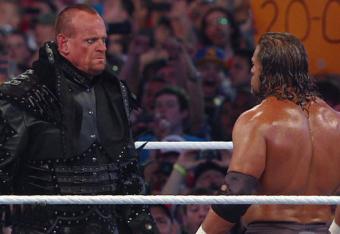 At WrestleMania 28 it was the end of the Undertaker's streak against the end of the Game—a match that was supposed to be the end of an era. Both men entered the Hell in a Cell match, but only the Undertaker would have his hand raised at the end. We learned a lot of things from this match, here are some of them:
The Streak Will Continue
The Undertaker would overcome Triple H and keep his streak alive. Of course, it was not easy, but the Undertaker was able to put all the doubts of his ability to the test, and proved to the WWE Universe that he can still wrestle with the best of the best and come out on top.
JR Is An Asset To Announcing
Even though there were four matches before The Undertaker vs. Triple H, Jim Ross was brought out for this match. He adds something extra to commentating, and it was clear that the WWE wanted Ross to announce the bigger matches. Regardless of if Ross should work the announce table full time or not, no one can argue that he doesn't do an amazing job announcing the bigger matches like this one.

Shawn Michaels is a Fantastic Referee
"we hardly even mentioned Shawn Michaels, and that's a good thing when it comes to officiating."-Jerry Lawler
One of the biggest aspects of a good referee is not getting in the way. Shawn Michaels was able to stay out of the way and really only interfered when he thought the match was going too far. Many people thought we could see Michaels turn on the Undertaker or Triple H, but Michaels called a fair match. He did give the Undertaker a deserved Sweet Chin Music, but the Deadman was able to kick out of it. Not letting Triple H destroy the Undertaker with his sledgehammer and pleading with each superstar to stop when they were on the assault with a steel chair, showed that Michaels was not worried about his own image. Instead, Michaels was focused on the health of both of these legends.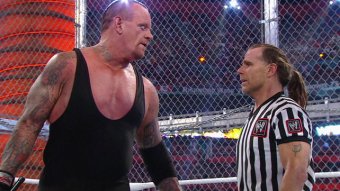 The Undertaker Can Still Go Old School
One thing that concerned fans going into this match was the health of the Undertaker. If his health was ever an issue, the Deadman hid it well. Clearly, he can still do the moves he is famous for, such as Old School, and can still strike like he used to (Triple H was bleeding after all). Not only can the Undertaker still hit hard, he can take hits as well. Getting a Spine Buster onto the metal steps, followed by chair shots and even getting hit with a sledgehammer proved that the Deadman can still take the pain.
Did you see the welts on the Undertaker's back? If that's doesn't prove the Phenom can take a hit, I don't know what will.
Respect
"That ladies and Gentlemen is respect." -Jim Ross
All three of these wrestlers clearly have a respect for each other. They are, after all, what symbolizes an era. Michaels helping the Undertaker up, and then both Michaels and Taker helping Triple H out of the ring showed a respect amongst wrestlers that is rarely seen today. Even during the match Shawn Michaels had respect for both of these wrestlers, afraid to let one go too far when attacking the other. We may never see these three together in a ring again, but one thing we can all take away from this match is the respect between these legends.
What About The End Of An Era?
The end of an era is really something that still remains to be seen. Have we truly seen the last match of Triple H? We know that the Undertaker's streak will continue and we will at least see him at WrestleMania 29, but what about Triple H? Only time will tell if we will see Triple H in another match or if this match at WrestleMania 28 was really game over.
What do you think we learned from this match? Comment below and share your opinion!
This article is
What is the duplicate article?
Why is this article offensive?
Where is this article plagiarized from?
Why is this article poorly edited?