USC Trojans Football: Pac-12 Commissioner Says College Football is Undervalued
April 2, 2012

Steve Dykes/Getty Images
How much are the TV rights for a college football program like the USC Trojans worth? Probably a lot more than you think and far more than they currently bring in.
Pac-12 Commissioner Larry Scott spoke at the American Association of Advertising Agencies meeting in Los Angeles on March 28, 2012.  Jon Lafayette of Broadcasting & Cable quoted Scott at the event as saying:
…revenue from television is still a fraction of what it should be.
The Pac-12 made headlines last year when the conference negotiated a reported $3 billion, 12-year TV deal with ESPN and Fox. It was the largest TV deal of any conference, bringing in more money than deals held by the Big Ten and the SEC.  
As much as that deal is worth, it is not anywhere near what the NFL brings in. Bloomberg reported that the NFL will generate about 60 percent more revenue through 2022 from a nine-year contract extension (the NFL currently brings in about $4 billion a year in TV rights).  
The New York Times reported ESPN's Monday Night Football contract through the 2021 season as being valued at $1.9 billion a year. In comparison, CBS and Turner have a 14-year, $10.8 billion deal to carry the NCAA men's basketball tournament. NBC Universal has a $4.38 billion deal to cover the Olympics from 2014 to 2020. 
Do the rating numbers justify the spending? Yes and no. 
While still the most watched show, NFL Monday Night Football ratings fell by almost 10 percent this year averaging 13.3 million viewers. 
Wesley Hitt/Getty Images
However, it's not as simple as just looking at the ratings. Gaining TV rights allow networks to expand related content outside of the game, create branding and generate ad revenue among other things.
The actual TV ratings are important, though, and should not be overlooked.
This season's final Monday Night Football game between the Saints and Falcons drew about 15.6 million viewers and was the top viewed cable show that week. Four college football bowl games ranked in the top 10 TV shows that same week. The Washington/Baylor Alamo Bowl came in at No. 2 with about 6.9 million viewers.
Both the WWE and NBA basketball were outside of the top 10 ratings that week. 
Overall viewership of college bowl games was down about 15 percent from last year with the average viewership at 5.2 million. Part of the overall drop could be explained by not having any games played on January 1 (there were six last year including the Rose Bowl).
This year's BCS Championship Game brought in over 24 million viewers, and the Rose Bowl over 17.5 million. In comparison, this year's Super Bowl set a record with over 111 million viewers. The 2011 baseball World Series games on Fox got around 11 to 15 million viewers each.
It's not just college football bowl games with high TV ratings, as regular season games bring in as many—or more—viewers as the non-BCS bowls.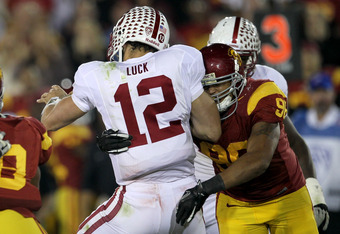 Stephen Dunn/Getty Images
ABC's coverage of college football brought in almost 6.8 million viewers on November 19, where most of the country tuned in to the USC/Oregon game. ABC carried the desired 18-49 adult group ratings that night. Likewise, ABC's coverage of the USC/Stanford game on October 30 brought in over 6.7 million viewers. 
Those numbers are much bigger than the numbers brought in by the 2012 NCAA tournament Sweet 16 games. For example, the Michigan State/Louisville game had only 2.4 million and the highest-rated UNC/Ohio game only got 2.9 million viewers.
If USC can bring in these numbers, why not just have its own network like Texas or go independent like Notre Dame?
There are several reasons why not. Anyone watching the recent conference realignments could probably tell you what Texas' network almost did to the Big 12. Additionally, as the likelihood of a postseason college football playoff increases, so does the importance of having membership in one of the major conferences.
Conference membership also alleviates scheduling difficulties, which will only increase as conferences try to expand their brands and form partnerships. The Pac-12 and Big Ten have a partnership that aims to have 12 inter-conference football games each season by 2017. 
It may also be the fragmentation of TV rights negotiations that in part keeps college football from getting the payout that professional sports get. Broadcasting & Cable summarized Larry Scott as saying:
Ratings of big college football games are comparable to Monday Night Football NFL telecasts on ESPN, but rights fees are a lot less, he says, blaming a landscape with 31 division one conferences and a structure in which rights reside with the NCAA, with conferences and with individual schools for fragmenting the market.
If the Pac-12 commissioner is correct (and the TV ratings suggest that he is) then the conference's $3 billion TV deal may have only begun to scratch the surface of potential revenue.