Jeremy Lin: Why Toney Douglas Will Shine After Linsanity's Injury
April 1, 2012

Chris Trotman/Getty Images
What a wild season for the New York Knicks.
After coming into the season with title aspirations, the New York Knicks find themselves struggling to even capture a playoff berth. From Carmelo Anthony's shooting woes to the resignment of coach Mike D'Antoni, this is a year the Knicks would definitely like to forget.
However, the bad news just keeps rolling in. According to the Associated Press, New York Knicks point guard sensation Jeremy Lin will miss the remainder of this season, as he will undergo arthroscopic surgery to repair a torn meniscus. 
This is devastating news for a team that just lost star power forward Amare Stoudemire to a back injury last week. While Stoudemire is supposed to be back in two to four weeks, Lin is not projected to resume basketball activity for at least six weeks.
With both Jeremy Lin and Amare Stoudemire out of the starting lineup, the New York Knicks, owners of a 27-26 record, will have to find some way to makeup for the lost production. After all, Lin and Stoudemire combined tally nearly 33 points, 11 rebounds and seven assists per game. Despite neither playing fantastic before their respective injuries, losing these two starters will absolutely take a toll on their playoff hopes.
But, even though there is no replacement on the roster for Stoudemire, as Jared Jeffries is the prime backup for "STAT," there are a few competent backups for "Linsanity." Both Baron Davis and Toney Douglas have received major minutes before and possess games that fit well in coach Mike Woodson's system. 
However, while Davis is currently the starter with Lin's absence, Douglas is the guard that will shine down the stretch.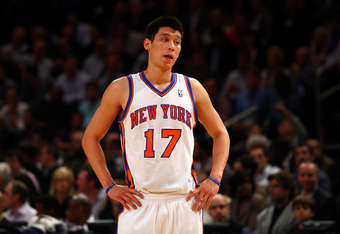 Chris Chambers/Getty Images
There are a few reasons for the aforementioned statement. First of all, Toney Douglas, who was a major component to the rotation at the beginning of the season, has been relegated to the bench since the emergence of Jeremy Lin.
With Baron Davis, Jeremy Lin and shooting guard Iman Shumpert eating all of the minutes at the point guard position for the last few weeks, there is no doubt that Toney Douglas possesses fresh legs as the New York Knicks look towards their grueling upcoming schedule.
In addition, the coaching switch from Mike D'Antoni to Mike Woodson will also improve his production and effectiveness on the court. When Woodson was with Atlanta, the Hawks let Joe Johnson run isolations all over the floor. This would, in turn, cause teams to double-team Johnson, where the shooting guard would then dish the ball to one of his open teammates.
In New York, the same system is starting to take root, but this time with Carmelo Anthony. With both Stoudemire and Lin out, the New York Knicks only have one major scoring threat: Carmelo Anthony. Sure, J.R. Smith and Iman Shumpert are volume scorers, but not when it comes to finding their own shots off the dribble.
With Anthony free to make moves one-on-one against his man, a role that he excelled in in Denver, Toney Douglas will find himself with a plethora of opportunities to knock down open jumpers. Even though Douglas may not be the facilitator Jeremy Lin or Baron Davis currently are, there is no denying his efficiency from behind the three-point line.
Douglas' ability to play point guard without the ball in his hands will become essential as the season comes to a close.
However, Douglas' best contributions come on the defensive end of the floor, as the 6'2" guard is a premier defender in this league.
Both Baron Davis, who has struggled with back injuries, and Jeremy Lin do not have his lockdown defensive attributes that make him so valuable. With athletic guards like Derrick Rose, Darren Collison and Jrue Holiday in the tough Eastern Conference, having Douglas play extended minutes may not be such a terrible idea come playoff time.
In the end, losing the polarizing Jeremy Lin to injury will hurt the Knicks in their final push to capture the eight seed in the playoffs. But, Lin's injury may be a blessing in disguise, as the unfortunate meniscus tear will give the forgotten Toney Douglas a chance to shine. 
—