WrestleMania 28: Predicting the Unpredictable WrestleMania
April 1, 2012

Unpredictable.
A word that I think sums up the 28th annual WrestleMania from Miami.
Only the third WrestleMania to be held completely outdoors, the weather is looking good with a stray shower a possibility.
Mother nature is going to be in the same seat as the WWE Universe, sitting back and watching history unfold.
The possibilities are endless.  Dreams can be fulfilled in an instant, or crushed in a heartbeat.
I am no genius, but I know this brand well.
This will the 23rd WrestleMania for yours truly, with WrestleMania VI being the first showcase of the immortals I witnessed.
When you think about this years event, at least for me, the excitement and unpredictability gives me goosebumps.  It is exactly the way it should be.
The only problem I have with this year's WrestleMania, is how will they top it next year?  Wait, what am I saying? You know they will find a way.
Let me jump into what I think might happen tonight.
One thing is for sure, some of us will be right about tonight and a lot of us will be wrong.  It's gonna be fun.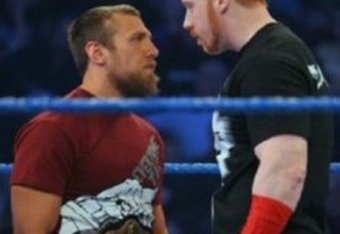 World Heavyweight Championship Match
Daniel Bryan (c) vs. Sheamus
It is hard to believe that just last year in the Georgia Dome.  I witnessed these two men go one-on-one in a dark match for the United States championship.
Sheamus retained the US title in a no-contest.
Fast forward to 2012, Daniel Bryan, "yes!, yes!, yes!, yes!," is on top of the Smackdown brand.
Meanwhile, the 2012 Royal Rumble winner has his sights on his third major championship in his WWE career.
I am not really seeing any interference in this one like other matches, and I think this match will end with Bryan retaining his world championship.
Winner: Daniel Bryan
Team Teddy vs. Team Johnny
This match will determine who will be the general manager of both Raw and Smackown.
Teddy Long or John Laurinaitis.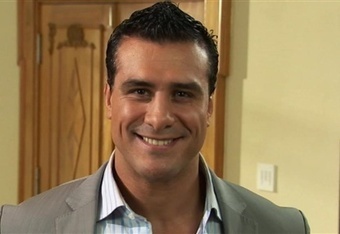 I don't know about you guys, but I am ready for this to be over with.  I don't know what is worse, trying to spell Laurinaitis, his voice or this little feud.
I think we will see a returning Alberto Del Rio helping Mr. Laurinaitis win this match.  We last saw Del Rio at Elimination Chamber, as he was showing his support for Laurinaitis already.
Honestly, I just hope this match doesn't take up too much of the four hours of WrestleMania because it is really pointless.
Winners: Team Johnny
Women's Tag Team Match
Kelly Kelly and Maria Menounos vs. Beth Phoenix and Eve Torres
Honestly, I don't know why this match isn't going on last.  It could definitely steal the show.
All kidding aside, this is just another quick celebrity fill-in match, just like last year's with Snookie.
Does anyone know who Maria Menounos is?
I actually think this one will be a no contest finish, with Kharma returning to action and cleaning house.
Winners: No Contest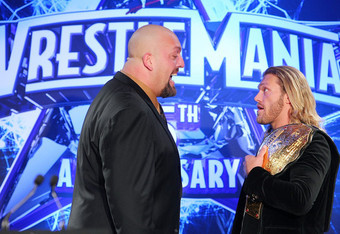 Intercontinental Championship Match
Cody Rhodes (c) vs. Big Show
Some have whispered a possible returning star in this match, or maybe even the debut of Tensai.
I just see this as simply Big Show finally getting his "WrestleMania Moment."
Rhodes is going to get knocked out, and Big Show is going to win the once-prestigious intercontinental championship.
I do hope they keep it white. I've always like that and it brings back the classic feel to the belt.
Winner: Big Show
Randy Orton vs. Kane
The big story here to me, for the second year in a row, WWE's Apex Predator is in a mid-card type match at WWE's biggest event of the year.
Last year, we witnessed Orton defeat CM Punk with an RKO off the top rope out of nowhere.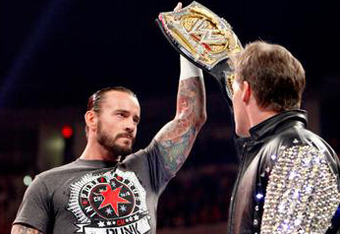 What will Orton have in store tonight for Kane?  
I doubt Orton will lose this matchup.  I just hope it helps catapult him back to the top of the WWE landscape. 
I know popularity-wise Orton is still one of the biggest, but he needs to be back in the title hunt in my view.
Winner: Randy Orton
WWE Championship Match
CM Punk (c) vs. Chris Jericho
A match that would be the most highly anticipated match of the card if it weren't for the double main event.
On any other night, I would be the most excited about this match, but I just can't help to be a little more excited for the two matches to follow.
The returning Chris Jericho is back to take what is rightfully his, being the best in the world at what he does and winning the WWE championship.
This is a match where I think a returning wrestler could make an impact, and someone could help Jericho win the title.
I think that the debuting Tensai, formally A-Train, who hasn't been in the WWE since 2004, will be the man to help Jericho become champion once again.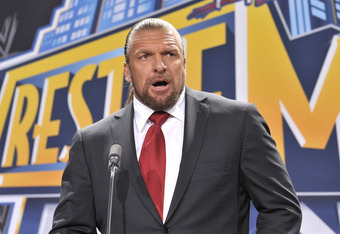 Winner: Chris Jericho
Hell In a Cell
The Undertaker vs. Triple H
Special Referee: Shawn Michaels
I was in thought at one point today that this match would close out WrestleMania tonight.
Then, I thought to myself, you can't sign a match a year in advance and not have it close out the event.
So here we go again, the streak is on the line.
This time, The Undertaker will have to do it inside of Hell in a Cell.
Besides finally getting to see The Undertaker's new haircut, we get to see The Undertaker wrestle for the first time in a year, when he was carted off at WrestleMania 27 in Atlanta.
Only once at WrestleMania has Undertaker put his streak on the line inside the dominant structure known as Hell in a Cell, at WrestleMania XV against Big Boss Man.
Triple H is no Big Boss Man, and is out for one thing, ending the career of The Undertaker.
After being defeated by The Undertaker at WrestleMania X-Seven and 27, will the third time be the charm for the king of kings Triple H?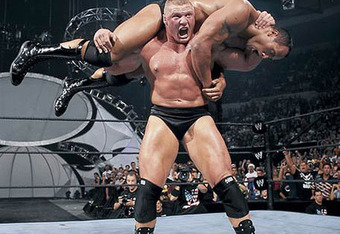 If ending The Undertaker's career is what Triple H is set out to do, I think that is going to happen.
However, I don't think he will do it in a winning effort.
20-0 is how I see it.  It isn't a simple decision.  I have went back and forth on it several occasions.
Now, I thought that WrestleMania 29 would be a possibility for The Undertaker.
I actually really wanted to see him face The Rock, something he hasn't done before at WrestleMania, but I just don't think it fits well with The Rock's persona.  
The Undertaker is not going to have a Twitter war with The Rock, and I don't think The Rock can dig deep enough to his old roots and put on a good feud with The Undertaker. 
However, I do think The Undertaker will be involved with WrestleMania 29, as the special guest referee of a possible match that one could only dream of.
Look, if we can dream of it, it is possible.
If Hulk Hogan-The Rock, and most recently Rock-Cena can happen, then anything is possible in my eyes.
This is how I see it, Shawn Michaels' ego will get involved at some point, but it will cost his buddy, Triple H, a chance at ending the streak once and for all.
This will set up a dream match between Triple H and coming out of retirement for one more match, Shawn Michaels.
Goosebumps?  Chills?  I'm guilty.  I hope this happens.
If this is what indeed happens, I think this will be it for The Undertaker.  Leaving with the streak in tact and 20-0 at WrestleMania.
Winner: The Undertaker
John Cena vs. The Rock
A match set a year in advance, once in a lifetime, never before, never again, The Rock versus John Cena.
Following The Rock's interference in the WrestleMania 27 main event, this match was set and agreed to the next night on Raw at the Philips Arena in Atlanta.
However, let's flash back real quick to talk about why this really happened.
Cena, not The Rock, put the fuel on this feud.  The Rock simply sparked it to start the fire.
In an interview with The Sun in 2008, Cena said:
What I kind of get peeved about, and this is my Achilles heel, is that I've wanted to do this my whole life. Rock falls into that category. At one point he loved wrestling and wanted to do this all his life. Just don't f*** me around and tell me that you love this.
That woke up the sleeping giant and brought The Rock back to life.
So here we are, the moment has arrived.  
The Rock will compete in his first singles match in the WWE since 2003.
Not that this match could be any bigger or need any kind of outside interference for some uplifting, but I think that is very possible at this point.
What I also think will happen is that John Cena will turn heel in the process.  I know you get sick of people predicting that, believe me, I get tired of saying I want it to happen.
I think the returning Brock Lesnar will attack The Rock to help Cena secure the victory against the great one.
This move cost the once clean Cena, moving him into that heel role once and for all.
Also, this could potentially set up a match between Lesnar and The Rock next year at WrestleMania 29.
Winner: John Cena
All of that could happen.  Some of that could happen.  Or none of that could happen.
The bottom line is that it is going to be a beautiful WrestleMania, and I haven't ever been this excited to see a WWE show before.
Let's do this!
Follow me on Twitter @nyyrobinson.