Masters Favorites 2012: Odds and Predictions for This Year's Tournament
April 5, 2012

David Cannon/Getty Images
Fans, the wait is almost over. The 76th edition of the Masters starts tomorrow from the Augusta National Golf Club, and it promises to be one of the best ever.
Ninety-six players divided in 32 threesomes will take on the hallowed par-72, 7,435 yards-long field, starting at 7:50 a.m. ET.
The prize fund is $8 million, but all of them have one goal on their minds: wearing on Sunday the one jacket that rules them all, the coveted green jacket. This means you are the winner and take your place in history as a golf major tournament champion.
The storylines are endless this year, and most of the coverage surrounds the resurgence of four-time Masters champ Tiger Woods and the emergence of Rory McIlroy. All this attention is justified, as they are arguably the biggest stars in golf today.
Three-time Masters champion Phil Mickelson is the other player garnering much attention this weekend. His previous success at Augusta can only be matched by Woods, and makes him a likely pick to win.
But picking a winner is not easy, even if you want to make a case for the triumvirate of favorites. While they have plenty of reasons to be picked as winners, there are many facts to consider that don't always result on the favorite winning on Sunday.
Betting odds are a funny thing and very subjective, so let's preview the current Vegas odds for the bookies' favorites and their chances here:
Tiger Woods (USA), 4/1: The 14-time major winner and former No. 1 seems to be back in top form. You can argue that if he finished tied for fourth the last two years playing at, the most, three-quarter strength, he should obliterate the field this year.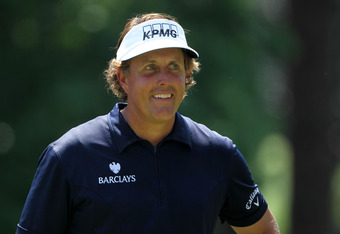 Jamie Squire/Getty Images
Not quite.
While it's true he is playing almost to his full potential and is always at his best here, his putting—a key element to win here—is still suspect.
Woods has been driving the ball extremely well, and his scrambling game has been excelling lately. He relishes the challenge to win a major, and is at his best on them, but I'll pick him to win one when his putting is back on par with the rest of his game.
Rory McIlroy (NIR), 5/1: He has 11 top fives—including one win—in his last 12 tournaments. He tasted what it is to be No. 1 in the world, and already knows what it is to hold off his two biggest rivals. In two of his PGA Tour victories, Quail Hollow (Mickelson) and Honda Classic (Woods), they finished second to him. 
But this is the Masters, and even when he won the U.S. Open after his collapse here last year, many will question if he has what it takes to win here. I think he does, but not this year. He will contend and place in yet another top-five finish.
Phil Mickelson (USA), 8/1: Lefty will tie Woods and Arnold Palmer for second-most wins at the Masters this year. Plain and simple, here is your winner on Sunday.
Just like Woods seems to be at his best here, Mickelson is equally as good. The difference this year is that he is at the spot he likes most, which is under the radar.
He has garnered attention, but the big spotlight is on Woods and McIlroy. Mickelson likes the challenge of playing just below that spotlight and excels on it. Expect Charl Schwartzel to put the green jacket on Mickelson this Sunday.
Luke Donald (UK), 15/1: Even though he is the world's No. 1, he is overshadowed here by Woods, McIlroy and Mickelson.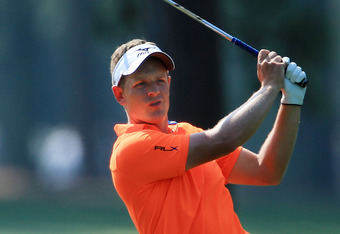 David Cannon/Getty Images
Last year he finished tied for fourth place here, and won the PGA and European Tour money titles. This year, he comes to Augusta with momentum and confidence after winning the Transitions championship.
He thinks this is his best shot at winning that elusive first major title. I have to agree, since this is the one where he has his best results—three top 10s that include two top fives. If Mickelson were to fail for some reason, this is the guy who will beat him.
Lee Westwood (UK), 18/1: The former No. 1 is another player on the long list here of elite players looking for their first major title.
After a finish tied for sixth in 1999, he didn't enjoy success here until 2010 when he was the leader by one stroke over Mickelson. But Mickelson pushed the pedal to the metal down the stretch and pulled away to win by three.
He finished tied for 11th place last year, and his window to win his first major seems to be closing. I don't see him with enough momentum coming here to win, and I expect a top-20 finish for him.
Adam Scott (AUS), 25/1: Last year he closed with a five-under-par and was the clubhouse co-leader on Sunday with Jason Day before Schwartzel started his assault on the back nine.  
Since he started his season late this year, I just don't think his game is where it was at the same time last year. I see him finishing just behind the top-10 finishers. 
Charl Schwartzel (RSA), 30/1: The big question is how he can top last year's finish. Was it a fluke? I call it a performance of a lifetime and, as such, to me, he already had one, and lightning just doesn't strike the same place twice.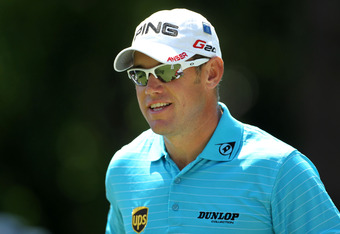 Jamie Squire/Getty Images
The other reason for not picking him to win this year is simple: Palmer, Faldo and Woods. Those are the last names of the only players to repeat as champs, and Schwartzel is not on that level, at least not yet.
Hunter Mahan (USA), 30/1: He must be riding high in confidence after this past weekend, as he won his second tournament this year and is peaking at No. 4 in the world rankings.
He has now won two WGCs in his career, and when he has been good, he's really good—but the rest of the time he is just average.
This has been the case at the Masters, with two top 10s and two missed cuts in the past four years. It is that very same inconsistency that doesn't move me to pick him to win here. He's due for his down run now.
Keegan Bradley (USA), 30/1: He is a player who is fearless, confident and knows how to gamble—and succeed—at attacking the course when he needs to. Sound familiar?
Maybe because his mentor and idol is Phil Mickelson, from whom he sought advice recently. If I am picking Mickelson to win, then Bradley should not be far behind.
Besides, he is perfect in majors thus far, and knows first hand what it takes to win a major on your first try.
Justin Rose (UK), 30/1: He is playing the best golf of his career. Rose won his career-first FedEx Cup playoff tournament and his first WGC tournament this year.
Even with all this great recent play, he still has to prove himself in the majors, and the Masters is not the right place for him to get started. I don't see him reaching the top 10.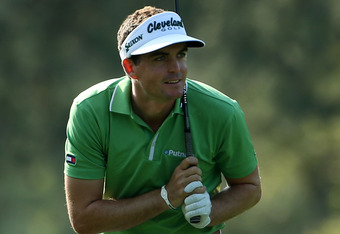 Jamie Squire/Getty Images
The Dark Horse, Johnson Wagner, 12/1: His odds are low because he is just part of the field (any other golfer). But he is a player who is having his best year so far, as he was the early FedEx Cup standings leader and now is in second place.
I like his recent tied-for-fourth finish at the Arnold Palmer Invitational, where the course was playing Augusta-like. If there is an unexpected player who is playing very good golf at the right time, here is your pick.
Former Champ, Trevor Immelman, 100/1: The South African would love to replicate his 2008 win when he defeated Woods by three strokes. Since then, he has finished with three straight top-20 finishes.
After a forgettable first half last year, he closed with a couple of top-five finishes and is starting to show signs of what it took for him to win here in 2008. Like Wagner, I liked his Bay Hill performance and he should perform well here—at 100-to-1, I'll take him.
The Real Long Shot, Angel Cabrera, 150/1: I have to double check those odds for a former champ who has five top-five finishes here.
Cabrera is here because of his former champ status. While he has missed some cuts this year, he did so last year and still finished seventh. His history and success here makes him worth a shot at those odds.
This year's field is full of strong players with a real shot at winning. Whomever you pick, you can't go wrong. At the end, we will all win since this year's Masters should be one to remember.