Gil Hodges, Contrary to the 'Experts' Lack of Expertise, Did Dominate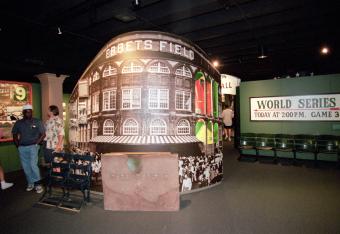 A Replica Model of Gil Hodges' Other Home
Ezra Shaw/Getty Images
In 1949, at the age of 25, Gil Hodges became the Brooklyn Dodgers' regular first baseman. From 1949 through, and including, 1957—which is the last year that the Brooklyn Dodgers existed—Hodges batted .284/.372/.515. He averaged 34 home runs and 115 RBI over a 162-game season.
Hodges belongs in the Hall of Fame. There is no doubt that he is at least as deserving as first basemen Orlando Cepeda and Tony Perez, as well as third baseman Ron Santo
The primary assertion against this though is that Hodges didn't dominate the National League. However, those individuals who saw Hodges play know that is patently false. Those fans and "experts" that never saw Hodges play must look at the record.
The following presents Hodges' home runs and RBI from 1949-54, followed by the first baseman that finished second to Hodges or that topped Hodges that season:
YEAR PLAYER HR RBI
1949 Hodges 23 115
1949 Mize 18 62
1950 Hodges 32 113
1950 Musial 28 109
1951 Hodges 40 103
1951 Torgeson 24 92
1952 Hodges 32 102
1952 Kluszewski 16 86
1953 Hodges 31 122
1953 Kluszewski 40 108
1954 Hodges 42 130
1954 Kluszewski 49 141
During each of those six seasons, Hodges averaged over 33 home runs and more than 114 RBI, never failing to drive in more than 100 runs in any of those years.
Now for the key statistic that apparently has either been overlooked or under emphasized: From 1949-54, the seven regular National League first baseman, not including Hodges, averaged the following:
YEAR HR RBI
1949 8 52
1950 14 66
1951 8 51
1952 8 52
1953 18 72
1954 17 70
During the six seasons, Hodges averaged 33 home runs and 114 RBI; the other first baseman averaged 13 home runs and 61 RBI.
To "dominate" means "To tower above." And Hodges was the greatest right-handed defensive first baseman in baseball history.
This article is
What is the duplicate article?
Why is this article offensive?
Where is this article plagiarized from?
Why is this article poorly edited?

Los Angeles Dodgers: Like this team?