Arsenal FC: A Summer Transfer Proposal to Ensure That Robin Van Persie Stays
April 5, 2012

Julian Finney/Getty Images
After a dismal start to the 2011-12 season, Arsenal have bounced back nicely, as they are now in very good shape to clinch a 15th consecutive appearance in the UEFA Champions League. Currently. They currently sit in third position, up on goal differential over Tottenham, and are five points up ahead of fifth-place Chelsea.
Although clinching a top-three finish is still critical, another vital thing for the Gunners is to lock up star striker Robin van Persie, preferably on a long-term deal. The Premier League's leading goal scorer is currently under contract until the end of next season. 
Recent reports indicate that Arsenal manager Arsene Wenger is prepared to sell a host of underperforming players—including Andrei Arshavin, Marouane Chamakh, Sébastien Squillaci, Carlos Vela, Denilson, Nicklas Bendtner and Manuel Almunia—in order to restructure the contracts of van Persie, and young English wingers Alex Oxlade-Chamberlain and Theo Walcott, even if the means that the North London club will have to break their bank in order to do so.
With Arsenal trophy-less since the 2004-05 FA Cup triumph, many players, including star midfielders Cesc Fabregas and Samir Nasri, have fled North London to find greener pastures. It is clear to anyone that has watched a single Arsenal match this entire season that if the Duthman leaves the Emirates, disaster is likely to strike.
Clearly, of this list of three that Wenger wants to keep on board for a while, RVP is the most important.
Although increasing the Dutchman's wages can do well, it is clear that Arsenal cannot even contend with spending giants Manchester City, who are supposedly planning a huge, £210,000-a-week deal to bring van Persie to the Eastlands. The absolute maximum wage deal that Arsenal could strike is about £120,000.
Instead of getting into a type of bidding war in order to keep their best player, a better solution for Wenger and the entire organization is to surround van Persie with players that he feels can actually help Arsenal contend with the Citizens, as well as Manchester United next season and for years to come.
The reported purchase of FC Cologne striker Lukas Podolski is already a positive sign for Gunners fans because, recently, Arsenal have had trouble when they attempt to pair somebody up top with "Captain Vantastic".
Although the £13 million fee may be a bit excessive for a player of Podolski's caliber, the move at least shows that Arsenal are serious about buying true talent, not young players that they hope to mold in the academy.
But the move for the German international cannot be the end. Arsenal have some money from the sales of Fabregas, Nasri and Gael Clichy last summer, as well as the expected sales of some of the players mentioned earlier. The club reported a huge £49.5 million half-year profit, which is a huge difference from the prior season.
That should mean that even if the contracts of van Persie and the Englishmen see changes, there can still be some leftovers for one or two big purchases.
The two biggest names currently linked with a move to the Emirates are Rennes midfielder Yann M'Vila and Ajax centre-back Jan Vertonghen. 
Although both of these players would be solid, if unspectacular buys, Arsenal could make it through with the current array of players at both of these positions.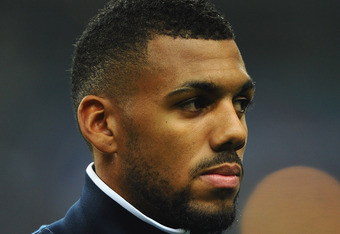 Mike Hewitt/Getty Images
In the holding midfielder role, the Gunners have acquired an abundance of young talent, and adding the 21-year-old M'Vila to a list that already includes 24-year-old Alex Song, 20-year-old Jack Wilshere, 20-year-old Francis Coquelin and 20-year-old Emmanuel Frimpong would be next to pointless. Adding another player at one of the few positions where the Gunners are set wastes valuable money that could be going towards more important needs.
Although M'Vila may have more experience and may frankly be better than either Coquelin or Frimpong, he is not a world-class talent, and with more pressing needs, he is not a great purchase.
Vertonghen is a tougher puzzle to solve.
Arsenal seem to have a good amount of talent at centre-back, with Thomas Vermaelen being the key man, and usually partnered with either the impressive Laurent Koscielny or currently injured German Per Mertesacker. Both players are solid starts in the middle of the back four. Throw in the solid Johan Djourou, and one would think that the Gunners are set at that position. However, Arsenal have yet to solve major problems at the back that have hindered them since the Gallas-Touré days.
With Mertesacker's ankle injury seeming pretty serious, he may not be at 100 percent strength at the beginning of next season, and given Vermaelen's injury history and Arsenal's overall luck with injuries adding another body at the back won't hurt.
Still, there are more enticing albeit expensive players on the market.
One that instantly comes to mind is Lille winger Eden Hazard. Hazard was heavily linked with the Gunners last summer; then decided he would rather go to Arsenal's sworn enemy, Tottenham.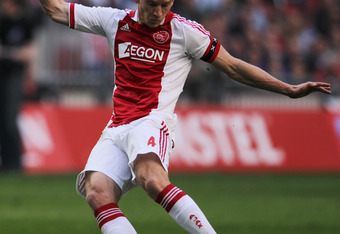 Dean Mouhtaropoulos/Getty Images
With Spurs' recent run of poor form, some, including The Week believe that the Belgian star is once again looking to join countryman Vermaelen in North London.
Hazard would be an ideal buy for Wenger, and one that may propel Arsenal's current core to want to stay in red and white.
Hazard is an asset on offense, which benefits van Persie more than an addition at the back, as well as just now entering his prime. With the additions of Podolski, Hazard, and one of either M'Vila and Vertonghen, as well as a higher wage, van Persie might decide that Arsenal are serious about contending right away.
Although it may seem smart to add a bunch of steady, cheap veterans on the last day of the transfer window—when many prices decrease—like the Gunners did last year with the August 31st additions of Mertesacker, Chu-Young Park, Mikel Arteta, Andre Santos and Yossi Benayoun, it is surely not the best way to keep a star. 
The best way to keep a star is to surround them with stars, which Arsenal clearly failed at last season when three key cogs of their squad departed due to stubbornness from the management.
With Wenger looking to buy this summer in order for Arsenal to once again truly compete for a Premier League crown, it would make more sense to buy one true superstar rather than load up on above-average talent.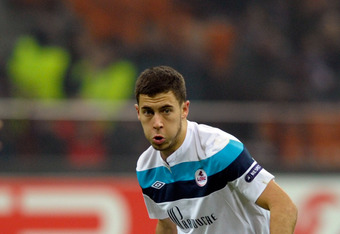 Claudio Villa/Getty Images
Right now, it seems as if Arsenal's captain is receiving virtually no help when they attack. Sure, Song or Arteta can deliver a great ball every once in a while, or that Walcott can make incisive runs with his blistering speed, but now one other than Robin is a consistent threat. 
Only a great player can provide that.
There are two things Arsenal have been right about but not in the correct way.
Retaining Robin van Persie has to be the focal point of Arsene's summer—but not by getting into some kind of war that he knows he can't win, rather instead by showing his star striker that he's on the better half of the fence.
The other thing is that it is time to shell out the big bucks internally rather to bring in new talent from the outside.
Mark my words: If Arsenal decide to attempt to fight off City or even Real Madrid in order to keep RVP, and until the final week of the transfer window, they will be screwed. They will lose the fight and be unable to launch a coup to re-strenghthen the side.
If instead they act early and bring in fresh, yet seasoned faces, and improve the squad around their best player, then they will succeed. Even if he does not remain loyal, they would at least have a half-decent replacement player, and, better yet, they could remain stubborn, hold onto van Persie no matter what, and when they play well, he will want to extend his contract.
This, I believe is the best, most efficient way that Arsenal don't lose a captain for the second successive season.