David Luiz: His Growing Importance to Chelsea
March 29, 2017
Mike Hewitt/Getty Images
Beyond the fanfare surrounding Chelsea's comeback against Aston Villa yesterday, one player will not be experiencing the joy felt by his team mates.
It was a victory that will no doubt have filled both the players and manager Roberto Di Matteo with confidence ahead of crucial fixtures in both the Champions League and Premier League. As the elation begins to subside, the injury to centre back David Luiz will undoubtedly bring both the club and the fans quickly back to earth.
For a player considered earlier in the season as a liability, a mistake waiting to happen, the growth in stature and importance of Luiz may come as a surprise to many, and could potentially be a key factor in deciding Chelsea's league position, Champions League fate, and Di Matteo's future.
David Luiz arrived at Stamford Bridge without the excitement of fellow signing Fernando Torres, both bought in January 2011. However, at the time, he was perhaps considered a more necessary component to Chelsea's team.
While Torres would have to compete with Didier Drogba, Nicolas Anelka, Salomon Kalou and Florent Malouda for a place in Chelsea's attack, Luiz was immediately integrated into the starting eleven.
With an injury prone Alex, defensive utility man Branislav Ivanović and the inexperienced Jeffrey Bruma all failing to successfully fill the boots left by Ricardo Carvalho as captain John Terry's defensive partner, Luiz was considered as not only a signing for the future, but also for the immediate present. 
Luiz became an instant hero for Chelsea fans. His first start for the club in February against Fulham resulted in Luiz giving away a 93rd minute penalty, which, luckily for him, was saved by Petr Čech, in a 0-0 draw.
Luiz received not only the backing and faith from the visiting fans at Craven Cottage, but also the Man of the Match award for his unique style of athletic defending, as well as his ability to start attacks through both driving runs and a fine range of passing.
His hero status was solidified when he scored the winner against Manchester United in a 2-1 victory a few weeks later, his first goal for the club and a further indication, if any was required, of his exceptional technique (skip to 2:19 for the goal). A further goal and Man of the Match award against Manchester City, leading to the Player of the Month award in March, saw many hail Luiz as a far superior signing to Torres, and the man to help lead Chelsea's defence for years to come.
However, despite the plaudits being rained down upon Luiz, many leading tacticians and pundits had spotted the obvious weaknesses in the Brazilian's game. The BBC's South American football correspondent Tim Vickery addressed the hype surrounding Luiz as the second coming of Seleção linchpin Lucio.
Vickery identified Luiz's burgeoning leadership qualities, but also the weaknesses in his defensive qualities, requiring the exceptional talents of his central partner, AC Milan's Thiago Silva, to adequately cope on the international stage.
Luiz's goals and attacking prowess had also helped to overshadow his defensive frailties in the Premiership. Although netting the winner against United, he was lucky to stay on the pitch after a needless hack on Wayne Rooney whilst already on a yellow card.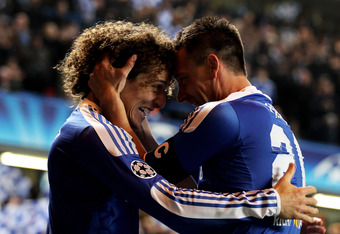 Clive Rose/Getty Images
Indeed his physicality, and occasional immaturity, in games often bordered on brutality as he almost appeared to over compensate for the step up to the fast paced English game. The qualities that had made Luiz such a hero to Chelsea fans were hiding his weaknesses, but he was playing in a league ideally suited to his natural game.
In a country that will, amongst the fans at least, more often than not heap praise on a last ditch tackle rather than simply reading the attacking play of the opposition, Luiz's pace and strength allowed him to perform without a huge amount of tactical awareness, and to often make up for his own mistakes. 
The arrival of André Villas-Boas to Chelsea looked to cement Luiz's position in Chelsea's team. Known to favour a high defensive line featuring pacey players, Villas-Boas made no signings in the summer to improve the centre of defence, and so Luiz appeared to be exactly the sort of athletic defender the system would be based around.
However, it was ill suited to Chelsea's other centre backs, and a series of poor and inconsistent performances from not only Luiz but the entire team left Chelsea's season in disarray. His poor displays and understanding with new signing, Gray Cahill, in losses against Napoli and West Bromwich Albion did little to strengthen AVB's position.
Subsequently sacked by the Blue's owner Roman Abramovich, the Portuguese manager's departure left the club in a position not experienced in several years. Luiz meanwhile, saw the departure of someone who placed what seemed an unwavering faith in him. With the imminent return of John Terry and Cahill to compete with, many wondered if Luiz would be the player to miss out.
Instead, Luiz has flourished alongside both Englishmen under interim manager Di Matteo. In the return leg of the Champions League last 16 tie versus Napoli, Luiz helped his team overcome a 3-1 first leg loss to go through via a 4-1 extra time win at Stamford Bridge in the second leg.
Awarded the UEFA Man of the Match award, Luiz was a rock at the heart of Chelsea's defence, constantly repelling Napoli counter attacks alongside Cahill as his teammates searched for the win. Chelsea's subsequent quarter final tie with Benfica saw Luiz again given the Man of the Match against his former club, as Chelsea's defensive masterclass allowed them to grind out a 1-0 win.
Luiz and, in this case, Terry formed an impenetrable wall in front of the Chelsea goal, which included a spectacular goal line clearance from the Brazilian. Luiz, who was in danger of becoming the Premiership's definition of unreliability, started to show the form that led to Chelsea paying €25 million for his services.
Whilst Luiz's doubters have legitimate reasons to question his defensive worth to Chelsea, despite these recent performances, the circumstances in which Luiz has had to attempt to bed in to a title chasing team have been far from ideal.
Arriving into a team on the wane, with a manager who was losing interest and the club's faith, Carlo Ancelotti, Luiz did extremely well to look at home in Premiership despite the step up in quality and his age, being only 23 when he first moved. This season may also have seen Luiz's inconsistency and naïvety exposed, but he has been forced to play in a team lacking a definitive system under AVB, who wavered between his high line and a traditional back four.
With this, he has had to play alongside multiple different partners, hardly the most productive environment to form a successful centre back pairing. Di Matteo, despite apparently being widely disliked by Chelsea's senior players, has introduced a new found focus and style to the club that has allowed Luiz, and the team as a whole, to function far more effectively.
It is clear that Luiz is both an outstanding athlete, blessed with strength, speed and athleticism, but also an exceptionally gifted footballer who possesses better technique than many most attacking players.
What was not clear, however, was if Luiz was, or could become, an outstanding centre back for Chelsea. His last ditch tackles and desire to become a part of Chelsea's attack, understandable given many of the team's toothless displays, have seen Luiz become a hero, a cult icon, but have also exposed his naïvety and lack of tactical awareness.
Yet, his recent performances have shown just how dominant Luiz can be, and how crucial he is to a back line worryingly devoid of pace. He will be sorely missed against the varied attacking talents of Benfica following his injury and, also in the remaining games of the Premiership as Chelsea desperately try to snatch one of the Champions League spots.
Terry and Cahill will have to be at their best to make up for his huge loss.
At the beginning of the season, and following Chelsea's inconsistent displays throughout, nobody would have predicted that an injury to Luiz could have provided Chelsea the worry it undoubtedly will, but it is just another indication of the importance of David Luiz.