Liverpool Transfer Rumours: Kenny Dalglish Looks to Future with Young Trio
April 1, 2012

Jamie McDonald/Getty Images
According to Caught Offside Liverpool will look to the future this summer by targeting three young talents to strengthen the team.
The most experienced of the three is 22-year-old central defender Alvaro Dominguez of Athletico Madrid.
Dominguez has been a feature of the Athletico defence for the last three seasons. His main strength is his speed, which allows him to correct mistakes that would have other defenders in trouble.
In a 2010 interview with The Guardian, Dominguez stated a desire to come to the Premier League and also revealed that he is fluent in English.
These are good signs for Liverpool as the bedding-in period looks like it wouldn't be a problem for the Spaniard.
He brings the always-helpful feature of being versatile. He can play as a left back but is far more comfortable in the middle.
Liverpool have made a concerted effort to promote homegrown talent in recent years, and they will look to continue this trend with the signing of Crystal Palace winger Wilfried Zaha.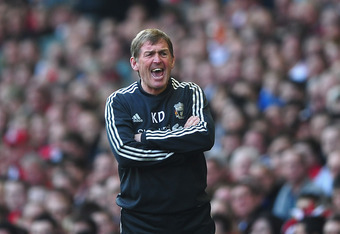 Laurence Griffiths/Getty Images
The 19-year-old has been courted by England's top clubs for some time now. This summer looks like the time that he will finally get his big move.
Zaha can be dazzling when running at full-backs. He has blistering speed and full confidence in his ability to beat any defender.
His game is still raw though, and there are deficiencies that need to be ironed out.
The defensive side of his game needs to improve if he is to play at the highest level. He often stands watching at the wrong end of the pitch instead of coming back to help out the defence.
Dalglish will also want to see more goals from the winger. In 76 games for Palace, he has scored just five times. With four of those coming this term, there are signs that this is improving.
Liverpool may want to be careful with this signing. The fees for English players (many of them going to Liverpool) have been far too much.
The final signing is rumoured to be Barcelona's young striker Cristian Tello.
The 20-year-old has made an awesome start to his Barcelona career with seven goals in 15 games this season.
With the wealth of talent ahead of him at the Nou Camp, Tello may be tempted to switch to Liverpool for more first-team opportunities.
He is nearing the end of his contract so Barcelona may be interested in getting what they can for him this summer, possibly including a buy-back clause.
This is what happened in the similar case of Bojan, who moved to Roma with a clause if the Catalan club wanted him back.
Liverpool fans, what do you think of these potential signings? Should you be looking at more established talents? Comment below.