L.A. Galaxy vs. New England Revolution: Rating the Galaxy Players After 3-1 Loss
April 1, 2012

Joe Scarnici/Getty Images
Dismal displays are just that: dismal. You cannot explain the inability to utlize talent and translate that into results. If you tried to, you might as well win a Nobel Peace Prize. No, wait, make that Ig Nobel Peace Prize. That's the word.
But back to the point this columnist is making: It was a sorry Saturday night for the Los Angeles Galaxy, who paid the price for not having a healthy Landon Donovan to spearhead their hopes. They were routed 3-1 by the New England Revolution, and that means there will not be any high ratings for the players.
As I will continue to reiterate to you wonderful readers on The View from Victoria Street and Bleacher Report, the players earn their ratings; I simply record them. Here they are.
Josh Saunders, 3
Ouch. It's bad enough not to have a backline that can at least run with a middle-of-the-road Eastern Conference Team like the New England Revolution, but when you can't make enough saves, it adds salt to the wound.
Saunders was left hung out to dry and really did not acquit himself at all against a Revolution attack that is resurging in terms of relevance. Memo to head coach Bruce Arena: Consider giving Bill Gaudette a chance or proceed to get 3-1'd to kingdom come.
Sean Franklin, 2
This Galaxy team needs wingers, stat. If you don't have capable wingers, you don't deserve to win ball games. Sean Franklin did an Academy Award-worthy performance of killing virtually every good ball volleyed in his direction.
Combined with Paolo Cardozo was akin to mixing chocolate mousse with mayonnaise. Or ketchup. Or mustard. A repulsive combination.
You know, if Sean Franklin is the best winger the Galaxy can come up with, this season is en route to being a wash. He didn't get the job done tonight.
Andrew Boyens, 1
Omar Gonzalez, this isn't! But forget about Omar Gonzalez. This effort from Andrew Boyens now raises a very important question: Do you start Tommy Meyer for the rest of the season, or do you ride your luck with Boyens, who was sliced apart by the Revs' counterattack?
Or, will Boyens and Meyer be placed in the middle, providing a towering presence but lacking defensive intensity all the same?
That's a big set of questions Arena will answer for us next week against Sporting Kansas City.
A.J. DeLaGarza, 3
The only defender who actually bothered to show up was A.J. DeLaGarza. His size did place him out of position, but he was able to clear whatever he could. The problem for DeLaGarza was that he did not have enough support on the wing to hold those through balls at bay.
Maybe returning to the right back position will suffice.
Todd Dunivant, 2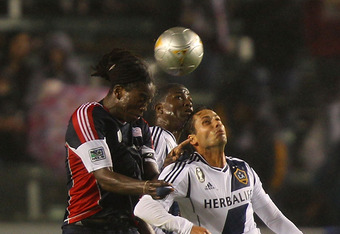 Joe Scarnici/Getty Images
Along with Andrew Boyens, Dunivant was responsible for giving up the Saer Sene goal. But in his defense, he wasn't the weakest link of the backline for LA.
He was also responsible for surrendering the goal to Kelyn Rowe. To go unmarked and let a fresh rookie open his scoring account is an honest definition of humble pie.
Paolo Cardozo 3
When will Bruce Arena come to terms with the cold-hard reality that Paolo Cardozo is not a winger? When will it come? I've got my calendar ready to record the date.
Cardozo is only fit as a central attacking midfielder. Combined with Sean Franklin, you get the Galaxy's definition of flies on a boar's head. It just didn't work.
Now I don't know all the details, but from numerous eyewitness reports on twitter, there were shades of 2008, with verbal altercations between David Beckham and other players on the Galaxy first XI.
But aside from the alleged reports of unprofessionalism, a poor on-field performance combined with a tactical substitution by Arena has resulted in this rating.
Juninho, 2
How many flights will the imposter take between Sao Paulo and Los Angeles before the truth finally out?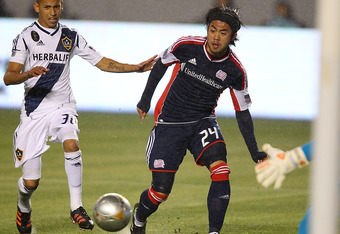 Joe Scarnici/Getty Images
All joking aside, the chemistry betweenn Juninho and Marcelo Sarvas just wasn't there. When these two work together, possession is not ceded as much to the point that it becomes almost nonexistent.
Sao Paulo FC front office people, once again we understand why you offloaded him to us. Obrigado.
Marcelo Sarvas, 2
Similar situation to Juninho; This grade had to do with his chemistry on the field with No. 19.
One thing fans learned about Sarvas: He isn't the solution to the winger dilemma L.A. is suddenly inundated with.
Robbie Keane, 5
Keane was the man of the match for LA. Here's a new fact: Robbie Keane was named as vice-captain prior to the season starting. So he did what he could filling in for Landon Donovan, although understanding that Ricardo Salazar will flex his guns more often than not will prove useful in the future.
Great workrate...probably the only player who did something right for the Galaxy.
Edson Buddle, 2
Awful. Awful return to the pitch. Shooting and decision-making was so poor that the L.A .Blues would not take a chance on him if it stared right at them in the face. Silver lining: He did provide the assist to Keane, which is why his rating is a 2 instead of a 1.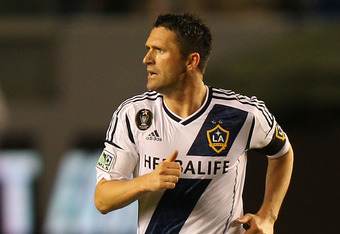 Joe Scarnici/Getty Images
Mike Magee, 3
Michael Stephens, 3
These two are coupled together because they came in as halftime substitutions by Arena. It was a gamble that was akin to flying the white flag with 45 minutes and stoppage to go, because soon after, the hammer was dropped by Sene. Didn't really turn the fortunes around for the Galaxy.
Chad Barrett, N/R
No grade for Chad Barrett, as he came in late. As an aside, it seems Barrett will be making a habit of getting a free pass—at least until he gets a start again.