San Jose Sharks: Top 10 Goals in Sharks History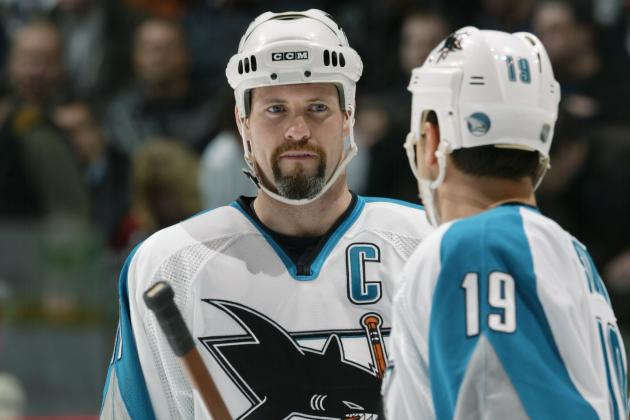 Jeff Vinnick/Getty Images

There might be few things in life that hockey fans enjoy more than when a player scores a pretty goal.
The San Jose Sharks have seen their fair share of goal scorers in teal.
Players like Owen Nolan, Marco Sturm, Jonathan Cheechoo, Jeff Friesen and many others have amazed sold-out crowds at the Tank over the years with their dirty dangles.
In this article, I'd like to outline the 10 best goals ever scored in Sharks history. Remember, there have been loads more than 10 beautiful goals scored by a Shark, so these will be the 10 I found to be my favorite.
Begin Slideshow

»
There have only been 10 goalies to score a goal in an NHL game in the league's history.
Former Sharks goalie Evgeni Nabokov has his name etched in that illustrious club.
Not only did Nabokov score a goal in the closing moments of this game against the Vancouver Canucks, but it was a power-play goal.
Such a fantastic moment for the goalie that even then Sharks coach Daryl Sutter showed a very uncharacteristic smile on the bench.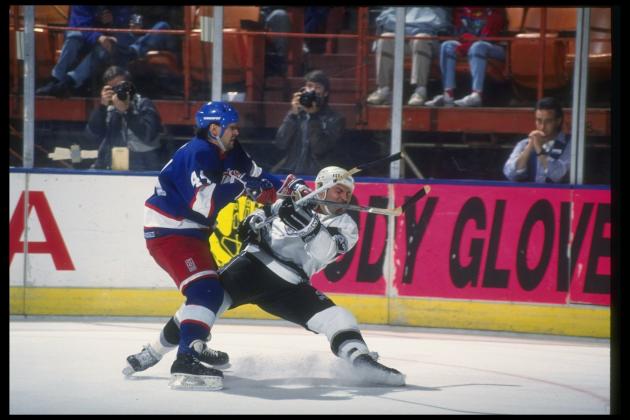 Ken Levine/Getty Images

Defenseman Shawn Cronin is a player that many Sharks fans today may not be familiar with.
His time spent in San Jose was so brief (just two seasons) that I couldn't even find an image of him in teal, let alone video of the goal he scored. But you can see him wearing number 44 for the original Winnipeg Jets in this slide.
Cronin only scored one goal as a Shark, and it was a very important one. Historically speaking, that is.
He scored the first goal in Sharks playoff history.
It was just a simple shot from the blue line, but for when it happened, it more than deserves to be on this list.
Here's a player fans in San Jose haven't seen a ton of goals out of. But when he does score, you better be watching, because you will remember it.
This goal came against the club's archrival, the Anaheim Ducks, while on the penalty kill.
Some fantastic stick work from Mitchell at the blue line. Some even more uncommon strong skating from Mitchell allowed him to fight through the neutral zone, draw a penalty and still come out with a highlight-reel goal.
Brian Campbell, or "Soupy" as most people know him, isn't bound to draw many smiles from Sharks fans if you bring his name up in conversation.
But this goal will.
While on a power play against the Montreal Canadiens, Campbell netted possibly one of the most gorgeous goals anyone at the Tank had ever seen in recent years.
I know what you're thinking. This goal is basically a clone of what we just saw Brian Campbell do.
Only one difference, and it's a huge difference.
Brian Campbell didn't make an example of Shea Weber and Ryan Suter in the process.
This goal by Joe Pavelski could singlehandedly describe why Joe Pavelski is one of the most underappreciated players in the NHL.
Ben Eager is a player that Sharks fans weren't allowed enough time to grow comfortable with.
Eager's style and abilities can be compared to the likes of players of Eric Lindros in some ways. He is a big-body player that can skate, score goals and demolish anything that gets in his way.
This goal he dangled against the Stars was so incredible that after the game, several of the Sharks players who had Twitter accounts couldn't stop talking about it.
His hands on this goal, after all, were phenomenal.
This goal would be number one if I wrote this article from a selfish standpoint.
Nolan scored this goal as my father and I watched live, just nine rows form goalie Dominik Hasek's back.
It was a rough period for Nolan, as he had tried about four different times to net the third and final goal to complete the hat trick for the hometown San Jose fans.
When he finally did, the building exploded to a level of noise that I don't think has been repeated at the Tank to this day.
The game was brought to a halt as Nolan was interviewed on the bench for the entire arena to hear. Though it isn't technically a "Sharks" goal, any Sharks fan will tell you it belongs on this list.
More than the sheer beauty of this goal, it's the importance that the goal served.
The Sharks were an underdog at the eighth seed in this series against the President Trophy-winning St. Louis Blues.
This rocket from center ice during the closing moments of the first period ensured a Sharks victory in one of the club's biggest upsets since eliminating the Red Wings in their second NHL season.
I'm already trying to guess how many people are going to be bothered by how many times Mitchell made this list.
To quote Sharks color analyst Drew Remenda, all you can say on this goal is wow.
By himself, Mitchell shook every Sedin on the planet, Burrows and buried the puck through goaltender Cory Schneider's five hole in what was easily one of the most beautiful goals Sharks fans have ever seen.
Easily the most important goal in the history of the San Jose Sharks.
In the 1993-94 season, the Sharks were just three years old, coming off a season where they accumulated just 11 victories.
Most hockey fans had open and shut the book on this series before the first puck even dropped.
With one slap of his stick, Jamie Baker sent a message to the Red Wings, the NHL and hockey fans everywhere that the San Jose Sharks had arrived.