Brock Lesnar: 5 Possible WrestleMania 29 Opponents for Lesnar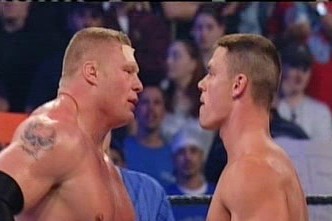 "Here comes the pain!" Again!

Brock Lesnar. The Manster. The Next Big Thing.
Two-time NCAA All-American, two-time Big Ten conference champion, and the 2000 NCAA heavyweight champion.
Youngest ever WWE Champion.
Former UFC heavyweight champion.
NFL player for the Minnesota Vikings. (You might want to forget that part.)
The man who "ended the myth of Hulkamania." The man who had the original ring-collapsing "OMG" moment with the Big Show. The man who made the Canadian Crippler pass out to a submission hold. The man who won the main event at WrestleMania with a concussion.
Love him or hate him, you have to admit, Brock Lesnar is a presence worth acknowledging in any contact sport. With his recently rumored one-year contract to return to the WWE, there are a lot of interesting possibilities for him in the squared circle. Here, I take a look at few worthy opponents with whom Lesnar can headline WrestleMania 29.
Begin Slideshow

»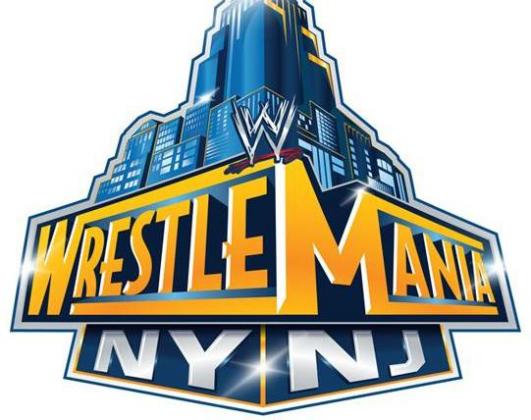 Big Show: The man who was suplexed off the top rope, imploding the ring. The man who was taken away on a forklift in a stretcher match. While Lesnar vs. Big Show would be an interesting power contest, it just does not have the caliber to headline "The Showcase of the Immortals." That said, it would be an interesting contest if booked for SummerSlam.
Mark Henry: The World's Strongest Man taking on the Ultimate Fighting champion. Both men have super-plexed the Big Show. However, like the previous concept, this match does not have WrestleMania written all over it, but can be considered for another of the Big Four pay-per-views.
Kurt Angle: Former Olympic gold medalist who is still trying for an Olympic comeback. If he decides to come back to the WWE, Angle vs. Lesnar should be an interesting contest. Especially since he was in the WrestleMania match with Lesnar, and was the last wrestler to compete with him in June 2007.
Batista: He was booked and promoted as an unstoppable monster, the same way Lesnar was. He is also rumored to be wanting a WWE comeback run. The Animal vs. the Next Big Thing would be a brutal contest.
Goldberg: I am only mentioning him because he was the last person Lesnar faced at WrestleMania. I do not want to see a rematch of the most disliked contest in WrestleMania history. Period.
The Rock: Lesnar defeated the People's Champion to become the youngest WWE champion ever, breaking Dwayne's record. While they did not have a feud after that, Rock trying to get revenge would be phenomenal. That said, with the Rock's busy schedule and Lesnar not being a very good talker, most of the feud would be boring. Unless Dwayne is willing to be physically active in the ring, I do not see this being as great as it seems on paper.
While Triple H has never faced Lesnar one one one, Triple H was the star of Raw when Lesnar was destroying people on SmackDown. Triple H was initially awarded the World Heavyweight Championship because Lesnar refused to defend his WWE Undisputed Championship on Raw.
This match can take place in several ways, most notably by Lesnar interfering in the Hell in a Cell match at WrestleMania.
Lesnar can claim that the World Heavyweight Championship and, thus, Triple H's five reigns with it are a phony. Triple H can take this as an insult to himself and all the champions that followed him. He could say that Lesnar refused to defend the title in 2002 because he was—and is—a coward.
This would lead to a match that is 10 years in the making, and a match that would be worthy of WrestleMania.
Possible Highlight: Lesnar stands up from a pedigree attempt to deliver the F-5.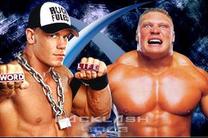 Part 2?
Back in 2003, when John Cena was legitimately cheered by the fans as the leader of the "Chain Gang," this feud catapulted him into the spotlight.
Like it or not, Lesnar helped build Cena into a credible threat. Even Cena's finisher, the Attitude Adjustment (formerly the FU), is based on Lesnar's more dangerous-looking F-5, with which Lesnar almost "ended Cena's career."
Almost 10 years later, Cena and Lesnar can still entertain the fans, if it is booked for WrestleMania. While it will not be as verbally intriguing as Rock/Cena, Lesnar's physical presence and actions speak much louder than words.
Possible Highlight: Cena squeals like a little girl when Lesnar applies the Brock Lock on him.
Randy Orton and Brock Lesnar started in the developmental ranks together.
One became the youngest ever WWE Champion, the other the youngest World Heavyweight Champion.
While Orton took a slower route before becoming the Apex Predator, he currently holds the de facto top spot on SmackDown, which was once Lesnar's niche.
While Lesnar destroyed Orton in this match, it would be interesting to see how the Viper as a multiple-time champion holds out against Lesnar.
Possible Highlight: Randy Orton counters the F-5 into an RKO.
This match has already occurred for the WWE Championship. What better way to up the ante than make it a match for the "Streak" at WrestleMania?
This match seems the right way to go, as Undertaker personally challenged Lesnar at UFC 121.
There is already history between the two men, and thus, already the seed to a story. All Vince McMahon has to do is get the two to sign on the dotted line.
Possible Highlight: Undertaker sits up after the F-5.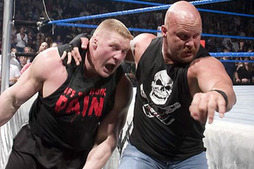 This match was supposed to happen way back when, but it just didn't materialize.
The closest was the heavily booed affair between Lesnar and Goldberg, which thankfully ended with a Stunner to both the superstars that were leaving the company.
Lesnar has said that he would like to come back for a match with Austin. Austin has said that he would like to come back for one more match.
The fans have regularly said that they would like to see Austin "open a can of whoop-ass on an SOB. And that's the bottom line 'cause Stone Cold said so!"
Possible Highlight: Stone Cold Stunner! (Need I say more?)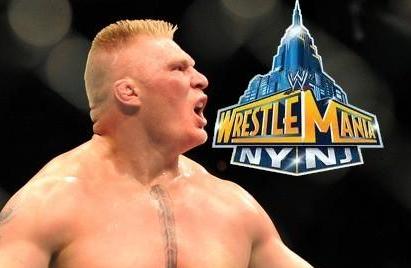 Thank you for viewing this slideshow on possible opponents for Brock Lesnar at WrestleMania 29.
Please leave your comments, opinions and ideas below.
Have a nice WrestleMania 28!