Atlanta Braves 2012: 8 Bold Predictions for the 2012 Season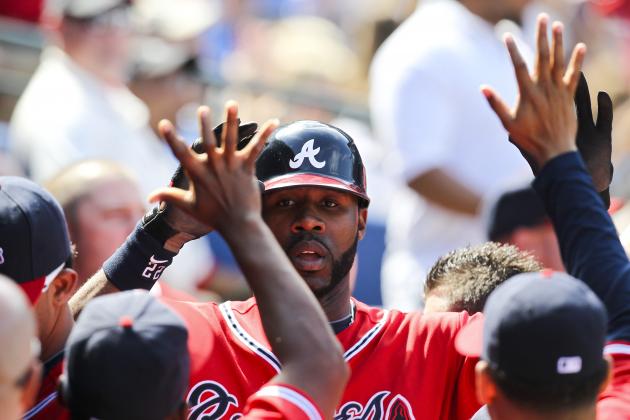 Daniel Shirey/Getty Images

The collapse the Atlanta Braves suffered in 2011 needs to be forgotten. Even though the players are the same, the team will not be the same. Jason Heyward is back and should return to his 2010 season form. Dan Uggla should not face the early-season problems he had in 2011.
Most importantly the Braves have their pitching staff back from injuries. Tim Hudson will be the last starter returning, but Randall Delgado will fill his spot in the rotation well until he returns. In Chipper Jones' last season expect the Braves to be poised to make sure it is a season to remember for the future Hall of Famer.
Here are eight bold predictions for the 2012 season.
Begin Slideshow

»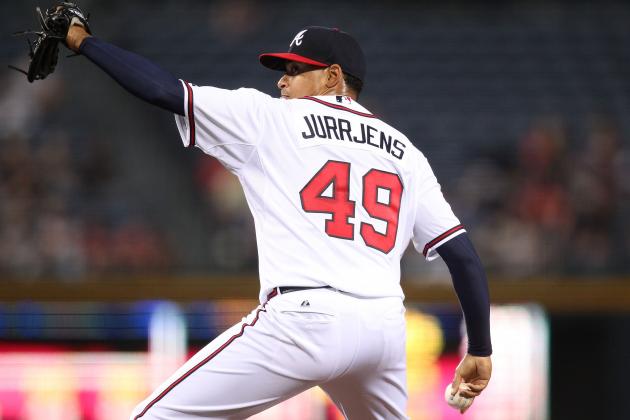 Mike Zarrilli/Getty Images

Jair Jurrjens is traded during the season.
The Atlanta Braves flirted with this idea during the offseason. Jurrjens is the Braves' ideal pitcher to deal. Jurrjens is always dealing with injuries and does not have the electric pitches that Tommy Hanson has. However, Jurrjens has qualities that many teams will desire. When Jurrjens is healthy he is a front end-of-the-rotation starter. Jurrjens has nice command, pitches well during pressure situation and is still in the prime of his career unlike Tim Hudson.
Once the Braves realize they need a full-time left fielder with Martin Prado playing so much third base for the injured Chipper Jones, they will move Jurrjens. The Braves could receive a big-time bat for Jurrjens. The Braves can use Prado in an utility role and bring Delgado or Teheran in the rotation. Trading Jurrjens when Hudson returns from injury is a smart move.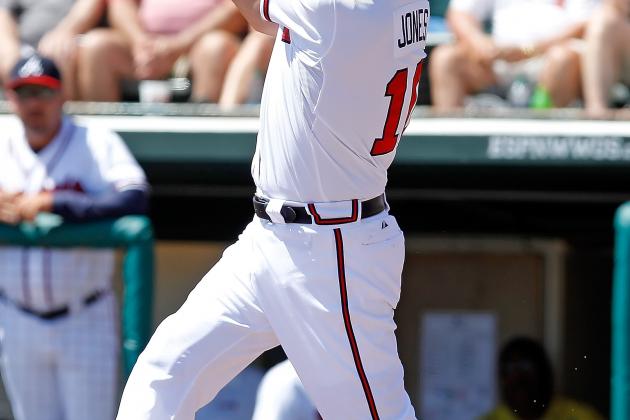 J. Meric/Getty Images

Chipper Jones plays in less than 115 games but hits .300 with 15 home runs.
Chipper Jones is in his last season. He knows his body cannot handle another season and can barely handle this season. Jones is going to take it easy on his body and make sure he can play in the postseason.
Even though Jones is already starting the season on the disabled list, I still believe Jones can hit. If Jones can keep his legs fresh, there is no reason he cannot be effective while he plays. Jones is going to limit his games to around 100 but he will be very good when he plays during his last season.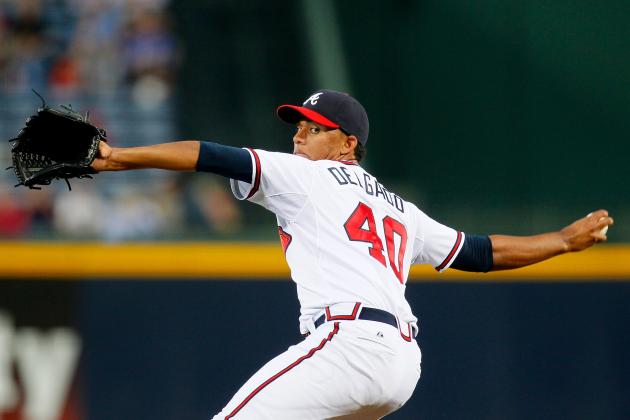 Kevin C. Cox/Getty Images

Randall Delgado starts more games than Julio Teheran.
Julio Teheran may be the better prospect but Randall Delgado is the more major league ready pitcher right now. Teheran needs to develop a third pitch and needs to work on keeping his fastball down in the zone.
Delgado showed last season he is ready to contribute at the major league level. Delgado does not have the ace potential that Teheran has but right now he is the better pitcher. Delgado will win the fifth starter position out of spring training and start more games in 2012 than Teheran.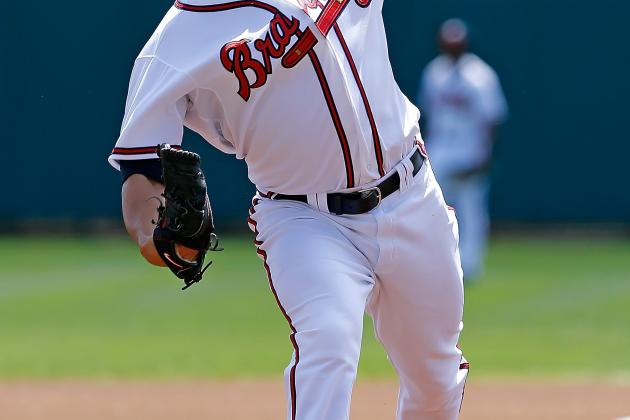 J. Meric/Getty Images

Mike Minor leads the Braves in wins.
Tommy Hanson is the best pitcher on the Atlanta Braves but Mike Minor is the most durable. Mike Minor has had an outstanding spring. Minor started red hot and has barely cooled off. Minor guaranteed himself a spot in the rotation with his play.
This season, Minor will make every one of his starts while the other Atlanta pitchers deal with injuries. Minor will keep the Braves in every game he starts and he will make his claim as the best pitcher on the Braves—making Frank Wren look very smart for sticking with him.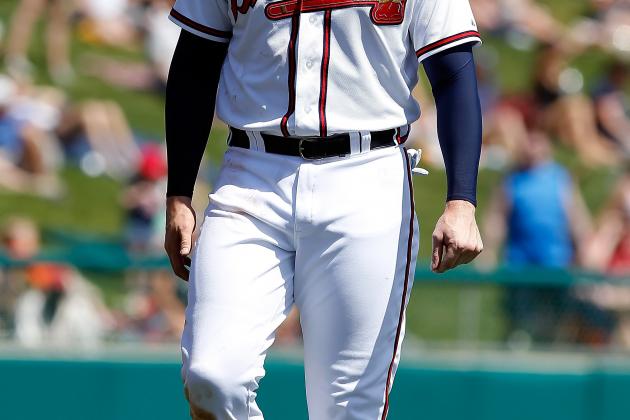 J. Meric/Getty Images

Freddie Freeman hits 30-plus home runs.
At 21 years old, Freddie Freeman hit 21 home runs. Freeman has always been thought of as an all-around hitter with some power. Twenty-one home runs at 21 years old suggests otherwise to me. Freeman put on muscle during the offseason and has already showed more power this spring.
Freeman is going to become a legitimate power threat in 2012. I see Freeman hitting over 30 home runs and proving his rookie-year power was not a fluke. Freeman is going to bat fourth in the future for the Braves and he is going to prove he can in 2012.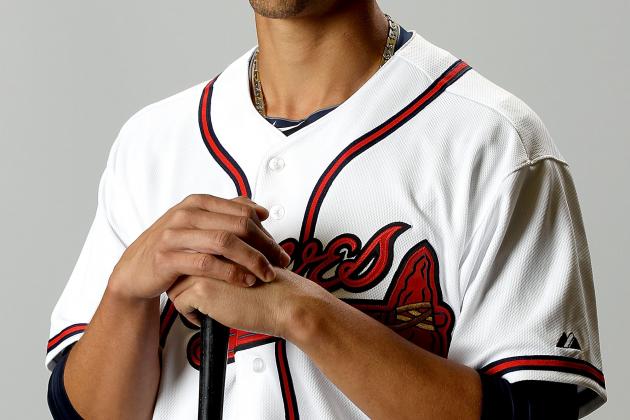 Matthew Stockman/Getty Images

Andrelton Simmons is the Braves full-time shortstop by June.
Tyler Pastornicky will be the starting shortstop out of spring training, but I do not think that will last very long. Pastornicky is going to win the job because he has the safer bat and Simmons has no experience above Class-A.
Pastornicky is going to struggle with his bat early in the season—giving way to Simmons, who is going to hit well in the minors. Simmons is already an elite defender and the Braves pitchers throw a lot of ground balls. The Braves will realize if neither player is going to hit then they should have the best defender playing shortstop.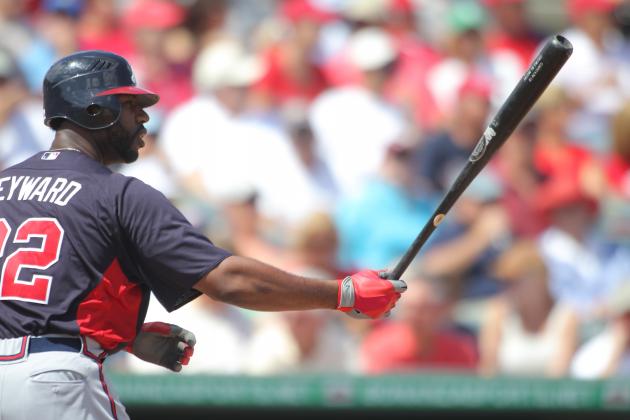 Marc Serota/Getty Images

Jason Heyward hits .300 with 25 HRs and 100 RBI.
Jason Heyward had a horrible year in 2011. Heyward is going to prove that injuries caused his 2011 season and that he is the player everyone thought he was going to be. Heyward has excellent plate discipline and raw power. When he is healthy he is already the Braves' best hitter.
Heyward is going to prove in his third season that he is ready to take over for Chipper Jones. Heyward is going to take the reigns as the face of the team and as the Braves' three hitter. This is not going to be another Jeff Francoeur story. Heyward will bounce back strong and lead the Braves into the postseason.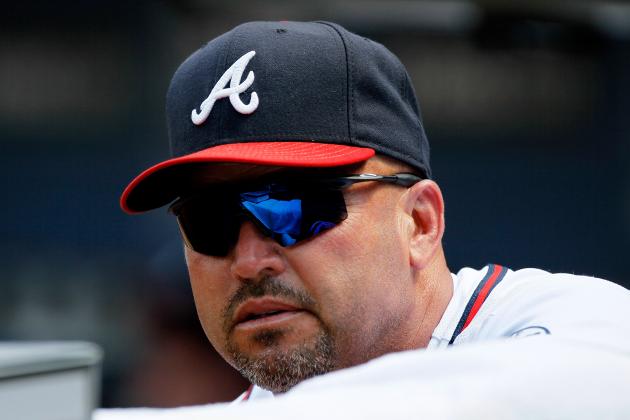 Kevin C. Cox/Getty Images

The Atlanta Braves win the Wild Card and reach the World Series.
The Atlanta Braves have one of the best rotations in the league. The best part of their rotation is their depth. Even if the Braves suffer injuries, they still have plenty of talented arms in the minors. With how good their rotation is it is surprising that their bullpen may be better. The Braves have three guys who could close games and Kris Medlen could quickly join them.
Their pitching should lead them into contention even if their offense was bad—but it is not. If Jason Heyward bounces back they could have one of the best lineups in baseball. They have a good combination of experience and youth that can lead this team far into the playoffs.