WrestleMania 28: How to Save the Lose-Lose Situation of the Rock vs. John Cena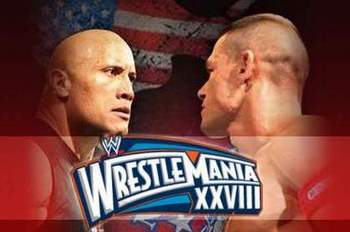 This is a follow up to my previous article on why John Cena vs. the Rock will be a lose-lose situation.
In that article, I suggest that there were not many options available for WWE Creative in terms of a result that didn't put a lot of fans off.
Now, to add further detail in contrast to that idea, I am going to list a few ideas that may allow WWE to make the most of the impossible predicament I see them in.
I know some of these concepts have been argued to death at times, while others will just simply never happen, but these are only suggestions out of logic. Please allow me to play devil's advocate at times.
A Cena Heel Turn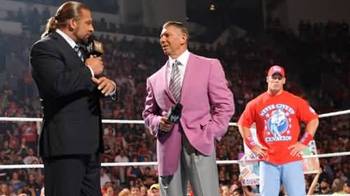 I honestly don't see it happening as I explain in my previous piece; however, this could be one option that allows the WWE to save face in a situation where some fans will leave completely disappointed. This is what I personally would like to see. I know I am not alone on that one.
PROS: If Cena turns heel during or after the match, those who detest him for not changing would have a whole new reason to boo and we would see a new and exciting direction for WWE in terms of storylines and feuds.
Realistically, following his turn, Cena could feud with anyone he has already faced, but this time it would be a whole new ball game.
This would be a great way to build up some strong new babyfaces in the process and freshen up the stale WWE product.
It would create a surprise finish to the most built-up match the WWE has ever seen and address the change the sport desperately needs.
What this would really achieve is it would allow the Rock's fans and the casual viewers to leave WrestleMania season satisfied and would silence and please the countless wrestling fans that are sick of the John Cena brand.
If Cena wins and has a heel turn centered around it, then WWE would avoid the mass protest that would occur should he win clean and receive the respect and appreciation of The Rock.
CONS: Those who would leave disappointed in this scenario would be the women and children who follow Cena like he is a real life superhero. They may not cheer the loudest, but there are still plenty of them cheering, "Let's go Cena!" This would hurt them all.
Perhaps the biggest argument against, however, would be the probable drop in merchandise sales. Cena has been their biggest seller for many years. Although CM Punk has raced up the sales ladder, a heel turn could still represent a huge drop in sales for the WWE.
A Rock Heel Turn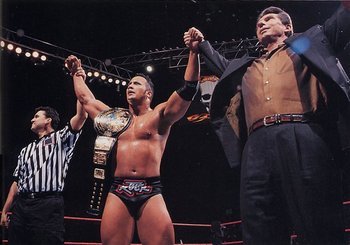 Again, I don't see this happening. It's unlikely that the Rock would risk his Hollywood box office appeal by turning on his fans. However, if this were to happen, it could help safeguard John Cena as a WWE centrepiece.
PROS: If The Rock turned heel before, during or after this match, win or lose, it would protect Cena.
If Cena got over "the Brahma Bull" who was doing his dirty best to win or bury Cena, then those who would boycott the WWE after seeing a clean, face vs. face Cena win would be distracted by the perceived injustice of The Rock's betrayal.
It may not get Cena over with everyone, as most want to see him change, but if he beat bad-guy Rocky, then it may just buy him more time to find a way to win over more fans while still shipping tons of merchandise.
CONS: Cena fans would be happy, WWE merchandise sales figures would be happy, but this time the casual audience (who need to be converted into fans) tuning in for the Rock would leave disgruntled.
A Surprise Attack Following the Match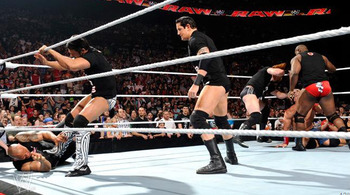 I say again, I don't see this happening. In fact, I hope to high heaven that nobody else gets involved in this match. I want a clean finish and as said in my last article, I just don't see the WWE being so stupid.
As devil's advocate, however, this could be a way to protect the image of both the Rock and Cena and please the crowd.
If a number of superstars rushed the ring following the victory of either man, it would add an element of excitement and allow the Rock and Cena to join forces. Think the Rock and Hogan 10 years ago after Nash and Hall rushed the ring.
This time it could be the entire Team Johnny attacking Cena and the Rock for stealing the spotlight from them. This is just one of many possibilities and not necessarily the best one.
It wouldn't give people much time to hate Cena for the win or give up on him for the loss. The idea would be to have Rock and Cena fans join forces against a new enemy. Couple that with the Cena reinvent I will cover in my next slide and you have a way out without total revolt. Maybe. A distraction perhaps, but that may be what is needed to appease as many fans as possible.
PROS: It would give momentum back to whichever man loses and, by joining forces, would allow more people to back Cena. It would also distract many fans from an unfavorable outcome.
The Miami crowd will be hostile, so distracting them from wild booing should Cena win or giving them a reason to get behind him would certainly help the cause.
CONS: I don't think I am alone in wanting to see this be a clean match one way or another. If there was any sort of interference, I feel it would diminish the value of this fight and the 12 months of build-up it has received.
Not to mention, this kind of result, if not done perfectly, will upset both Rock and Cena fans. It could potentially unseat the entire WWE universe and not in a good way. The only argument for is that it might allow for a rematch going forward and new filler feuds until that day comes.
A Clean Rock Win and a Humble Cena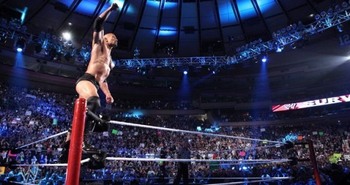 This I feel could be the best way out for WWE. Have the Rock win after an unbelievable battle between the two and the best superhero efforts of Cena.
Have Cena congratulate the Rock and allow him his glory and perhaps the Rock can offer respect to Cena for the epic battle. John Cena doesn't have to beat the Rock at this Mania to be considered one of the biggest superstars of all time.
From here, perhaps on RAW the following night, Cena can apologize to his fans and admit that perhaps it was time to make a change and find the spark that would allow him to eventually fill the shoes of "The Great One." This would be the starting point of a John Cena reinvent.
Change up his character and find a way to keep him over with the kids without pissing off the die-hards (easier said than done, right?) Give him a new edge or hunger that offers him a new direction and that could lay the foundation for a rematch, possibly at WrestleMania 29.
PROS: This would offer a way out in terms of not upsetting those dreading a clean Cena victory without undermining Cena as the face of WWE. All fans are pleased except for Cena's, who, instead of pride in victory, are assured that their man is humble and will come back bigger and stronger for the loss.
This is only possible if Cena cuts a great promo and maps out a character change (I would personally love the heel turn as previously mentioned) immediately following Mania. With reassurance that this is not the end, most fans will leave with hopes held high.
Not to mention this result would send the pro-Rock Miami crowd into rapture and avoid potential rioting.
Perhaps John could take a break from TV and return with new enthusiasm and a big pop after his absence. Merchandise would flow again—a new shirt and look for Cena, anyone?
CONS: The face of WWE still loses. If Cena doesn't salvage fan support or interest from a losing position as a result of a great promo or the like and the promise of a different Cena, he may have shot himself in the foot. This could be disastrous for Cena's integrity and merchandise sales.
Although giving the win to Rocky would be the easiest way out, there are those who would still take issue that he is not a full time WWE Superstar and that he would ultimately disappear back to the bright lights of Hollywood.
This to me though seems one of the safest of bets without diminishing what should be an amazing match.
Conclusion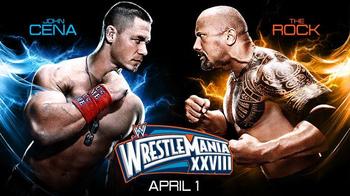 I don't claim to have every idea covered here or that there is the perfect answer out there. I have said that I see this match as a potential lose-lose situation and I don't know if there are many ways of going about solving this problem.
Really, I worry that WWE will persist with a stale product and not take the best way out due to a few risks that might be involved.
These were only a few suggestions that may or may not work or that may have some flawed logic behind them. But that is the nature of a dilemma, sometimes at the expense of logic or what seems the safest bet, you just have to pick the best of a bad bunch and give it everything you have.
I'm sure there are other ideas out there. Better ideas, in fact. Drop your thoughts in the comments and let me know how you think the WWE creative team can get out of this match without too many upset fans.
Keep Reading