Fantasy Baseball Rankings 2012: 5 Pitchers You Must Target Early
March 31, 2012
Kevork Djansezian/Getty Images
If you have a top pick, you absolutely must snag a pitcher like Justin Verlander—your fantasy rotation depends on it.
Like a quarterback in fantasy football, many hesitate to select pitchers with their first pick or two. Your hesitation will lead to an opponent's victory.
Wins, innings pitched, ERA, WHIP and strikeouts count most in fantasy baseball.
Here is the 5-5-5 list. Five pitchers who will end up in the top five in all five categories.
Get them before it's too late.


Justin Verlander, Detroit Tigers
Verlander is similar to Aaron Rodgers.
Most scoffed at the friend who used their first pick on Rodgers, only to watch the quarterback put up 50 points every Sunday. That friend likely went to playoffs.
Verlander is no different. Draft him and he may single-handedly take you to the top of the leaderboard. Last season, he led the league in wins, innings pitched, strikeouts and WHIP. His efforts landed him the AL CY Young and MVP awards.
Barring injury, nothing will change.
Since his Rookie of the Year season in 2006, Verlander has been in the top five for Cy Young contention three times.
Projected 2012 stats: 26 wins, 2.36 ERA, 260 innings pitched, 0.97 WHIP and 244 strikeouts.


Clayton Kershaw, Los Angeles Dodgers
If Verlander is off the board, there's no disappointment in "settling" for Kershaw.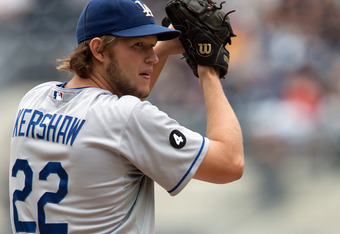 Kent Horner/Getty Images
Kershaw is looking a lot like Justin Verlander 2.0 these days and is only 24 years old.
Kershaw finished second in wins, strikeouts and WHIP, and had a league best 2.28 ERA.
It's worth mentioning that the two biggest sluggers in the National League—Prince Fielder and Albert Pujols—signed with American League teams.
Kershaw should continue to dominate the NL with ease.
Projected 2012 stats: 24 wins, 2.44 ERA, 244 innings pitched, 1.01 WHIP and 257 strikeouts.


Roy Halladay, Philadelphia Phillies
Halladay might be taken as the first pitcher in any draft based on of his name alone.
The name Halladay has become synonymous with dominant. Rightfully so.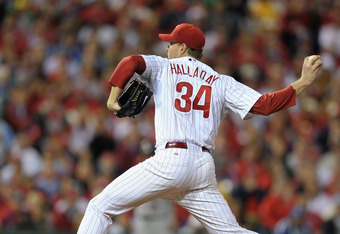 Drew Hallowell/Getty Images
He's been in the top five for Cy Young considerations seven times, winning twice. Since 2008, he's averaged nine complete games and four shutouts.
In 233 innings last season, Halladay maintained a 2.35 ERA and a 1.04 WHIP. He also struck out 220 batters on his way to 19 wins.
This season, with an aging offense and an injured Ryan Howard, the pitching staff will be tasked with shouldering more of the load.
Halladay won't have any problems with that.
Projected 2012 stats: 22 wins, 2.67 ERA, 242 innings, 0.98 WHIP and 235 strikeouts.


Cliff Lee, Philadelphia Phillies
If you miss out on Halladay, the next Phillies pitcher in line is equally amazing.
One might think switching to his fourth team in three years could mess with his psyche. Clearly it did not.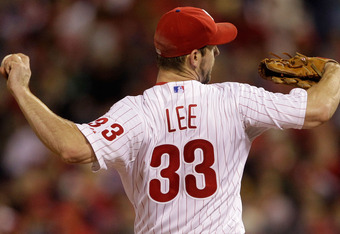 Rob Carr/Getty Images
Lee pitched to 17 wins and six shutouts in 2011. In 232 innings, he kept a 2.40 ERA and 1.027 WHIP while striking out 238 batters.
Lucky for him and fantasy owners, it looks like Philadelphia will be his home the entire season.
Projected 2012 stats: 19 wins, 2.45 ERA, 255 innings, 1.00 WHIP, 247 strikeouts.


Ian Kennedy, Arizona Diamondbacks
I'm sure you expected names like CC Sabathia or Jered Weaver in this spot. You're right. Draft them high.
But what's the point of list full of guys you expected to see?
Here's one under the radar candidate.
A 21-game winner last season, Kennedy struck out 198 batters in 222 innings. He finished the season with a 2.88 ERA and 1.09 WHIP. He also placed fourth in NL Cy Young voting.
Kennedy will be even better this year and will be able to carry a team like Halladay or Lee.
He's baseball's version of Cam Newton. A question mark that everyone laughed at when he was taken so high. Only Newton owners were laughing in the end. Kennedy is that guy.
Projected 2012 stats: 23 wins, 2.52 ERA, 246 innings, 1.02 WHIP, 228 strikeouts.