Wrestlemania 28: Sheamus and More Wrestlers Who Will Benefit from a Victory
April 1, 2012

Gallo Images/Getty Images
WrestleMania XXVIII can define a wrestler's career with a huge performance. When Sheamus defeats World Heavyweight Champion Daniel Bryan in their match, he will shoot himself into a level his career has never seen before. 
However, Sheamus' victory will not be the only one to signal a career boost These other wrestlers will benefit from getting a victory at WrestleMania XXVIIII.
Sheamus
Anytime a wrestler wins the World Heavyweight Championship or the WWE Title, his career takes a turn for the better. However, since dropping the WWE Title at Night of Champions in 2010, Sheamus went back down the card to the point where he opened last year's WrestleMania against Bryan in a dark match. 
When Sheamus defeats Bryan at this year's show, he will go back to the top of the card, but this time he will stay there whenever he drops the title. 
Sheamus needs a good showing at WrestleMania to prove that he is ready to keep his spot at the top of the card. By looking great in a physical 15-minute match against Bryan—where the finish has Sheamus hitting the Brouge Kick getting the pin fall—it will show that he can perform on the biggest stage. 
Big Show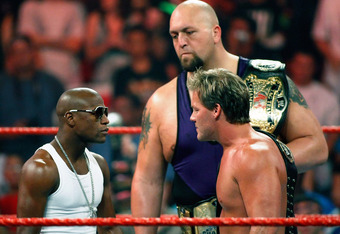 Ethan Miller/Getty Images
The storyline coming into Big Show's match with Cody Rhodes is that Show chokes under the pressure when he is put in a match at WrestleMania. 
However, when Show defeats Rhodes for the Intercontinental Title it will prove that he can rise to the occasion and get this burden off of his shoulders. With a win over Rhodes, Big Show can be a great champion. He can give credibility to a younger heel that needs a big win to get them over as a future contender. 
Big Show also needs this victory to prove that his return wasn't for nothing. Since coming back he's won one big match, only to lose the World Heavyweight Championship a mere minutes later. 
Big Show needs this victory to once again assert himself as a dominant force on Smackdown.
Dolph Ziggler
Dolph may be in a match with 11 other wrestles, but, he can separate himself from the other wrestlers in the match by getting the winning pin fall for his team. 
Ziggler has been moved back down the card since he lost his WWE Title match at the Royal Rumble against CM Punk. He needs a great performance in this 12-man tag-team match so that it refreshes the viewers at WrestleMania and at home that Ziggler is a main event player. 
He has to get the winning pin fall after hitting the Zig Zag on someone like Kofi Kingston, R-Truth or Santino Marella. 
These three wrestlers recently have been good, but not great in the WWE. After they get a victory on the biggest stage, they will vault themselves back into main wrestlers on future WWE cards.