Final Four 2012 Predictions: Aaron Craft Will Lead Buckeyes to Title Game
March 31, 2012

Jim Rogash/Getty Images
Jared Sullinger will need to play one of his best games of the season against Kansas on Saturday night.
But he won't be the reason the Buckeyes will continue marching.
Point guard and tone-setter Aaron Craft will lead Ohio State to the 2012 NCAA Championship game.
NCAA Tournament games are about setting the tone early. Craft is a player who does that every game for the Buckeyes.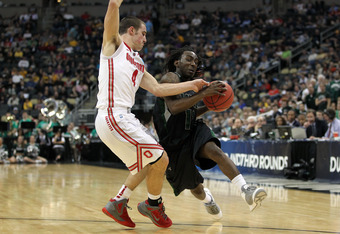 Gregory Shamus/Getty Images
He's a pest, a player I would hate to play against, but would love to have on my side.
Craft is without question the best on-ball defender in the country. His ability to forecast what opposing guards are thinking is second-to-none.
Defending is all about predicting what the opponent has on his mind and beating them to the spot. A good defender has the ability to keep his man in front of him, contest every shot and create turnovers.
Tyshawn Taylor felt the wrath of Craft in their December 10 game. Craft forced Taylor to run the ball over seven times.
Against Kansas, those turnovers will do several things for the Buckeyes. They will begin transition opportunities, prevent the Jayhawks from getting into a flow on offense and allow Ohio State to gain confidence if it can score in transition.
It all starts and ends with Craft.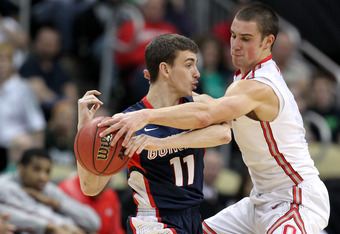 Gregory Shamus/Getty Images
Ohio State is one of the best defensive teams in the country and Craft is unquestionably its best defender. If Ohio State wins Saturday night, it will because of its stout defense.
How about the offense, though?
Craft isn't known for being an offensive player, but he has proven he's capable of taking over games with his ability to penetrate.
Against Gonzaga, a game in which Ohio State was throwing hay-makers with the Bulldogs, Craft took over, scoring 17 points and dishing out 10 assists.
He made you ask the question, "How good can this kid be if he's more aggressive on the offensive end?"
The answer is really good.
Craft will have the most impact of any player in Saturday's game. He dictates tempo offensively and defensively, changes the game on both sides of the floor and can take over offensively if he decides to be aggressive.
Sullinger is going to play a major role on Saturday, but Craft will be the one who leads his team to victory.