Toronto Blue Jays: Will Dustin McGowan Ever Reach His Peak, Defeat Injuries?
April 4, 2012

Al Messerschmidt/Getty Images
After a strong spring, it appeared that Dustin McGowan was on the verge of claiming the fifth spot in the Blue Jays' rotation. 
In two appearances and five innings of work, the opposition batted just .167 and failed to score. 
He was set to throw 80 pitches or go five innings in his final start, but removed himself from the game after experiencing discomfort in his right foot and working just 1.2 innings.  He is currently sidelined with plantar fasciitis and will start the season on the disabled list.
Kyle Drabek is expected to replace him as the Jays' fifth starter.
It is believed that he will need roughly the same amount of time that he will miss before he's ready to return.
"Let's say he misses two and a half weeks, he'll need two and a half more weeks to get back to the game status he was in when he came out,"  stated Blue Jays manager John Farrell.
The Jays will be patient as April 21 will mark just the second time the club requires their fifth starter.  
In 2000, the Toronto Blue Jays selected McGowan with the 33rd pick in the supplemental round. Unfortunately, injuries deprived him of what appeared to be a very bright future. 
At 30, he is well past his prospect status, but he is still young enough to make an impact for several years—barring any further setbacks.
2007 marked his first and only full season with the Blue Jays.  In 27 starts he went 12-10, while posting a 4.08 ERA as he held the opposition to a .230 batting average.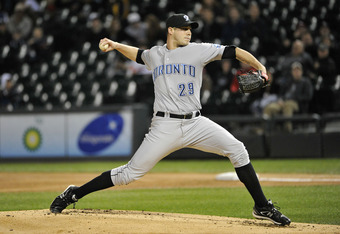 Brian Kersey/Getty Images
His first encounter with injuries began in 2008.  He was pulled from a July 8th start and would later undergo season-ending surgery to repair fraying of the labrum in his right shoulder.  He was projected to return sometime the following season, but progressed slower than anticipated.  
He would go under the knife again on July 9, 2009 after damaging his left knee, and was then expected to reappear during the 2010 season.
But a return to the Jays would be delayed once more as it was revealed that he had a torn rotator cuff, which again required season-ending surgery.
After recovering from his third major surgery in as many years, he made his highly anticipated return to the Blue Jays on September 6, 2011. 
Prior to his unbelievable string of injuries, Baseball America had rated him as the Blue Jays' top prospect in 2005.  In fact, he was so highly regarded that it was believed his stuff was as good, if not better, than Roy Halladay's.
Despite his setbacks, the Blue Jays still believe in him as he was recently signed to a two-year, $3 million extension, which should be viewed as a low risk-high reward deal for Toronto.
"We're never going to quit on this guy," said Blue Jays' GM Alex Anthopoulos. 
Perhaps the Blue Jays are also looking to protect themselves from another Chris Carpenter type of situation with McGowan.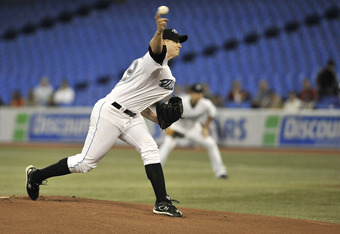 Brad White/Getty Images
The Jays released Carpenter on October 9, 2002—a month after he had surgery to repair a torn labrum.  He signed with the St. Louis Cardinals on December 13, 2002. 
Since his departure, he has been selected to the NL all-star team three times (2005, 2006 and 2010), was awarded the National League Cy Young award in 2005 and has helped the Cardinals to two World Series championships (2006 and 2011).
Will Dustin McGowan ever reach his peak? 
It depends on what his peak is perceived to be.  As a prospect, he was touted as a future staff ace.  At this point, those expectations are exceedingly unfair and the organization should be quite satisfied if he can work his way as the club's number three starter.
Assuming he demonstrates that he has the talent to be a solid number three starter, will he be durable enough to throw 170 or more innings? 
I envision an entirely different role for him and believe he could be dominant as a set-up man or as a closer.  
His stuff is nasty.  During spring, his four-seam fastball touched 94-96 miles per hour, while his two-seam fastball was between 91 and 93.  His arsenal also includes a slider and change-up.  
His repertoire is similar to former Minnesota Twins' stopper Joe Nathan when he was in his prime and the Philadelphia Phillies' closer Jonathan Papelbon.  Both players originally came up as starting pitchers and successfully transitioned into closers.  There is no reason why he can not do the same. 
He may well become a solid starter, but he would be terrific in the late innings.  It's been a long road back to the majors for Dustin McGowan, and regardless of where he pitches, let's hope he does just that—without any further setbacks.