WrestleMania 28: A WrestleMania 28 Years in the Making?
March 31, 2012

On March 21, 1985, over 19,000 fans watched the first WrestleMania take place in New York's legendary Madison Square Garden.
A man with a vision, Vince McMahon, gambled and won.
The stars aligned on that night, as Hulk Hogan participated in the main event, teaming with movie star Mr. T to face Roddy Piper and Paul Orndorff.
Here we are, 28 years later and we have a WrestleMania card unlike any other.
Not to take away from other great WrestleManias and match lineups, but this one has the makings to be the absolute best show WWE has ever put on. Period.
The only problem I have with this year's event: it still has some really crappy time-filler matchups. Fortunately, the main-event matches out weigh the fillers, and this should be a really good event.
Sorry to all of the Hulk Hogan fans out there, but the makings of this John Cena vs. The Rock match is all the more better than the Rock vs. Hogan match just 10 years.
Unlike Hogan, Cena has been the man in the WWE for far longer and has never left the company for other endeavors.
Little did the WWE Universe know that just two years after defeating Hogan in the SkyDome that night, The Rock would be leave the WWE for Hollywood.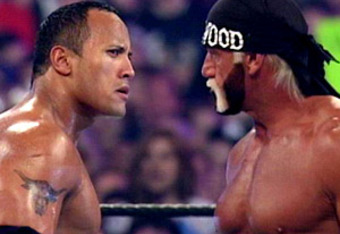 It is 2012 now, and a lot has changed.
Hogan is in TNA, The Rock is back, kind of, and John Cena is the biggest thing to hit the WWE since the logo got turned sideways in 1994 during the "New Generation" era.
Who knows what will happen this Sunday between WWE's new love, John Cena, and its lost love, The Rock. That is exactly how it should be—unpredictable, uncut and purely exciting.
Also on the card—a returning Undertaker, who hasn't participated in a match since WrestleMania 27 in Atlanta, and looks to keep his streak alive in a rematch with Triple H.
This time, WWE legend and Hall of Famer Shawn Michaels will be in stripes, acting as the Special Guest Referee.
The Hell in a Cell match will be making its second appearance in WrestleMania. The first one, at WrestleMania XV in 1999, The Undertaker kept his winning streak alive and defeated the Big Boss Man.
Of the 24 Hell in a Cell matches, the legendary Undertaker has competed in 11 of them. However, he has only won just five of them.
Triple H on the other hand, has won four of them, while only competing in just eight.
This Sunday, The Undertaker is looking to go 20-0 at WrestleMania, while Triple H looks to finish what he started last year in Atlanta at WrestleMania 27.
This will be Triple H's third attempt at defeating the illustrious streak, the only wrestler to have three attempts. (Shawn Michaels and Kane both have two.)
Every time The Undertaker steps into the ring, it is like watching Babe Ruth take an at-bat against CC Sabathia. After just turning 47 last week, it is amazing we are still witnessing the greatness of the Deadman.
In the other big matchup of the night, CM Punk will defend his precious WWE Championship against the returning Chris Jericho, who is trying to take back what is his.
On any other night, this match has the credentials to steal the show.
However, at this year's WrestleMania, it is safe to say that there is no mid-card/pre-main event match that is going to steal this show.
Not taking anything away from Jericho or Punk, but all eyes are on the other matches mentioned above. Still, this is going to be a great match and really helps put this year's WrestleMania card over the top.
I have never geared up for a WrestleMania this much before. Maybe I am a bit biased because I am so glad to see The Rock returning at the grand spectacle, but the Hell in a Cell match has me even more excited to be honest.
There will be critics and maybe even a few bad reviews here and there. But, on paper, WrestleMania 28 has the makings to show us things we have never seen before.