Fantasy Baseball Sleepers 2012: Sluggers Ready for Career Season
March 31, 2012

Marc Serota/Getty Images
It can be difficult for many athletes to find a way to become that complete player—similar to the way that Albert Pujols has been and what Matt Kemp fully became last season. It is just tough to be a slugger, but also an all-around great hitter.
Two-time home run champ Jose Bautista experienced it this past season, as well. In 2012, he hit 54 home runs, but his batting average was pretty low at just .260. This past season, he hit less home runs, 43, but he did raise his batting average to .302.
So which players will play a similar role this season and have that career year?
Mark Trumbo, 3B, Los Angeles Angels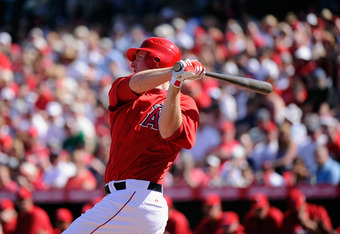 Kevork Djansezian/Getty Images
There was just no way the Angels were going to keep Trumbo out of the everyday lineup, but hopefully their gamble of him playing third won't affect the team defensively.
It will remain to be seen if the experiment pans out, but if it doesn't, expect the team to find a way to get him into the lineup somehow, whether that be at first base, designated hitting or wherever he may fit that day.
Trumbo had an excellent rookie year last season, slugging 29 home runs in 539 at-bats. He also had 87 RBI, and with a little work and extra time on the field, he could definitely become a force in 2012. The addition of Pujols may have initially hurt his chances, but it looks like the team will find a way to keep him on the field.
Jason Heyward, RF, Atlanta Braves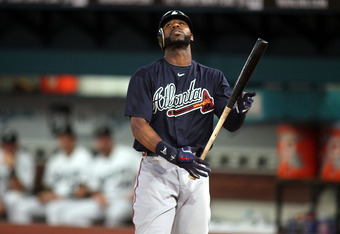 Marc Serota/Getty Images
The big left-handed outfielder out of Atlanta is due for a big season in 2012, after his 2011 campaign wasn't as grand as many had hoped.
Heyward was injured for parts of 2011, which saw his stats fall pretty dramatically from 2010. His batting average dropped from .277 to .227, while his hits fell from 144 to 90. Of course, that is going to happen when you have 124 less at-bats, but he will need to turn it up this season.
His home runs were just at 14 in 2011, which is way below what people have expected of him. With a clear path to success in 2012, as well as a clean slate, look for Heyward to erupt like many had figured.
It isn't surprising that he had a sophomore slump, but now he must turn things around and prove that was all it was.
Giancarlo Stanton, RF, Miami Marlins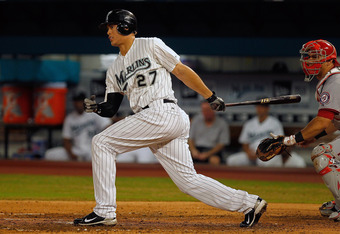 Mike Ehrmann/Getty Images
It may be a stretch to consider Stanton a sleeper in this year's draft, but the 22-year-old outfielder should be ready to take the league by storm in 2012.
In 516 at-bats last season, he knocked 34 balls out of the park. While that was quite impressive, it was his .262 batting average that had many skeptical on how well he could do outside of the power numbers.
Well, that will remain to be seen, but with just about two seasons under his belt now, Stanton should be poised to have a better season in his all-around game.
He should be battling for the top home run spot, as well as knocking in plenty of runs with Jose Reyes standing right in front of him.
Stanton will be one exciting player to watch this season, and should be a fantasy baseball stud.
Jeff Chase is a Featured Columnist for the Chicago Cubs and Arizona State football.