Louisville vs. Kentucky: Cardinals' Peyton Siva Can't Disappear Against Wildcats
March 31, 2012

Jamie Squire/Getty Images
The Louisville Cardinals are not going to get by the Kentucky Wildcats easily, but if they plan on making it past the Final Four and into the 2012 national title game, the team is going to need a solid performance from guard Peyton Siva.
Siva has been playing strong all season long, but throughout the tournament he has taken a backseat in terms of offensive production. And while he did average just 9.1 points per game in the regular season, the team desperately will need him to score at a higher rate to take down this powerhouse in the Wildcats.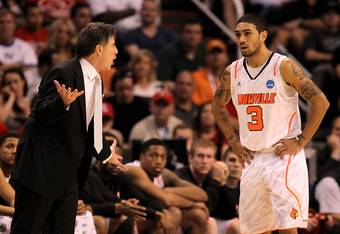 Jamie Squire/Getty Images
This tournament hasn't exactly been great for Siva thus far. While he did score 17 points in the team's opening round win over Davidson, Siva's numbers dipped to just six, four and nine points in the team's last three games.
He has increased his presence in the passing game, packing up eight assists against the Florida Gators and nine against the Michigan State Spartans. Both of those wins were incredibly impressive for this team, but the Wildcats are really that much stronger of a team.
This team is going to need all the scoring they can get, as the Wildcats are outscoring their opponents this tournament 346-297. Their closest victory came by 12 points, and besides that they have been dominating opponents each game.
The Cardinals have proven time and time again that they can play with some of the best teams in the nation, as they have moved onto each round overcoming all circumstances.
The Cardinals are averaging just 64 points per game this tournament, while the Wildcats are averaging 86.5. That is a huge difference, and team is going to have to find ways to close that monumental gap.
Siva doesn't need to become the leading scorer in this game, but the team certainly needs him to step it up and increase the team's production on offense.
If he can do so, with the rest of the team following suit, the Cardinals can have a serious shot causing a major upset in the Final Four.
Jeff Chase is a Featured Columnist for the Chicago Cubs and Arizona State football.
Follow @Real_Jeff_Chase