Wrestlemania 28 Matches: Tag Team Titles and Other Bouts That Should Be on PPV
March 31, 2012

WrestleMania XXVIII is a loaded card, with almost the entire WWE roster getting a chance to showcase their great talents. However, not every wrestler can get on the show. 
The Tag Team Champions Epico and Primo should get a match, along with these other wrestlers at WrestleMania XXVIII. Here are the matches that they could perform in:
WWE Tag Team Title Match: Epico and Primo (Champions) vs. The Usos vs. Tyson Kidd and Justin Gabriel vs. Hunico and Camacho
The WWE should recognize the tag-team division by giving four of their more talented teams a shot to shine at WrestleMania. 
At WWE Axxess, they have been having The Usos taking on the tag team champions, Epico and Primo, with The Usos going over the champions in a non-title match. Those matches have been fast-paced, high-action contests that have delighted the crowds who have been walking through Axxess. 
If the WWE would get these four teams onto the show, they could have them as the dark match before the pay-per-view. The four teams could put on a spot-filled opener that would last for eight to 10 minutes, getting the crowd fired up for the PPV. 
Divas Title Match: Beth Phoenix (Champion) vs. Natalya Neidhart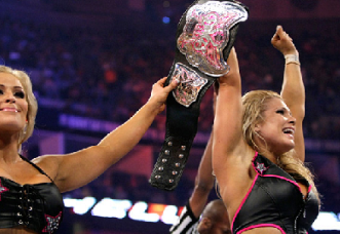 Phoenix is involved in the only Divas match on the WrestleMania card; however, there should have been not one, but two Divas matches at Mania. 
The WWE could have had the celebrity match with Maria Menounos and Kelly Kelly taking on Eve Torres and a returning Layla El instead of Phoenix. The mix-tag match could run for five minutes, while the Divas Title match could go for 10 minutes. 
The Divas division should get a chance to showcase two of their most talented wrestlers at WrestleMania. However, instead of giving us a great match between Phoenix and Neidhart, we will be stuck seeing Phoenix and a celebrity. 
Handicapped Match: Brodus Clay vs. Curt Hawkins, Tyler Reks, Heath Slater and Jinder Mahal
Brodus is one of the more popular wrestlers on the Raw roster, and he's been steamrolling through his competition since debuting. Four of his opponents since coming back into the WWE have been a combination of Hawkins, Reks, Slater and Mahal. 
Having Clay go over these four wrestlers again can get five more wrestlers on the show in a quick match. 
During this match the four can gang up on Clay and amount some offense on the Funkasaurus Rex. However, in the end, Clay can hit his finisher on each opponent and get the pin fall on Slater. 
This way the WWE keeps Clay strong, while getting the crowd on their feet with the dancing big man. 
These three matches should have been booked at WrestleMania XXVIII. Maybe the tag-team or the Brodus Clay match can happen as a dark match.