Manchester City's Huge Bid for Cristiano Ronaldo Unlikely, But Fun to Consider
March 30, 2012

Denis Doyle/Getty Images
The big news reverberating through the world football transfer wires on Friday? The possibility that Manchester City could be planning a huge bid for Real Madrid's Cristiano Ronaldo this summer, according to Wayne Veysey of Goal.com.
We know to take everything we read there with several large grains of salt, so it's far too early to start buying those Ronaldo No. 7 kits in sky blue. In fact, it's too early to believe that these negotiations are even happening.
But, seriously, this would be an incredible story if there's any truth to it.
Certainly it's plausible to believe that City would have interest in landing the man seen by most as the world's second greatest player. But why would Madrid consider selling him?
Millions upon millions of pounds, according to Goal.com:
"The Premier League club are understood to be willing to match the world-record transfer fee of £80 million (€96m) that Real paid Manchester United for Ronaldo in 2009, and wages of between £400,000-a-week (€478,000) and £500,000-a-week (€598,000) to land the Portuguese icon."
That would be equivalent to nearly $128 million for the transfer and wages of up to $800,000 a week.
That's a lot of hair gel.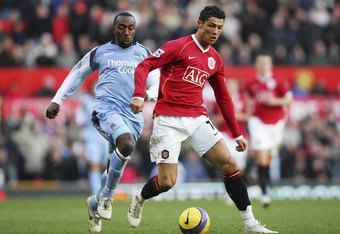 Alex Livesey/Getty Images
Clearly such a deal is still very much in the exploratory stages, but Goal.com says that representatives from both sides have been in contact in recent weeks.
One of the sticking points of a transfer could obviously be Ronaldo's willingness to return to Manchester, but the report suggests that the player's stance has softened on a potential move back to the Premiership.
The source goes on to say that the Blues' desire to make a move of this ilk stems from the desire of club management to be seen as one of the top clubs in the world.
"City want a marquee signing this summer to confirm their emergence as serious players among football's elite," the source added. 

"Ideally, they would do so from a position of strength as Premier League champions but whatever happens in the title race they want to send out a statement of intent.

Ronaldo is the one they have wanted for a long time. They know they will not get Lionel Messi."
OK, sure, it's conceivable that contact has been made between the sides in this transaction, but it's highly unlikely that such a deal would go through.
If you're Real Madrid and constantly vying with Barcelona for the title as the best club in Spain—and, many say, the world—why sell off Ronaldo, who's still just 27, at his absolute peak?
In all likelihood, they won't. 
But it sure is fun to consider the ramifications.