Louisville Cardinals vs. Kentucky Wildcats: 2012 Final Four Predictions
March 31, 2012

Andy Lyons/Getty Images
Tonight, basketball enthusiasts will bear witness to a historic matchup as the Kentucky Wildcats and Louisville Cardinals will lock horns in the NCAA Tournament.
These schools may only be separated by 69 miles, but there are absolutely no warm feelings between them whatsoever. Members of the Wildcat and Cardinal fan bases intensely loathe each other, which is also evident in the relationship between sideline patrollers John Calipari and Rick Pitino.
So, just who will prevail in this hardwood battle royale?
Here are some key factors:
Guard play
Louisville Cardinals: Ever since Coach Pitino sat with Peyton Siva and showed him footage of Steve Nash (prior to the Big East Tournament) for Siva to better understand the importance of pace and not playing out of control, the junior liaison has thrived.
Since winning the Big East Tournament MVP, and leading Louisville to the Big East Tournament title, Siva has averaged 11.4 points per game, 4.1 rebounds, 2.2 steals, shot 44 percent from the floor and handed out 6.4 assists to only 3.3 turnovers.
In order for the Cardinals to advance to the National Championship Game, it's vital Siva continue his stellar play by expediently, yet judiciously, using Tony Stewart like acceleration to get into the paint and delegate hot plates to Chane Behanan and Gorgui Deng for layups, when Anthony Davis and Terrance Jones converge on him. Siva will also need to hit Russ Smith, Kyle Kuric and senior Chris Smith for jumpers on the perimeter if Kentucky sends help. If Kentucky backs off, Siva must drop his newly revamped 12-to-15 foot jumper.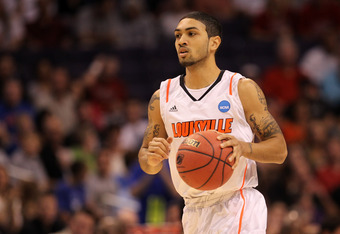 Jamie Squire/Getty Images
New York native, Russ Smith, must also be huge. The sophomore guard has really shined in the Big Dance. Although he's connecting on a marginal 35 percent of his shots, Smith is leading the crew in scoring; putting up 13.3 PPG and blazing the nets for 70 percent shooting from treyland, making 7-to-10 attempts.
Smith is an audacious bucketholic and Louisville catalyst who is relied upon to make the big shots at crucial junctures. He infuses his teammates with his abounding verve. In their December matchup, Smith roasted Kentucky like beef and cheddar sandwiches for 30 points in a 69-62 loss. Smith has a fabulous floater as well.  
Kentucky Wildcats: 2011 McDonald's All-American Marquise Teague initially struggled in his transition to the collegiate level. A natural scorer his entire life, it took Teague a while to get acclimated to running the point. At times, Teague was noticeably indecisive, twisted between his intrinsic scoring nature and distribution. However, Teague has thrived as the director since the start of the NCAA Tournament.
In tourney play, the frosh conductor is averaging 14.5 PPG, 5.5 assists, making 48.3 percent of his shots and attempting 5.8 free throws, netting 78 percent of them.
Doron Lamb is the Wildcats designated pyromaniac. For the season, Lamb shot 47 percent from the floor and downtown. However, in the tournament, the Queens native has been all the way turned up like Roscoe Dash, splashing 63.6 percent of his trifectas and pacing Kentucky in scoring at 16.8ppg.
Lamb isn't just a set up shooter. The sophomore shooting guard can also finish at the rack in transition, off of pump-fake dribble drives, as well as sink mid-range jumpers. Look for Kentucky to run curl, down and staggered screens to free up their nitro-pitcher.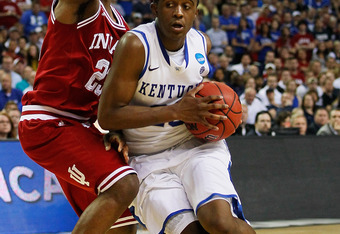 Kevin C. Cox/Getty Images
Who run it?
Louisville Cardinals: In order for the Cardinals to have any legitimate chance at pulling off the monumental popping of the heavily favored Wildcats, they must regulate the tempo. This year's edition of Louisville is certainly not Pitino's most offensively inclined. They rank 155th in the country in PPG (68.8) and 225th in FG percentage (42.5). Louisville is prone to extensive offensive lulls.
To offset the languidness that often emerges during games, the Cardinals will need to make it a half-court oriented game. They can ill afford to get into a Kentucky Derby with the Wildcats thoroughbreds. Louisville can run, but it has to be opportunistic running. Be selective and push the pumpkin at the right times.
Look for Pitino to shuffle between man-to-man and his now vaunted 2-3 matchup zone to try to keep Kentucky on the perimeter in front of the Cardinals rather than out in the open court. The Cardinals boast one of the staunchest defenses in the country, ranking third in FG percentage defense. Louisville is 17-4 when holding opponents to under 40 percent shooting.
Offensively, there will be a plethora of pick and rolls set for Siva and Russ Smith, and top of the key break-and-take isolations late in the shot clock with Siva probing the defense, looking to drive and pitch or score himself, in the paint.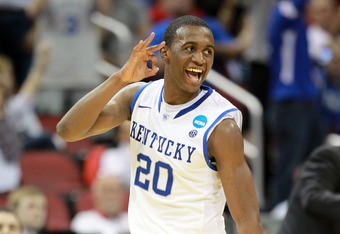 Andy Lyons/Getty Images
Kentucky Wildcats: The Wildcats are really a conjugate of styles. They can flip up their offensive flow like rhymes from Chicago rapper Twista. Kentucky is equally adept at playing a frenetic game or a half court slug-fest. Calipari's squad would prefer a fast break contest, but they are very efficient in a slow down game as well.
Kentucky isn't a pressing team, but they apply suffocating half court pressure with their trapping, cohesive, swift rotations, and shot smacking from National Defensive Player of the Year Anthony Davis. The Wildcats lead the nation in FG percentage defense. The Wildcats commit few fouls, and when they force giveaways, they are an absolutely devastating.
Kentucky is quick, their wings and bigs fill the lanes, they're stupefyingly athletic and excellent finishers.
After trailing Baylor 10-5, Kentucky ran off 16 unanswered points and drilled 12 straight field goals to take a 30-15 lead with 7:12 remaining in the first half, essentially closing the Bears casket. Kentucky also used an explosive 30-10 spurt to slamdance Iowa St. after having been knotted at 42. If Kentucky gets on one of their Miami Heat-like unpreventable, demoralizing offensive and defensive avalanches, this game could be over by halftime.    
Ball security
Louisville Cardinals: with the Cardinals scarce offensive firepower, there's no conceivable way they can outscore Kentucky. Therefore, it's vital they are able to elicit turnovers to maintain a controlled environment and not let things get out of hand in a feverish game—the 20 turnovers Louisville forced in their December tilt with Kentucky was a key reason Louisville was able to get with their bitter rival.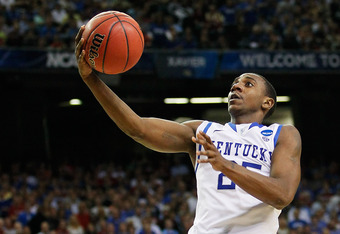 Kevin C. Cox/Getty Images
The 'Ville will need to rely on their tenacious ball bandits, Siva and Russ Smith, to snatch the pill to minimize Wildcat run outs. Keep the game at an optimal half court pace and avoid getting drilled. In four tourney games, Louisville has tallied 25 steals; 22 of which have came in the half court. Louisville wants to speed up Kentucky but not let the game get too fast.
On the flip side, for Louisville, ball security is absolutely obligatory. The Cardinals must value possessions and take care of the pumpkin. Louisville must be prudently efficient in the half court. Milk the clock with lengthy possessions, ball reversals and swing passes to get Kentucky moving laterally, and the Cardinals must be very exacting. Be fast but don't impetuously pump the gas.
Kentucky Wildcats: for all their youth and cradle full of diaper dandies, turnover issues are rarely an issue for Calipari's Wildcats. The highest turnover game Kentucky had in the Tournament was 12 against Baylor. Kentucky may be young, but they're precocious and acute. Having uncharacteristically been coerced into 20 throwaways in their December encounter with Louisville, Calipari will definitely have the Wildcats prepared for Louisville's feral half court defense and full-court press.
It's especially important Teague, Lamb and Gilchrist don't try to dribble through Louisville's press and the active hands of Siva. Beat the pressure with good, crisp passes, and attack the vulnerable areas when Kentucky get's two-on-one and three-on-two advantages in the half and full court.
Defensively, the Wildcats will look to get out and pressure Siva, Russ and Chris Smith hard on the perimeter. They'll want to contest every Louisville shot—Kentucky may be particularly aggressive because of the Cardinals' erratic outside shooting—particularly, look for the Wildcats to try to compress on Siva and hedge hard on pick and rolls, not allowing him to get angles and cut the corner on picks, getting deep into the lane causing defensive breakdowns. With Davis and Terrence Jones on the backline, Kentucky can be extra aggressive on the perimeter.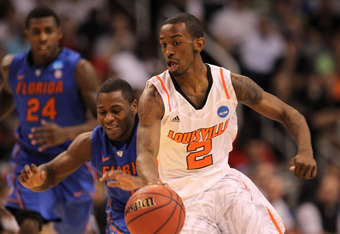 Jamie Squire/Getty Images
Interior play
Louisville Cardinals: The frontcourt of Gorgui Dieng and Chane Behanan have been exceptional during the Cardinals 8-0 stretch. The Cardinals' sophomore center Dieng has shown marked improvement this year. Dieng is Louisville's defensive bulwark. During the NCAA Tournament, Dieng is averaging 3.3 throwouts and eight rebounds an outing, including a seven block performance against Michigan St. Dieng must play Davis strong, not permitting the All-American center to yank a lot of offensive boards. Beat Davis up court in transition.
Simply put, freshman forward Behanan is a grown man. Behanan, initially, struggled to get naturalized to the speed and athleticism of the college game. However, in the second half of the season, Behanan has shined. Behanan has shown his biggest maturation in the tourney, averaging 14 PPG on 64 percent shooting. In the Cardinals' West Regional Championship comeback victory over the Florida Gators, Behanan made a bevy of huge buckets inside, late in the game.
Kentucky power forward Terrence Jones is a lefty, and like most southpaws, he loves going left. He actually does so virtually every time he touches the tangerine. Behanan needs to force Jones right and make him prove he can use his weaker hand.
Louisville can ill afford either Dieng or Behanan getting into foul trouble. If either does, as undermanned (talent wise) as the Cardinals are, it could be ruinous.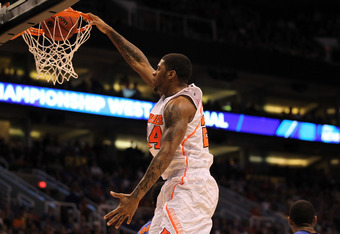 Jamie Squire/Getty Images
Kentucky Wildcats: For the Wildcats, it all begins and ends on the interior with defensive bastion Anthony Davis. Thus far, during March Madness, Davis is averaging 14.5 PPG, 11 boards and 4.5 swats per game. Those would be considered amazing numbers for the average college player, but for Davis it's just another day at the office.
Davis' astonishing aggregate of height, ludicrous pterodactyl like wingspan, horizontal nimbleness, and uncanny timing enable Davis to register blocks not only inside, but also on jump shooters. Davis' length and fleet feet can prevent Siva, Russ Smith and Kuric from finishing at the rim.
Although a significant percentage of Davis' points come off lob dunks, the National Defensive Player of the Year has shown he's capable of occasionally knocking down 15-to-18 foot jumpers. He can also use his quickness when facing up from the free throw line, or top of the key, to drive past opposing centers and finish at the rack.
The one flaw in Davis' game: he has a penchant to get into foul trouble. He will need to be mindful not to pick up cheap, unnecessary fouls.
Sophomore—and one of the holdovers from last year's Final Four team—Terrance Jones, is a matchup nightmare for power forwards. The First-Team All-SEC selection is a composite power forward with small forward skills. Jones can use his 6'9", 252 pound body to go through defenders on the block, often resulting in and-ones. The future NBA Lottery pick can also use his explosive yeast to thunderously yoke on defenders on alley-oops or tip-dunks. Jones can manufacture his own shot from outside and bust trey-balls, connecting on 33 percent of his attempts. When totally focused and engaged (which has been a problem at times), Jones is one of the best players in the country.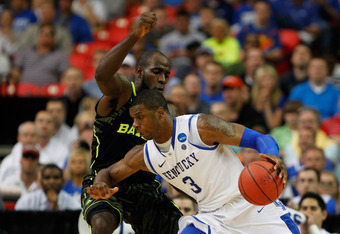 Streeter Lecka/Getty Images
Against Behanan, Jones will need to use equal weight and size to keep the Cardinal forward from getting leverage inside on post-ups. Jones has a three inch height advantage, and long arms. He needs to use that length and his vertical to make Behanan shoot over him and hopefully decrease his FG percentage. Jones is yanking 8.8 RPG. It's important Jones balls with physicality and vitality inside and not let Behanan outwork him on him on the glass.
Coaching
Rick Pitino: Head Coach Rick Pitino is truly a basketball cognoscente. Yes, he's accumulated a litany of accolades. He's won a National Championship, he's won SEC, Conference USA, and Big East Coach of the Year awards. He's reached six Final Fours and is only the third coach ever to pilot teams to Final Fours in four different decades, along with Dean Smith and Mike Krzyzewski.
What makes Pitino such a phenomenal coach is the fact that he has such a great feel for his team. He knows how to manage and maximize his personnel's ability, and he's very adept at making in-game modifications.
In the Florida Elite 8 game, after getting drowned by a tsunami of triples from the Gators, Pitino called off his matchup zone and went man. The result: Florida doesn't make a three-ball the rest of the game, leading to Louisville's 18-3 rally (after trailing 65-54) to pull off a gutty, unlikely win.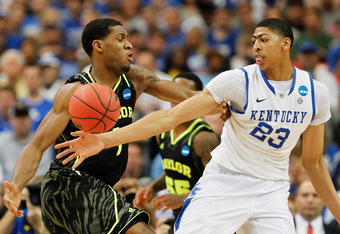 Streeter Lecka/Getty Images
Coach Pitino's Cardinals embody his doggedness, inestimable valiance and intensity. It will take all of those intangibles, and a brilliantly designed game plan by the coach, for his Cardinals to triumph over Kentucky.
Pitino will need to find a way to keep Kentucky on the perimeter, shooting duress filled J's, rather than easy lays. Pitino will have to discern when to go man, or press, and use his trademark matchup zone. Look for some camouflaged coverages.
John Calipari: There's a large contingency of college hoop devotees who simply can't stand John Calipari. His perceived smugness, and controversial NCAA sanctioned marred track record, and it conjures intense anger.
However, if you look beyond the irrefutable charisma, flamboyant speech and occasional brashness, you'll see a very knowledgeable coach who's a master at juggling players and getting outrageously talented teams to buy into his system and play team ball.
This year's edition of the Wildcats is the most gifted crew Calipari has ever had. They have six future NBA players and three or possibly four lottery picks in this upcoming NBA Draft.
It'd be very easy to think there'd be a lot of "I gotta get mine!" mentalities. However, despite being the Miami Heat of college basketball—with their spellbinding SportsCenter Top 10 plays—the Wildcats are the exemplification of hard work, selflessness, fierce defense, fundamentals, and connectivity. Kentucky has six players scoring in double-figures; none of whom attempt more than 10 shots a game.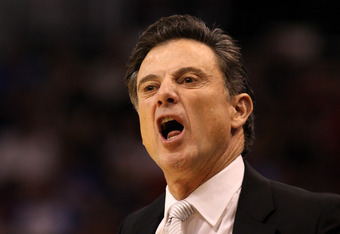 Christian Petersen/Getty Images
Against Louisville, Calipari won't make any major adjustments. If Louisville goes zone, Michael Kidd-Gilchrist or Jones will be stationed at the free throw line or top of the key, with Davis on the block. Kentucky drains 38 percent of their trifectas, but they often get swindled into firing three-pointers. They'll be patient, work the pumpkin around and attack inside. Calipari will instruct the Wildcats to play their typical brand of ball that got them to consecutive Final Four's.
With the disdain between these two universities, there will be massive pressure on Kentucky to avoid getting bounced out by their blood rival. Calipari will tell his team to be loose, have fun and enjoy the moment.
Michael Kidd-Gilchrist vs. Kyle Kuric
Michael Kidd-Gilchrist: After a couple subpar outings, Kidd-Gilchrist erupted in the Sweet 16 and Elite 8 to average 21.5 PPG, on 56 percent from the floor and 7.5 RPG. Kidd-Gilchrist is the reincarnation of Quenton Richardson during his days at DePaul University.
At a wiry 6'7", 232 pounds, Kidd-Gilchrist has jaw dropping, Dominique Wilkins-like trampoline bounce and athleticism, and inexhaustible relentlessness on the glass. In their December win over Louisville, MKG devoured Kuric like McChicken bites for 24 points and 19 rebounds.
Kyle Kuric: The 6'4" swingman has had more than a couple SportsCenter Top 10 highlights himself. Tonight, it's essential he doesn't get in foul trouble or dejected if Kidd-Gilchrist scores on him. Kuric must work hard not to let MKG bully him inside. Kuric needs to score 12+ points for Louisville to have a chance to win. His three-point percentage has dropped considerably, this year (45 to 32.8 percent), but Kuric can rip the cords and morph into a heat hurler if he gets into the groove.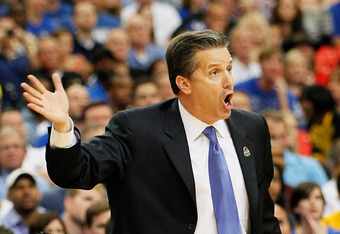 Kevin C. Cox/Getty Images
Prediction
It should be an entertaining, occasional up and down affair. There's immense enmity in this game, and all the pressure is on Kentucky. But in the end, despite the hard fight, determination and gallant effort, the Cardinals will lose—barring a calamitous injury or unforeseeable meltdown by Kentucky.
The Wildcats are just too talented, focused, voracious, and Louisville won't be able to score enough points to pull off the enormous win.
The Wildcats take the Battle of the Bluegrass State in their fourth tourney clash, 75-63.