Fedor Emelianenko Should Be in the UFC Regardless of Dana White's Statements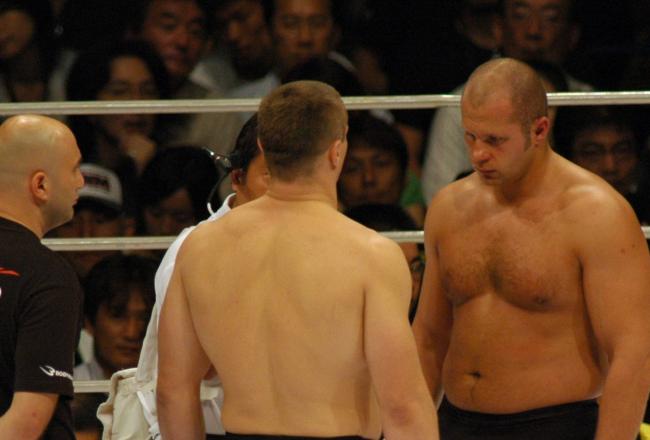 Dana insists Fedor shouldn't be in the UFC, but he still offers interesting fights.
Tomokazu Tazawa/Getty Images
While Dana White seems to be avidly against Fedor Emelianenko joining the UFC, make no mistake, he is seriously mulling the pros and cons of this idea.
This writer wants it to happen. Pretty badly. I am not the oldest of old school MMA fans, so I was not following Fedor's every step as closely as I am now, but this move makes sense.
Looking back to when Fedor was the prize in the bidding war between the UFC and Strikeforce, it is easy to see why Dana White, who recently said he was "not even a little bit" interested in Fedor, would be holding a grudge against the former heavyweight.
Fedor was allegedly offered "millions and millions" of dollars to fight in the UFC and turned it down.
The rest is history; Fedor joined Strikeforce, who made a sizable concession in agreeing to co-promote events with M-1 Global. Fedor then ended up a decision and disqualification short of losing in every possible way in Strikeforce. Since then, he has become something of a journeyman, longing for the opportunity to face the best heavyweights who he identifies as being in the UFC.
While Dana White is brash and does have the tendency to speak first and think later, he has never let good business opportunities slip past him. Fedor is still a name-brand heavyweight. Obviously, he is no longer an elite heavyweight. Only fools are still claiming that's the case.
Fedor is still a draw to some degree, and the UFC is still hurting to find some viable main event-caliber fighters. Fedor would be an excellent stopgap. The UFC tends to overmatch its wily veterans (Tito Ortiz being the best example of this). If they avoid that it will make for some interesting fights.
Do you want to see Fedor fight in the UFC?
Fedor vs. Mark Hunt II would be an intriguing rehash of both fighter's final fight with Pride. A bout against Stefan Struve would be a great way to cement either fighter's place in the UFC. Gabriel Gonzaga would also make an interesting opponent, as the first loss that started the streak for Fedor was another BJJ specialist, Fabricio Werdum. Last but not least, Pat Barry vs. Fedor would probably be an absolute spectacle before and after, given Barry's fun-loving attitude.
All of those fights would be intriguing matchups, relevant to both fighters, interesting for fans and, in all likelihood, really strong co-main events for a PPV—even a good headline for a UFC on FX-type card.
While Dana White has every right to hold a grudge, Fedor can still be a valuable asset.
Dana insists that he has zero interest in him. But if Fedor is willing to fight for the right price, there is no reason to keep him out of the UFC. Dana knows this.
This article is
What is the duplicate article?
Why is this article offensive?
Where is this article plagiarized from?
Why is this article poorly edited?