EPL Transfer Rumours: Martin O'Neill Looks to Sign Duo from Old Club Aston Villa
March 30, 2012

Clive Mason/Getty Images
It has been reported today in The Daily Mail that Sunderland manager Martin O'Neill wants two of his former players at Aston Villa to join up with him at The Stadium of Light.
The duo in question is central defender Richard Dunne and striker Gabby Agbonlahor.
O'Neill does have a history of bringing former players with him to new clubs.
When he took over as Aston Villa manager, he immediately brought four Celtic players with him in Stilian Petrov, Chris Sutton, Shaun Maloney and Didier Agathe.
He also brought in former Leicester player Emile Heskey.
This time O'Neill is looking to Agbonlahor to solve his problems up front.
Nicolas Bentner has not impressed since he arrived on loan from Arsenal. Stephane Sessegnon is the club's top scorer with just seven goals this season, and O'Neill has said that Sessegnon may leave in the summer.
This means that Sunderland's top priority this summer has to be strikers, but is Agbonlahor the man to go after?
The obvious strength that Agbonlahor brings to any strike force is his blistering speed, but over the past few seasons he has added strength to that speed, which allows him to compete with defenders far more successfully.
Sixty one goals in 242 games isn't the greatest strike rate, however, and he has struggled for goals in the two seasons since O'Neill left the club.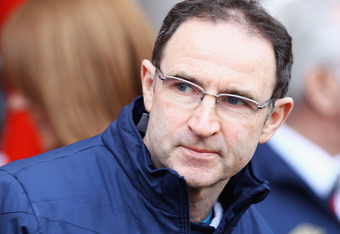 Matthew Lewis/Getty Images
Agbonlahor has fallen behind Darren Bent in the pecking order at Villa Park and a move to Sunderland could help boost his chances of playing for England.
It seems like the perfect fit and if the £7 million fee quoted by The Daily Mail is accurate, Gabby would be well worth the fee.
The stumbling block could be that Agbonlahor has been a Villa player his whole life and previously stated that he wouldn't leave the club while he was still wanted.
It may be a tough job for O'Neill to convince Gabby to leave the club he loves.
If Sessegnon does leave, more reinforcements than just Agbonlahor will be needed up front as The Black Cats are worryingly thin up front.
The other player in question is Richard Dunne. The Irishman has been a vital part of the Villa defence since arriving from Manchester City in 2009.
However, Dunne has been out of action for over a month with a fractured clavicle. At 32, his best years are behind him. Would Sunderland be better off looking for a younger centre back?
Sunderland fans, what do you think of these potential signings? Villa fans, can you afford to let these players go? Comment below.