WWE WrestleMania 28: 3 Twists & Turns for the Undertaker vs. Triple H Match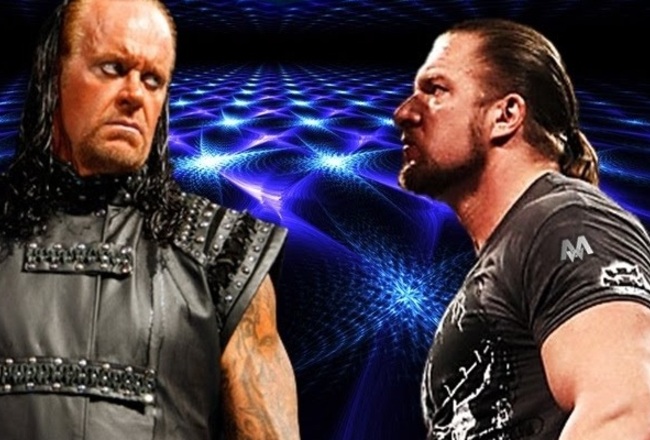 The Hell in a Cell showdown between the two veterans is one of the most anticipated matches this Sunday.

On Sunday, April 1, that other storyline that has been a year in the making will reach its violent end at WrestleMania 28.
WWE is promising that when The Undertaker and Triple H meet in Miami, it will be an "end of an era."
Considering the involvement of Hall of Famer Shawn Michaels and setting the match at the biggest show of the year in the Hell in a Cell structure, expectations would have been molten for this encounter were it the only fight on the card.
For better or worse, this year's "showcase of the immortals" has several marquee matches, all with beloved talent, for Undertaker and Triple H to share the spotlight with.
With more than one WWE Superstar vocalizing the need to steal the show, Bleacher Report examines three make or break aspects to this highly anticipated encounter.
The (D)X Factor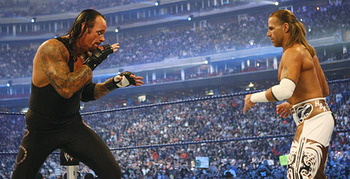 The Demon from Death Valley vs the born again Superstar at WM 25.
Last year, Shawn Michaels was inducted into the WWE Hall of Fame.
This year, HBK finds himself immersed in the bitterly personal feud between the man who inducted him into the Hall of Fame, and the man who ended his career.
The Heartbreak Kid's matches with Undertaker at WrestleMania 25 and 26 helped the Deadman's undefeated streak at those events transcend from a record book tally to a feat of legend.
Michaels made it his professional mission to break the streak at WM 25. When HBK couldn't, his obsessive, personal quest to try again at 26 reached such emotion that he staked his career on it.
He lost.
Though Michaels and his DX co-founder Triple H have mostly been friends on WWE TV in recent years, the road to this year's WrestleMania has focused on the pair's Arthur/Lancelot dynamic.
Michaels was WWE's top guy until back injuries robbed four years from the prime of his career—during which Triple H rose from lieutenant to King of Kings.
Yet, for all he's accomplished, Triple H remains second best whenever the great man returns to Camelot, a point which the Undertaker was all too happy to remind him of on Raw.
Michaels has vowed to call the match down the middle, but one can already hear the band tuning up. HBK will probably get clobbered by accident, accusations will fly, and I'll wager both Undertaker and Triple H will be blasted by some Sweet Chin Music.
I also have a feeling Michaels will be the recipient of a finishing move or two, and a substitute ref will make the final call when Undertaker scores the clean victory.
Prediction: Expect HBK to deliver some crowd pleasing crescent kicks, but there is too much professional pride at stake—scripted and unscripted—for anything other than a clean finish; the match and the venue are too big for anything else.
The End Is Where?

Magnum TA and Hall of Fame inductee Tully Blanchard in one of the all-time great cage matches

WWE has done itself a great disservice by labeling this rematch the "end of an era".
What does that even mean? What exactly is coming to an end?
Nothing.
The fabled Attitude Era has already reached its end, despite the fact that a number of top acts from that time are headlining this year's WrestleMania, including the Rock, Kane, Chris Jericho and Christian.
Plus, there are already rumblings of the Rock returning next year, while CM Punk has begun Twitter coaxing "Stone Cold" Steve Austin for a showdown at the same venue.
The Undertaker's undefeated streak isn't going to come to an end. The time and opponent for that was WrestleMania 21 against Randy Orton.
With an already unprecedented 12-consecutive victories under Taker's belt, the streak was entrenched enough in WWE to be an impressive and unbreakable record, but wasn't yet a spectacle unto itself.
Three years in to his WWE career, Orton was someone the company made no secret about having a long term investment in.
Already the youngest World Heavyweight Champion in history, ending the streak would have shattered another record had the "Legend Killer" made good on his promise to bury the Deadman, but the decision came down to keep the streak in tact.
Nonetheless, their quality match added to Orton's luster and credibility, as well as the Undertaker's mystique.
Careers aren't going to end this year. If WWE knew for certain this would mark the last WrestleMania appearance of either Triple H or Undertaker, they would promote it because it's good business, as they did in anticipation of Ric Flair and Shawn Michaels.
Instead, this overwritten tagline of "end of an era" brings up retirement questions while distracting from an already hyperbolic event (Streak! Special ref! Hell in a Cell!). Like a Triple H promo, they just didn't know when to quit.
Last year's "slobberknocker" told a great story in the closing minutes.
Undertaker outmaneuvered Triple H, locking him in a submission. Triple H desperately tried to reach his sledgehammer, but in the end, was forced to tap. It was great visual storytelling, and an emotionally investing finish.
As a gimmick, Hell in a Cell doesn't really add anything. Unlike traditional cage matches, the participants can't even make use of the escape strategy that lent to high drama and classic encounters featuring Bob Backlund against Pat Paterson, and Bret versus Owen Hart.
I'm anticipating the same kind of "garbage" match between Undertaker and Triple H that we saw the previous year, except covered by a cage. As with every previous Hell in a Cell, I'm sure there will be a lot of down time to set up a couple of high spots.
Prediction: What I believe will be different this year, if the language on WWE TV has been any indication, is that there will be blood.
I'm expecting the company will take full advantage of their PPV status and unleash some NWA-style "crimson masks" for several reasons—to evoke this other era they spent time and money promoting, to set the match apart from the other contests on the crowded card and because a little color will go a long way for the two men to thrill the crowd without having to take any unnecessary risks or high spots.
The Pentalogy

Triple H and HBK have main evented a 3-man classic with Chris Benoit at WM20, and could do so again next year with Undertaker

While I would love to see Undertaker/Rock or Undertaker/Cena at an upcoming WrestleMania, I have a feeling the conclusion of this year's match between the Phenom and Triple H is going to set the stage for the final act of their Shakespearean epic at WrestleMania 29.
Undertaker's kingdom was besieged by Shawn Michaels at WrestleMania 25, first in the spirit of competition, then in the spirit of destruction.
Triple H picked up the standard and has continued the barrage with a violent clash last year, and by demanding Hell in a Cell this year. Michaels was an emotional component of the promos leading into WrestleMania 27, and this year finds him in the middle of the fray.
As with the prior year, I expect the Undertaker will scrape by with another Pyrrhic victory on Sunday, and all parties disappearing for a time to heal.
Prediction: At the end of a tragedy, everybody dies.
From a storyline perspective, the only fitting conclusion to this saga is to settle it, once and for all, on a field of battle—Undertaker vs. Triple H vs. HBK at WrestleMania 29.
Now that would feel like the end of an era.
Keep Reading