Masters Favorites 2012: Green Jacket Odds for Top 25 Contenders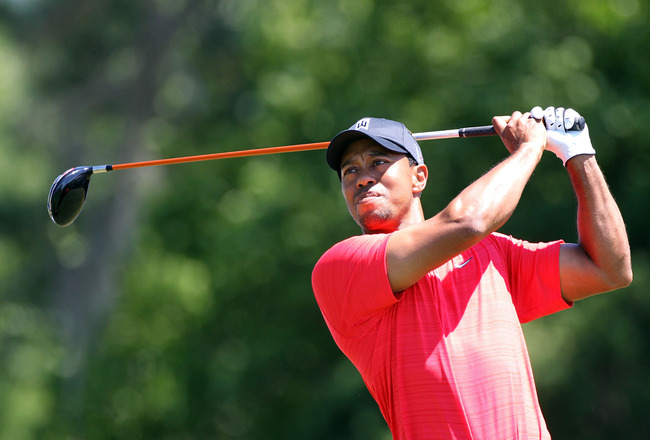 Sam Greenwood/Getty Images
It's one of the best weeks that golf experiences. The Masters. Year after year, we are taken aback by the views, and even more stunned by the results of the tournament.
Last year, Charl Schwartzel went on an unprecedented run to close the tournament and win it. He held off a charge from the likes of Adam Scott and Tiger Woods and took advantage of a Rory McIlroy debacle.
So who's in it to win it this year?
Dark Horses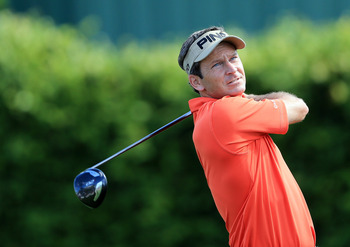 David Cannon/Getty Images
Every year, there are a few names that seem to sneak in there without anyone noticing, as well as golfers who aren't on the top of their game going in. So who are the names to watch this year?
Angel Cabrera: 75-1
Cabrera never plays any tournaments well except for a few choice majors. But who's going to argue? He's got the titles that most golfers would kill for.
Paul Casey: 60-1
Paul Casey simply hasn't seen enough competitive golf in his return thus far. Coming off a shoulder injury and right into the Masters is more ideal than many courses because local knowledge really does help that much. However, Casey's odds aren't good even with that knowledge.
Mark Wilson: 50-1
Mark Wilson is a strong start, but a weak finish for most years on the PGA Tour. However, he's played consistently enough to be in the top 30 in the Official World Golf Rankings. However, his play at the Masters is nothing spectacular to put him as a front-runner. Watch out if Wilson gets hot, because he's proven he can do it pretty much randomly
Sang-Moon Bae: 50-1
Don't let his 28 World Golf ranking fool you, Bae is still yet to prove himself with the crop of talent from the European and the American tours. While he has had a lot of success over in Asia, there are golfers who have done the same thing and never been competitive on the big tours.
Brandt Snedeker: 40-1
Snedeker is starting to finally come around in his game. Although he doesn't have a routine that lasts more than three seconds from address, Snedeker has finally found a rhythm in his game, and is really flourishing. However, he's still not a proven threat, so right now he's at longer odds.
Better Odds Than Most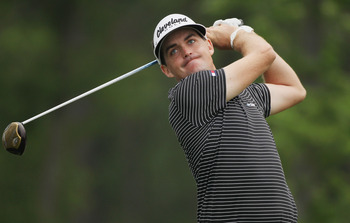 Scott Halleran/Getty Images
Nick Watney: 30-1
After being arguably one of the best American golfers on a consistent basis last year, Nick Watney doesn't look like he's quite yet in form. However, don't let that fool you. Watney is a gamer, and will be ready for Augusta.
Keegan Bradley: 30-1
While many people will be jumping up and down screaming how Bradley deserves better odds, he really doesn't have the course knowledge to justify much more. Maybe the belly putter can make up for that, but I don't believe so.
Bill Haas: 25-1
The reigning FedEx Cup Champion did a lot to win the title and make the President's Cup team, but hasn't done much noteworthy since. However, Haas has proven he can stand very pressure packed situations and thrive. Don't forget about the water shot he hit in the Tour Championship.
KJ Choi: 25-1
Many times, you see KJ Choi inch up the leaderboard. That's because Choi is always there. He's always so close to putting his name into the discussion of relevance, but never seems to be too successful in doing so. Watch out for Choi's fat grip though. If he starts to feel it, the Augusta greens could be on their knees.
Graeme McDowell: 25-1
McDowell barely deserves these odds, but he is still one of the top golfers in the world, despite recent struggles. All it takes is a good day or two, and McDowell make it a Northern Irish party for majors as of recent.
Sergio Garcia: 20-1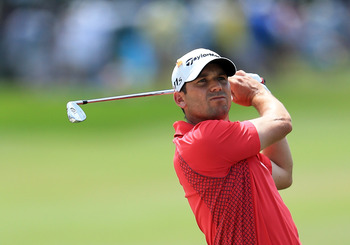 David Cannon/Getty Images
Sergio Garcia as of recent is having the Tiger Woods issue of 2011. He can play two rounds, maybe even three and keep himself around. However, one of those four is always just poor overall, and usually leads to a pretty big number to make up for over four days.
However, Garcia's putting has come a long way from where it was, and the Masters is a perfect place to show it off with his extensive course knowledge as well.
Hunter Mahan: 18-1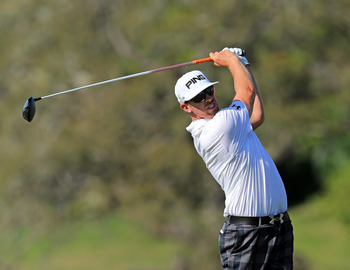 David Cannon/Getty Images
Right now, Hunter Mahan certainly has to be on the radar. After a great showing at the WGC, he was able to take some time to really get down to business for the Masters.
Playing this week certainly can not hurt Mahan, barring any sort of disaster mid-round.
Right now, if you're looking for longer odds to take, take Mahan's.
Dustin Johnson: 17-1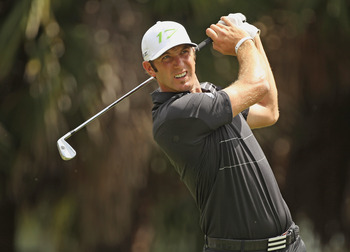 Scott Halleran/Getty Images
Right now, Dustin Johnson is a gigantic question mark in the game of golf. One week he wins a playoff event, the next week he's struggling to remain relevant.
Johnson's biggest obstacle to overcome for the Masters will be his short game. He has to give himself a chance on these greens by putting it close to the hole with wedge shots that he will most definitely have plenty of.
Matt Kuchar: 16-1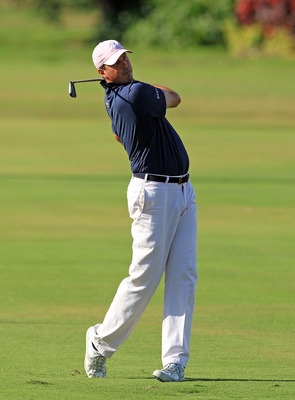 David Cannon/Getty Images
As one of the most consistent players in the game for the past few years, Matt Kuchar sure would appreciate winning a major.
He's done nearly everything he can to earn a spot in the Top 20 short of winning a major, and if he did you would certainly see a big smile on his face.
Then again, you always see a smile on Matt Kuchar's face.
Charl Schwartzel: 15-1
David Cannon/Getty Images
After winning last year, the idea of a repeat is pretty foreign to most golfers. Very few people can dominate tournaments and win multiple jackets, or even Bay Hill trophies as easy as Phil and Tiger have.
Schwartzel played well, but unreal down the stretch of the final round. It's hard to see him repeating the feat, but hey, more power to him if he wants to do it.
On another note, the Champions Dinner is coming soon. Expect to hear more on Schwartzel's selection, and the reception of it with the players.
Webb Simpson: 14-1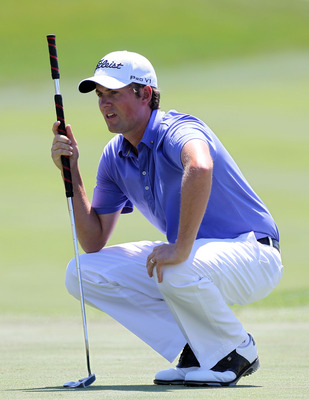 Sam Greenwood/Getty Images
Webb Simpson had a remarkable 2011, but his 2012 season has started with less of a bang. The belly putter doesn't seem to be dropping as many putts.
Coming in as a rookie, I'd say the odds given are pretty fair. As a highly touted rookie to this course, he could provide some flavor to the tournament for years to come.
Adam Scott: 13-1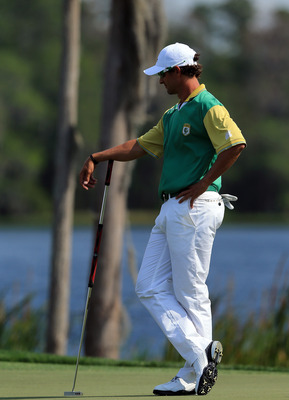 David Cannon/Getty Images
Still equipped with his sternum putter, Adam Scott is coming into the Masters not quite as hot as he was last year.
Scott seemed to have an innate confidence about himself last year, and that's why on the final day it was so easy to see him get it done before Charl Schwartzel happened.
Right now, Scott is going to enjoy the prime of his golf career. He'll sneak in at least a major or two somewhere.
Martin Kaymer: 11-1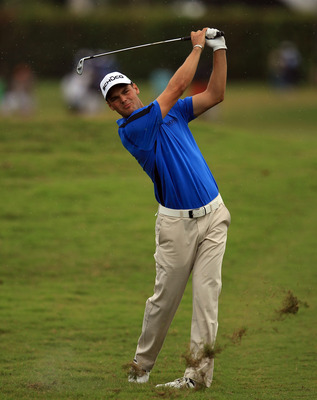 David Cannon/Getty Images
Yes, I understand it's probably unjust in most of your views to give the fourth best player such odds. However, Kaymer hasn't been an explosive talent. He's just been there.
Yes, he won a major before, but he always just seems to be that guy standing around in the mix, but never getting overly close to the top (except for a few choice exceptions).
And then, there's the fact Kaymer has missed the cut ever since he started playing in the Masters.
Justin Rose: 11-1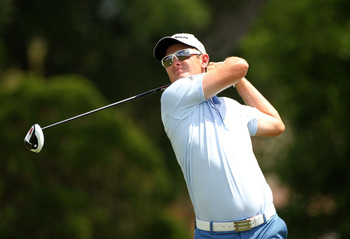 Sam Greenwood/Getty Images
I've laid into Rose in earlier articles for a lack of accomplishment. I understand he's won and competed, but there was something more that I've always expected out of someone like Rose.
Right now, he's playing great golf and certainly is in great shape to be a contender for the Masters.
He's a little behind because he did finish just outside the top ten last year. I'd project him just inside this year ignoring the odds given.
Jason Day: 10-1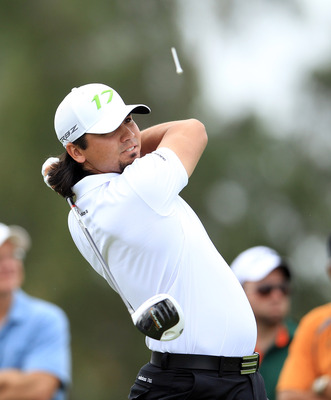 David Cannon/Getty Images
Jason Day is a golfer coming in on a little bit of a cold streak, but that doesn't necessarily mean anything.
Last year Day was another person who made a strong push to win the green jacket but was crushed by the birdies of Charl Schwartzel.
A second go around, you never know with the game of golf. It sure would be nice to see an Aussie win a major again.
Lee Westwood: 10-1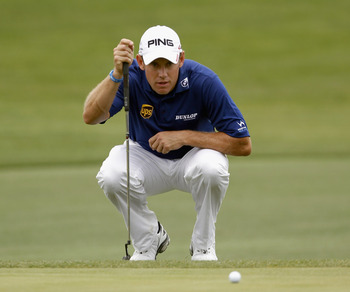 Matt Sullivan/Getty Images
Lee Westwood is ranked in the top five in the world, but he still has never won a major. He doesn't fare as well with American courses, although he has improved (plus he does better on Augusta).
However, it's that thought in the back of your head saying "he's never won one before" that has to have you thinking that he won't be winning this week's tournament.
Despite all of that, Westwood is one of the contenders. He will be in hot pursuit of a green jacket, and hopefully he along with the rest of the field make it hard on whoever wins.
Steve Stricker: 8-1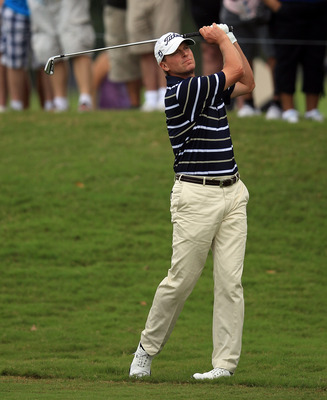 David Cannon/Getty Images
Despite the fact Stricker isn't blazing up the leaderboards every week, he never really does.
Steve Stricker gets by being one of the most consistent guys on tour, and his putting is certainly the reason why Stricker is such a successful golfer.
It'd be nice to see Stricker come out finally with a green jacket. He's my pick to win the Masters this year, ignoring odds.
Phil Mickelson: 7-1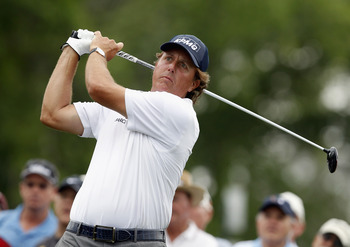 Matt Sullivan/Getty Images
He's proven it time and time again, he doesn't have to be playing well coming into Augusta.
Just as Tiger seems to do, Phil falls into his element at Augusta. He loves the course layout, relishes the opportunity to play it and compete on it, and exploits his course knowledge on an impressive level.
You can never write Phil Mickelson off in this tournament. Besides Tiger, Phil has the most wins at Augusta for current players on tour.
Rory McIlroy: 6-1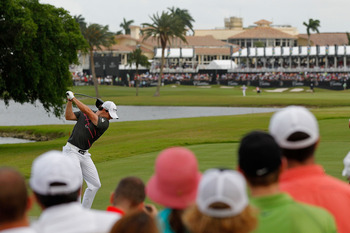 Mike Ehrmann/Getty Images
Rory certainly has played exceptional golf. He earned his way to the top spot in golf, and unfortunately has lost that title.
Don't think this is the last of we've seen of Rory.
He showed what he can do at Augusta in the first three rounds, so now he just has to put together a respectable final round and he should be in the clear as a favorite.
Tiger Woods: 5-1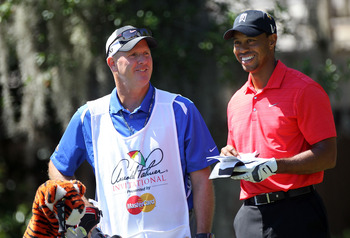 Sam Greenwood/Getty Images
Tiger has a track record of top five finishes at Augusta National.
So, to me, this one's pretty simple.
There are five spots from first place to fifth available, so Tiger will be occupying one of those five should history hold.
Luke Donald: 4-1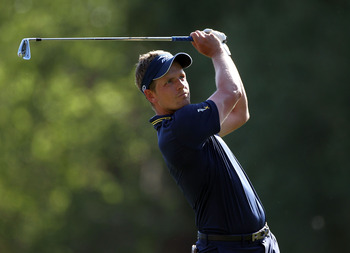 Sam Greenwood/Getty Images
Luke Donald is my odds-on favorite to win the Masters. After retaking his seat as the top golfer in the world, he is poised for his first major win.
If he gets a major win in his career, I'd say it would be a Masters or an Open Championship, or both. The Masters is suited to Donald. It isn't the length of a USGA US Open course, doesn't require perfect driving to hit fairways, but does require a steady handed putter.
That's where Donald jumps into the conversation, and takes over.
Keep Reading