Brandon McCarthy and 5 Difference Makers to an Oakland A's Playoff Run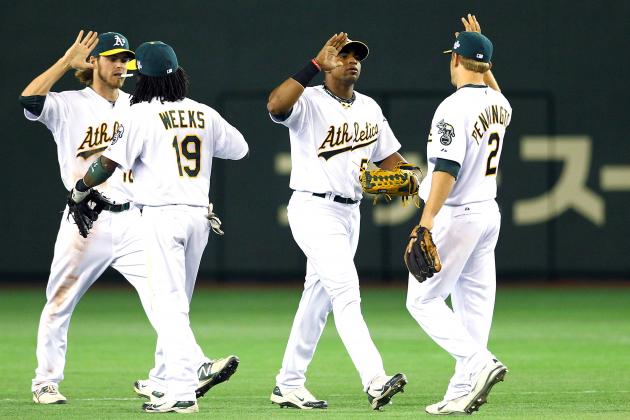 Koji Watanabe/Getty Images

Playing the bulk of their games against the Mariners, Royals, Indians, White Sox and Orioles in the first month of the season, there's actually a pretty decent chance that the A's go into May in first place. Every season, a team comes out of nowhere to surprise everyone, pushing more highly-favored teams for a playoff spot. Last year, for example, it was the Pittsburgh Pirates, Cleveland Indians and Arizona Diamondbacks.
Few teams, however, are able to sustain their success over a full 162-game schedule, like the Pirates and Indians last year, both of whom faltered late in the season. The Diamondbacks, however, were able to maintain their success and overtake the defending World Series champion San Francisco Giants for the NL West Crown.
If the A's are to finish like the Diamondbacks and not the Pirates or Indians, then several players have to make a significant leap in production and be on the field every day, not on the DL. The key to the A's success is staying healthy. For the A's, that's easier said than done, but if every key cog can avoid injury and play to their capability, then the A's have a legitimate chance at challenging the Angels and Rangers for a playoff spot in 2012.
These are five players that need to step up their games if the A's are to compete this season.
Begin Slideshow

»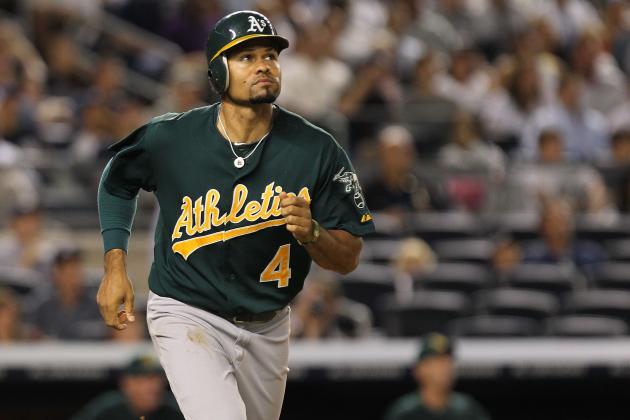 Nick Laham/Getty Images

During his tenure in Oakland, Crisp has constantly battled injuries. It's hindered his production and continuously forced the A's to seek alternative options in center field.
If healthy, Crisp figures to be a mainstay at the top of the A's lineup, and his ability to consistently get on base will be a critical part of their offense. Crisp and Jemile Weeks are the table setters for Yoenis Cespedes and Manny Ramirez (when he returns), and Crisp's loss would hurt the team both on and off the field.
The current A's team is extremely young, and every veteran presence is felt. Crisp has already shown he is capable of setting a positive example for the younger guys, accepting a move to left field without complaining—this coming after he previously deemed it would take a "demigod" to move him out of center field.
Crisp is also a major defensive improvement over Seth Smith, who would take over if Crisp were to go down again. If Crisp is unable to be there all season long, he will be seriously missed in almost every aspect of the game, the lineup, field and clubhouse.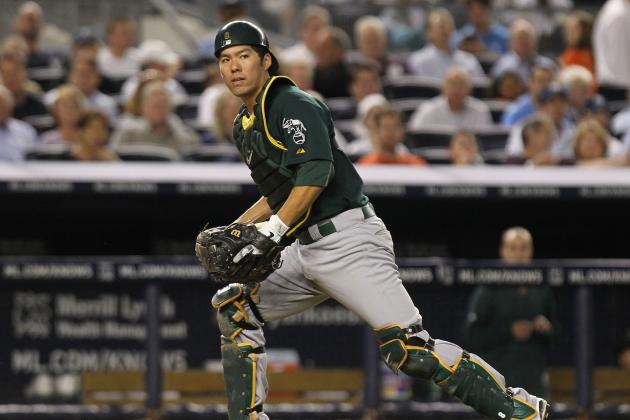 Nick Laham/Getty Images

Kurt Suzuki is entering what could turn out to be a career-defining season. After hitting .274 with 15 home runs and 88 RBI in 2009, the A's backstop has had two rough years in 2010 and 2011, hitting .242. and .237 respectively.
Once considered the A's catcher of the future, Suzuki may be shown the door if his production doesn't straighten itself out soon. Oakland acquired catching prospect Derek Norris in the offseason, and they also have Max Stassi in the minors, who they're very high on.
Suzuki's biggest challenge this year will be dealing with the pitching staff. There are still a lot of question marks going into the season, and it will only get more complicated once Dallas Braden and Brett Anderson return from injuries.
The A's can live with Suzuki putting up sub-par numbers at the plate, but his handling of the rotation will be critical if the A's rotation is to be successful.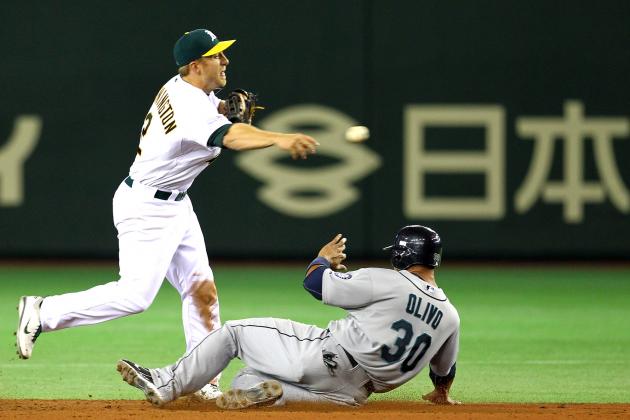 Koji Watanabe/Getty Images

Thus far, Penny has been a pleasant surprise at the plate, hitting .333 this spring while batting in the two hole.
It's hard to believe that at only 27, Pennington is one of the longest tenured A's. With serious concerns at the corner spots, Pennington has got to be a veteran presence among the rest of the young and inexperienced infield.
There are serious defensive liabilities in the infield with Josh Donaldson and Jemile Weeks, so Pennington really needs to improve his own shaky defense to make sure the infield doesn't put overwhelming and unnecessary pressure on their young pitching staff.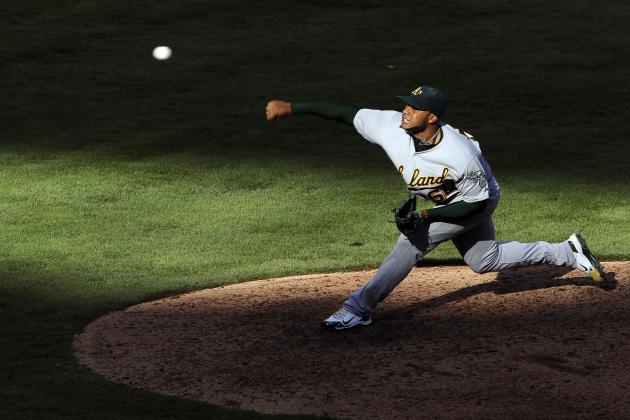 Brandon Wade/Getty Images

Fautino de los Santos had a pretty good spring, but not good enough to take control of the closer role. Still dealing with some control issues, the A's instead elected to go with Grant Balfour in the closer spot.
Despite being beaten out for the job, there are still many in the organization who believe de los Santos has the stuff required to be a successful major league closer. There is also the possibility that Balfour is moved at the trade deadline, in which case de los Santos would be a natural candidate to replace him.
Whether he's in the closer or setup role, de los Santos is still going to be heavily relied upon this year to help in the late innings. He certainly has the heat to be an overpowering arm, but he still needs to harness it and challenge hitters on a consistent basis to be a force in the back end of the bullpen.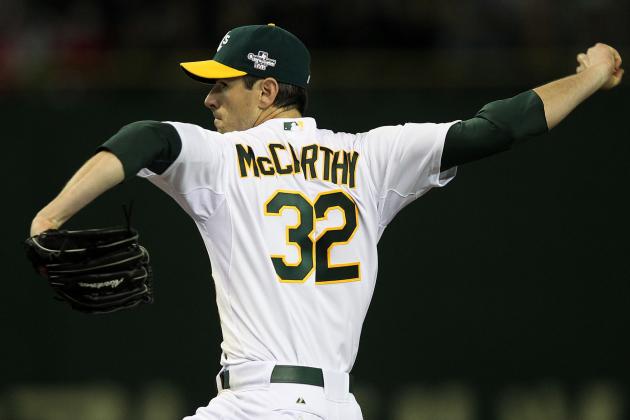 Chris McGrath/Getty Images

Brandon McCarthy's ascent last season after coming into camp under the radar was a surprise to many. Even more surprising, however, is that his brief success prompted ESPN The Magazine to make McCarthy a cover boy, labeling him "one of the game's best pitchers."
All this attention may be premature for the 28-year-old, injury-prone pitcher, who only has one really solid season under his belt. One can't help but wonder whether it's sad that someone like McCarthy was the A's Opening Day starter this year or if it's merely a reversal of fortune for a club that's endured its fair share of bad luck in recent years.
Whatever the case may be, McCarthy has to be the guy in the rotation. He doesn't have to put up Roy Halladay kind of numbers, but he has to be a solid cog in the top of the A's rotation. He must help the younger guys coming up and continue to be the innings eater he was in 2011.