Bobby Abreu to Cleveland Indians: Why Duncan, Canzler Top LF Options
March 30, 2012

Bobby Abreu could be traded to the Cleveland Indians, as reported Thursday by Ken Rosenthal and Jon Paul Morosi of Fox Sports, in order for the Tribe to try to stabilize the team's uncertainty in left field. The burning question is: Would Abreu improve upon in-house options that the Indians have in Shelley Duncan and Russ Canzler?
Sources told Rosenthal and Morosi that a deal was close and that it probably had a "50-50" chance. The deal could have the Angels trading Abreu for Indians minor league outfielder Trevor Crowe, who was pulled from a minor league game on Thursday night.
As reported by Rosenthal and Morosi, the stumbling block appears to be how much of Abreu's $9 million salary the Angels would be willing to eat.
The deal, in itself, could be a good one. The Indians may very well get a pretty good, yet declining in performance, player for relatively cheap and may not have to give up much. Crowe hasn't done much in his limited playing time with the Tribe, so he wouldn't be missed in terms of his performance on the baseball field.
Crowe has a lifetime .245/.295/.321 slash line, some speed (20 SB, 7 CS in 122 games played in 2010) and is a versatile and decent outfielder.
The possible addition of Abreu to the Tribe is head-scratching, to say the least.
Weren't the Indians looking for a right-handed bat?
The Indians already have two right-handed bats who could play left in Duncan and Canzler, who is an unproven major-leaguer but who has put up great numbers in the minor leagues.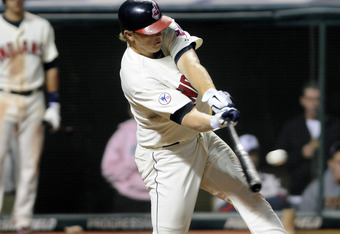 Jason Miller/Getty Images
No, these are not ideal candidates, but why not roll the dice with these two? So, we have Abreu, Duncan and Canzler, or if the trade does indeed go through, a possible platoon situation of Abreu with Duncan and/or Canzler.
Who would be the best option? Obviously, if the Indians get the 38-year-old Abreu, he will either be the full-time left fielder or will be in a platoon situation, but who really is the best choice?
Bobby Abreu
Let's face it folks. This is not the Bobby Abreu who has averaged a slash line of .293/.397/.481 with 18 home runs, 85 runs batted in, 88 runs scored and 25 stolen bases over his...gasp...16-year career.
These career averages even include the last two seasons, where his production dipped considerably to an slash line of .254/.353/.400 with 14 home runs, 69 runs batted in, 71 runs scored and 23 stolen bases.
The stolen bases, batting average and on-base percentage are numbers we can probably expect to see in a Tribe uniform if the trade goes through because they have stayed consistent the last two seasons.
The good news? He will help the Tribe with on-base percentage as he is a disciplined hitter and has always had high walk totals throughout his career. He can also steal you a base as he has still averaged 23 stolen bases the last two seasons.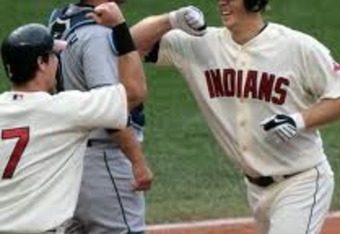 The bad news? Abreu's power numbers dipped considerably last season and had a lower slugging percentage, fewer home runs, runs batted in and doubles than the previous season. His runs scored also dipped last season.
The even worse news? Left field is a power position where you expect that player to be able to produce power numbers at a high level.
Defensively, Abreu won't kill you, but he played very little in the field last season and his skills are probably declining. Again, we are looking for a bopper at this position and Abreu's latest numbers don't qualify him as one.
Are Duncan and Canzler better options? Let's take a look at both players and a platoon possibility.
Shelley Duncan
Duncan, 32, who will be in his sixth season, isn't the ideal everyday candidate for the LF job. There's no arguing that. The question is if he is a better option than Abreu. There are no more available ideal candidates.
Duncan has a career average slash line of .239/.313/.441 with six home runs, 21 runs batted and 16 runs scored in an average of 45 games played in his five-year career.
However, those numbers went up last season with more playing time. He had a .260/.320/.484 slash line with 11 home runs, 47 runs batted and 29 runs scored in 76 games played.
Let's give him a 145-game season and average out the power numbers and drop the average and OPS a little considering full-time responsibilities. His numbers would exactly project to 21 home runs, 90 runs batted in and 55 runs scored.
Now let's drop those numbers and account for possible fatigue with an expanded role to 15 home runs, 70 runs batted in and 40 runs scored with a let's say...240/.250 BA and .750 OPS (the last two being close to his career average numbers).
Could those numbers be too high? Maybe, but would they dip below Abreu's 2011 stats of eight home runs, 60 runs batted in, 54 runs scored and .253/.353/.365 slash line? It doesn't seem too likely.
What would we lose with Duncan as opposed to Abreu? Duncan's projected bating average, OBP, runs scored and certainly stolen bases would probably be inferior to Abreu's probable numbers, but Duncan's projected home run and RBI totals would be higher and his OPS would be equal to or better than Abreu's.
Again, we want our left fielder to have some sock, and I definitely think Duncan has the edge, if not a big one, in this department.
Defensively, some say Duncan is a liability. He only had one error in 39 games played in the outfield, 37 of them in left. I don't think he's that much of a liability.
So, If the player you are bringing in isn't a significant upgrade over what you already have, why spend the money? Even if the deal is good.
Christian Petersen/Getty Images
The other main option is a bit of a long shot and a gamble, but I think might be a good look.
Russ Canzler
The only thing we have to go on with Canzler is the fact that he raked in the minors last season with Triple-A Durham in the Tampa Bay Rays organization. Canzler, 25, in fact was the International League's MVP and put up a ridiculous slash line of .314/.401/.530 with 18 home runs, 83 runs batted in and 78 runs scored in 131 games played.
Would those numbers look good coming from the left field position? Absolutely.
In Double-A ball in 2010, Canzler posted a .287/.372/.566 slash line with 21 home runs and 66 runs batted in.
The guy can flat-out rake. Sure, this was against minor-league pitching, but he certainly has shown he can hit and has put up gaudy numbers at different levels.
His spring training numbers (.268/.333/.293 with no home runs and two RBI) haven't been impressive, but I think Canzler might be worth the gamble.
There is also some concern about Canzler's defense, but he seems to be more of a liability at first than he is in the outfield. In 117 games started in the outfield in the minors, Canzler committed four errors, and in 378 games at first he made 43 errors. This spring he has made two errors at first in 10 games and no errors in eight games in left.
If the trade does go through and Canzler makes the team, he would probably be relegated to a bench player, but if the trade falls through, Canzler deserves a good look and at least a bench spot to see what he can do with big-league pitching.
Duncan/Abreu Platoon
This might work as Abreu is a better hitter against right-handed pitching with better numbers (.259/.366/.400, 8 HR, 45 RBI, 48 R in 355 AB) across the board than against lefties (.238/.319/.279, 0 HR, 15 RBI, 8 R in 147 AB).
Duncan is a bit of an enigma, though, so it might not be an effective platoon.
What I mean is that you expect a right-handed hitter to be more effective against lefties, but last year, Duncan (.273/.331/.587, 10 HR, 29 RBI, 20 R in 121 AB) was significantly more effective against righties than against southpaws (.245/.316./.363, 1 HR, 18 RBI, 9 R in 102 AB).
Remember the two 2-run bombs he hit off AL Cy Young award winner Justin Verlander last season? This can't be a fluke and indicates he can hit off righties.
However, in virtually the same number of at-bats (229) in 2010, Duncan had a higher BA, OBP, SLG and OPS against lefties.
So, is Duncan better against lefties or righties? I guess we don't really know yet with such a small sampling and for that alone, using a platoon of Duncan and Abreu may not make sense.
Final Thoughts
Abreu was once one the most feared and productive hitters in the Major Leagues, but he is not that guy anymore.
He is 38 and will be in his 17th season. His power numbers dipped considerably last season, and it would be naive to think that he would have any kind of significant resurgence this season.
Duncan would provide more power than Abreu from left-field, and Canzler has shown that he can flat-out hit, but can he hit at the major league-level? It would be a gamble to give Canzler the job over Duncan if Abreu doesn't land here, but it would be a fun gamble to watch.
Abreu is not a significant improvement over the Tribe's in-house options, so it would seem like this move is unnecessary as the Indians have options that are probably equally as good as, if not better than, Abreu.