Montana Football: Thoughts on the Firing of Robin Pflugrad and Jim O'Day
March 30, 2012

I really don't know where to begin.
I am a proud student at the University of Montana, but having lived in Missoula, Montana all my life, it is really difficult to see our community go through something so sudden surrounding the school I am passionate about.
On Thursday morning, news broke that the University of Montana fired head football coach Robin Pflugrad and athletic director Jim O'Day.
As stated in a campus wide e-mail from UM President Royce Engstrom:
The University of Montana has determined not to renew the contracts of Athletics Director Jim O'Day and head football coach Robin Pflugrad. The University will announce an interim athletics director and interim head coach by the end of the week. Further details about the search for permanent replacements will be released as the process develops. We thank Jim and Robin for their dedicated service to the University, and we wish them the best.
The likely explanations for the dismissals surround the sexual assault allegations at Montana for the past few months.
In January, running back Beau Donaldson was charged with rape and if convicted faces a maximum sentence of life in prison after allegedly assaulting a women sleeping over at his house in September 2010. He has pleaded not guilty.
Earlier this month, quarterback Jordan Johnson was issued a restraining order after a Montana student accused Johnson of assaulting her. Johnson was briefly suspended from spring practice but has returned, and no charges have been filed against Johnson.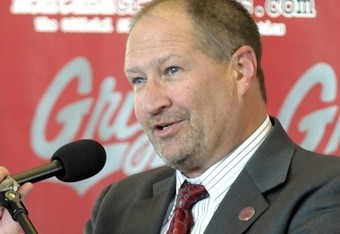 The news of Pflugrad and O'Day comes on the heels of another tough situation. Former Montana cornerback Houston Roots was arrested this Wednesday after reportedly physically assaulting his girlfriend. He also pleaded not guilty.
Regardless of the issues the University of Montana faces, I'll just go out and say it: I have a huge problem with Engstrom firing Pflugrad and O'Day. Engstrom puts Griz football in even more trouble and doubt for the future by dismissing Pflugrad in the middle of spring football.
While this may not seem like a huge issue outside of Montana, its important to know that Montana athletics is essentially the professional sports team inside the state. Griz football players are beloved in the community, and Griz football is the show in Missoula.
Additionally, while the issues present may seem serious enough to warrant cleaning house in the athletic department, there is an outstanding problem: No real reason was given in Pflugrad's and O'Day's firing.
The only explanation given by Engstrom is that a "change in leadership" was needed, according to Pflugrad and O'Day. There is no reference to the sexual assaults whatsoever. A change in leadership? As far as I'm concerned, that "leadership" starts with the university president.
Sexual assault at the University of Montana has been a campus-wide problem, not just an athletic problem. As president, Engstrom is even more responsible for the sexual assault problems on campus than Pflugrad and O'Day. The fact Engstrom is shoving the responsibility towards the athletic department for the sexual assaults is an embarrassment for the university.
While understandable, even more embarrassing is the fact Engstrom is keeping quiet about the situation. Griz Nation deserves answers, and they are just not present as of now. In fact, Engstrom has just placed a huge weight on his shoulders, and with that, I would not be surprised to see him step down as university president in the near future.
After a rough (by Griz standards) 7-4 season in 2010, Pflugrad led the Grizzlies to an 11-3 season and FCS semifinal appearance in 2011.
Pflugrad was also named Big Sky Conference Coach of the Year in 2011.
Athletic director Jim O'Day will also be a huge loss for Grizzly athletics. There is a reason why Montana athletics have been so successful in recent history, and the athletic director takes a huge part. O'Day is arguably one of the most underrated athletic directors in Division I athletics.
With these credentials, something tells me Pflugrad and O'Day will not have a hard time finding new jobs elsewhere.
But for now, the Montana football program will look towards a long list of unknowns concerning the status of numerous players, and most notably a new head coach.
Finding a new coach will be an adventure in itself. Not too many prominent coaches will be bound to jump ship to a new program in the middle of spring football.
On Friday, Montana announced the selection of recently retired assistant coach Mick Delaney as the interim head coach.  Delaney has served as the running backs and associate head coach for the Grizzlies since 2007 with a coaching career spanning 44 years.
Also announced was senior associate athletic director Jean Gee as the interim athletic director.
As for the permanent head coach, there are rumors former Boise State and Colorado head coach Dan Hawkins may be a potiential candidate.  Other possibilities include former Eastern Washington and Washington State head coach Paul Wulff and Carroll College (MT) head coach Mike Van Diest.
But at this point, it's all aimless speculation.
I can't stress how disappointed I am to be a student at the University of Montana the past few days. Then again, something tells me Montana will get through it. The Grizzles have won two FCS national championships (1995 and 2001), made seven FCS national championship appearances (1995, '96, 2000, '01, '04, '08, '09) and won the Big Sky Conference title 13 of the last 14 seasons.
That's a history to be proud of.
However, I am a firm believer that Engstrom made a huge mistake in firing Pflugrad and O'Day. Unless additional information comes out warranting the dismissals (which is very possible, and in that case I will admit I was wrong about the situation), this was not the best decision for the well-being of Griz Nation.