R.A. Dickey: Why Unique Memoir of New York Mets Pitcher Should Be Respected
March 30, 2012

Marc Serota/Getty Images
Most memoirs of professional athletes magnify the highs of their career: what was going through their mind before they made the big play, how they worked tirelessly to achieve greatness and how the camaraderie of a particular team was distinctly special.
We, as fans, gobble up that stuff. 
What we also long for in athletic memoirs is to know the depths of someone, to know the athlete in a way that cannot be ascertained on ESPN, through Internet research or even through a segment on 60 Minutes.
We desire to know what the athlete is really like, which includes how they grew up, the people who've shaped them and even some of their darkest secrets and fears.
Most sports memoirs may have some of this sprinkled in, but it's usually featured at arm's length. Why is this? 
The reason is fairly obvious. For an athlete to really let fans into their world, they must let their guard down. They must take a step down from their heralded position as a professional athlete and humbly delve into aspects of their life they'd rather leave untouched.
This is what makes R.A. Dickey's memoir truly unique, because the inner crevices of Dickey's heart are profoundly exposed. He doesn't appear to just touch aspects of his life that have contained pain and confusion, he appears to wrestle with them.
Dickey's memoir, which was released yesterday, is receiving much publicity due to the fact that Dickey confronts the dark sides of his life. The most recent issue of Sports Illustrated includes excerpts, one of which details how Dickey experienced childhood sexual abuse.
What's more, according to the Sports Illustrated article, Dickey also honestly recounts family woes and failures as a husband and father.
Basically, Dickey doesn't merely peel back the veil over his heart, he rips it off and lays the inner confines of his soul bare.
There is something about this that should be deeply respected. We're prone to judge a memoir like this. Is it necessary? Does a guy like R.A. Dickey even deserve to have a memoir? 
Maybe he doesn't deserve a memoir that chronicles his knuckle-ball throwing baseball achievements (he's only won 41 career games and he's 37 years old), but his willingness to humbly expose his heart is more than deserving of a memoir, especially in a culture where broken relationships, stories of abuse and embedded fears are typically hidden and left unaddressed.
Dickey ultimately goes head-to-head with the flawed reality that is human nature. He does this by introspecting his life, and not just by introspecting the highs while burying the lows. In fact, he appears to do the opposite.
This willingness should be respected because it's a lesson we can all learn from. The SI article reveals how the reality of his sexual abuse was hidden in his heart for more than two decades. Dickey's first step towards recovery from this was finally confronting it.
While it's said to have taken Dickey heavy doses of therapy and faith, he's now come to grips with the abuse he suffered and its emotional damage. This creates a beautiful picture of a man who engages the wounds of his life head-on and in turn finds healing.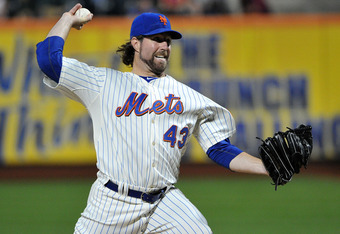 Christopher Pasatieri/Getty Images
For reasons such as these, Dickey's memoir is special, because it's something we can all relate with. While most of us haven't endured as dark of experiences as Dickey, we still have wounds hidden that haven't been confronted.
Dickey amplifies the purpose in exposing these wounds, leaving us with a hope that encourages humility and the desire for faith and truth.
Those are virtues that have greater value that any athletic exploit. Dickey's on a quest to experience such virtues, and the lessons he's learned along the way have lifelong value for us all.
This is why you should respect Dickey's willingness to write this memoir, because he's bravely humble and takes on the weakest parts of his soul. 
Dickey's memoir certainly appears to be different than what we're accustomed to, but before we begin questioning him, let's take a step back and admire his humble honesty.
More importantly, let's admire the message of hope he leaves.