Masters 2012: 5 Bold Predictions for Tournament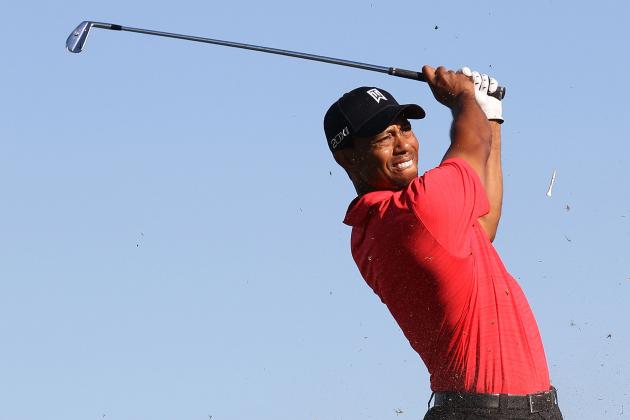 Sam Greenwood/Getty Images
Tiger Woods
It's that time of year again. Well, it's almost that time of year again.
In just a few days, honorary starters Jack Nicklaus, Arnold Palmer and Gary Player will hit their tee shots to begin play at the season's first major championship—the 2012 Masters Tournament. Close to 100 of the world's best golfers will gather at Augusta National Golf Club to compete for professional golf's ultimate prize.
The US Open, the British Open and the PGA Championship—yes, those are important. But the Masters—it's special.
The excitement surrounding this year's tournament is elevated largely due to the recent success of four-time Masters champion Tiger Woods.
For the past six months, the argument has been whether Tiger is "back" or not. But after his five-shot victory at the Arnold Palmer Invitational last week, the 72nd win of his historic PGA Tour career, few can deny that his game is in good enough shape to challenge for his fifth green jacket.
Here are five bold predictions for the 2012 Masters Tournament. You can be sure one of them is about Tiger Woods.
Begin Slideshow

»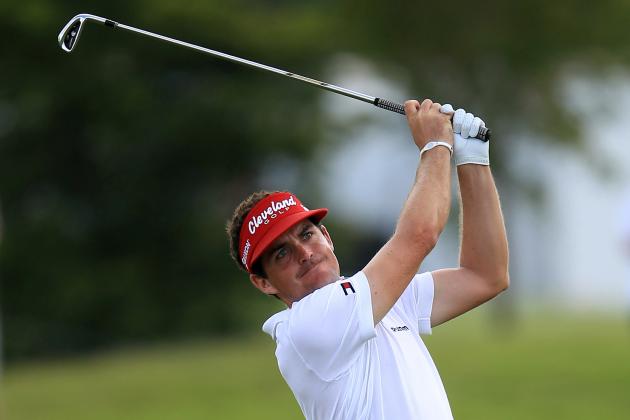 David Cannon/Getty Images

I know a lot of people, myself included, will be talking about Tiger Woods, Rory McIlroy and Phil Mickelson at this year's Masters Tournament, and that makes sense. They are three of the best players in the world and I expect them to be high atop the leaderboard on Saturday and Sunday.
But keep your eye on reigning PGA Champion Keegan Bradley, because he's going to be in the hunt throughout the weekend as well.
Bradley is a Masters rookie but he's been practicing at Augusta and grilling his pal "Lefty" about the golf course and how to play it. What better teacher than three-time Masters champion Phil Mickelson? Augusta is his playground.
The Masters prep will pay huge dividends for Bradley, the PGA Tour's reigning Rookie-of-the-Year. He's ready.
Bradley has been in the top 25 at seven of the eight tournaments he's played this year. He's in contention again this week at the Houston Open as I'm writing this.
I wouldn't be surprised to see Keegan Bradley among the first round leaders and I don't see him fading under the pressure. He's "been there, done that" as far as a Major championship is concerned. It doesn't mean he's going to win this golf tournament. It means he's going to come close.
Keegan Bradley will finish in the top five at Augusta.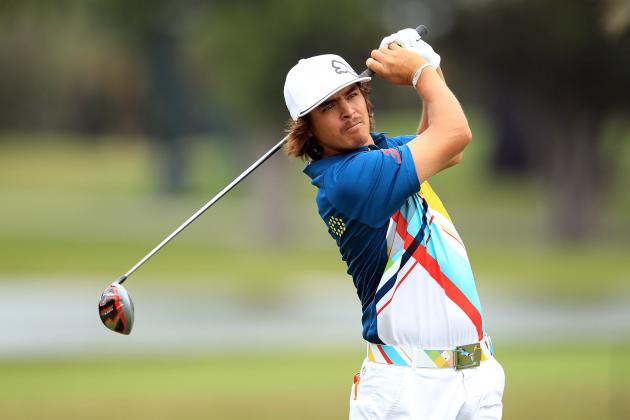 David Cannon/Getty Images

I don't know if the lofty expectations have gotten into his head or what, but Rickie Fowler is really struggling.
In seven tournaments so far this season, Fowler has only managed one top-10 finish—a T7 at the Honda Classic. The rest, outside of a decent T13 to start his year at the Farmers Insurance Open, has been forgettable.
He can get himself off the tee OK—he's currently sixth on the PGA Tour in total driving—but from there, it's been a hazy mystery.
Fowler is one of the most popular players on the PGA Tour, thanks in part to his outlandish wardrobe and swashbuckling style. He even managed to get his mug on the cover of the new Tiger Woods PGA Tour 13 video game.
The knock on Fowler used to be that he needed to get that first win out of the way. It's still an obstacle for him to overcome, but he isn't even coming close. Forget about winning, Fowler just needs to start thinking about top 20s and go from there.
It's not like he's never played well, though. I am always reminded of his stellar play in the 2010 Ryder Cup and last year's British Open, where he finished T5, as two examples. Fowler can get the job done, it's just that he's so darn inconsistent.
I like Rickie Fowler. He has a ton of talent and I hope he can pull himself together because he's good for the game of golf. He's a nice young man with a growing fan base and whether it's justified or not, he's one of the faces of the PGA Tour.
But based on what I've seen from Fowler so far this year, I don't see him doing well at Augusta. He struggled to a T38 here last year and I hate to say it, but I don't see him making the cut this year.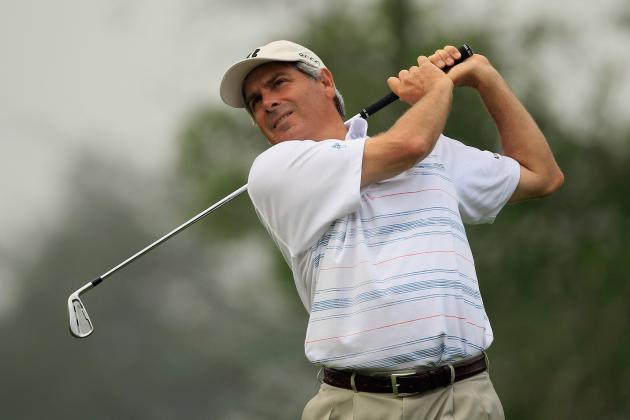 Scott Halleran/Getty Images

Fred Couples created quite a buzz at last year's Masters Tournament.
He got himself into the thick of things with a second round 68 before closing with scores of 72-73 to finish T15. But the very idea that the 1992 Masters champion could win at Augusta again was thrilling.
Couples is playing well right now. He won the Mississippi Gulf Resort Classic on the Champion's Tour last week and he's within striking distance of the leaders after two rounds at the Shell Houston Open on the PGA Tour this week.
He has momentum and he'll need plenty of it.
Couples is 52 years old and with his history of back trouble, he's a longshot to seriously challenge the immensely talented younger players in the field this week. It's survival of the fittest out there and Augusta National isn't exactly a walk in the park.
But the Masters can be had by someone who is past their prime. Just ask Jack Nicklaus, who at age 46 won his record sixth green jacket. Of course, a past-his-prime Jack Nicklaus was still better than most, but Couples is no slouch.
Wouldn't it be incredible if Fred Couples could pull this off? Now that would be a bold prediction.
But I won't go that far, as much as I would like to see it happen. Couples will create some excitement again this year and he will finish the tournament under par.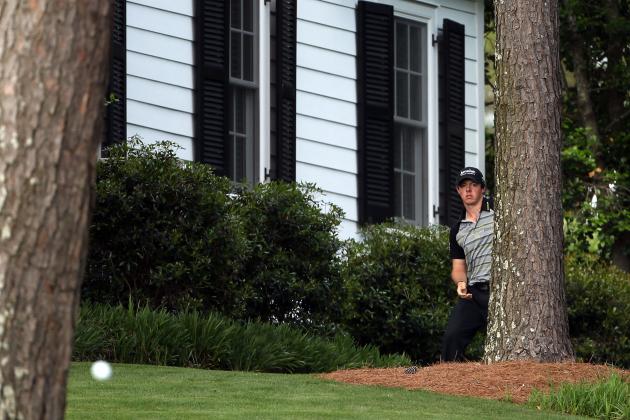 Andrew Redington/Getty Images

At the 2011 Masters Tournament, a disheveled Rory McIlroy emerged from the woods by Butler Cabin to the left of No. 10 at Augusta with a distant, almost shellshocked look in his eyes.
I remember thinking, "What is he doing over there? I've never seen anyone over there before." I figured he had to use the restroom. Then I got a good look at him and I thought he had been mugged.
His overnight lead was somehow slipping away along with his dream of winning his first major championship.
It was a disturbing image, one I'm sure McIlroy would just as soon forget ever happened. The poor guy was in the process of a legendary back nine meltdown—43 times he hit his golf ball that afternoon, including a triple bogey (7) at the aforementioned 10th hole.
To his credit, he gathered himself for a exemplary post-tournament interview, then he proceeded to win the US Open a couple months later.
Take that, Augusta? Well, not quite.
McIlroy has unfinished business here and his calendar has long been marked for a chance at redemption.
There are very few golf fans who don't want to see a Rory-Tiger showdown on Sunday afternoon. So, I'm going to give the people what they want.
Rory and Tiger will be paired in the final group on Sunday at the Masters.
I have often wondered how McIlroy would respond in a major championship, head-to-head situation with Tiger, who has far more experience in that arena.
Hopefully, I'm about to find out. I think he'll finish second.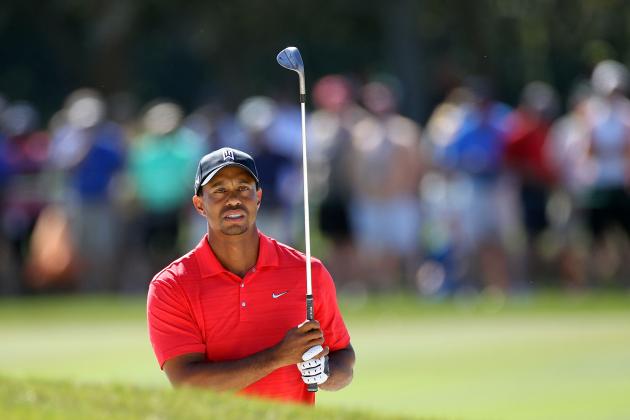 Sam Greenwood/Getty Images

I've been predicting it for the past few months: Tiger Woods will win the 2012 Masters.
The way Tiger was playing late last year at the Australian Open, at the President's Cup and of course, at the Chevron World Challenge, a tournament he won, I felt he was on track to get his game into shape just in time for the year's first major, the Masters Tournament.
Time flies when you spend each week writing about Tiger Woods. Several months later, here we are.
There were some bumps in the road, but his hard work has paid off. His outstanding play at the Arnold Palmer Invitational just over a week ago resulted in his first official PGA Tour victory since September 2009.
Aside from his closing round of 62 at the Honda Classic, it was the most consistent golf he has played in a long time.
Look at Tiger's stats right now—first in All-Around Ranking, Total Driving and Ball Striking, third in Scoring Average and fourth in Greens in Regulation Percentage. That spells success and Tiger is taking a ton of momentum into Augusta.
Sure, he'll need things to go his way. The putts will need to drop. He'll need to survive Amen Corner for four straight days. But I could say that same thing about any player who's going to win the Masters.
Tiger has more green jackets than anyone in the field and he's playing really well right now. End of story.