Wrestlemania 28: John Cena Must Cleanly Defeat The Rock in Miami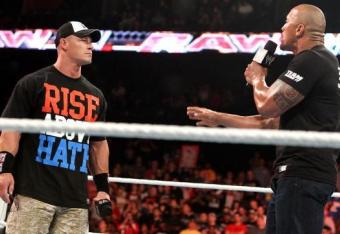 Photo source: WWE.com

After a year of hype and back-and-forth trash talk, when the match between John Cena and The Rock ends, there is only one possible finish—Cena must go over The Rock, and he must do so cleanly.
I don't care if you're a huge fan of The Rock, can't stand John Cena, or both. This is basic booking logic.
Like it or not, Cena is the top guy in the company.
CM Punk has generated a lot of momentum over the last year, but he is not at Cena's overall level of prestige yet. Cena moves a lot of merchandise and draws big reactions from the fans everywhere he goes. That is what makes him the top star, and is why he dominates the main-event scene.
In no way can you have have your top guy lose to a part-timer, even if that guy is The Rock and the event is in his hometown of Miami.
Cena may not be the freshest of names on the main-event scene, but at least he's a full-timer in the company, The Rock is not and will never be again.
So, you can't have The Rock come in and top Cena. That would be a gigantic step in the wrong direction in terms of booking.
Think about it this way: What does The Rock gain if he wins this match? It's not like he can use this match as a springboard to become a main-eventer. Shoot, even if he was coming back full-time, it's not like The Rock would be down to the mid-card with a loss vs. Cena.
Who will win at WrestleMania XXVIII?
In this business, you have to move forward, even that comes at the expense of one of your all-time greats. In this case, you can't move forward if the Rock is the man with his hand raised at the end of the event.
The fans in Miami will pack the stadium and come up with the "Rocky" chants, or will recite some of The Rock's catchphrases that he's used against Cena, and that's all well and good.
But these fans are either going to have to make their peace with Cena or leave Sun Life Stadium bitterly disappointed.
The only way this match can end is for Cena to win the battle of eras, just like The Rock did 10 years ago at WrestleMania X8. He can have his moments of offense, play to the crowd, and do nearly all of the same things that have made him a legend. The Rock just can't win, and that can't be rationally debated.
This article is
What is the duplicate article?
Why is this article offensive?
Where is this article plagiarized from?
Why is this article poorly edited?