Kansas City Chiefs: Boldly Predicting the 22 Starters for 2012 Season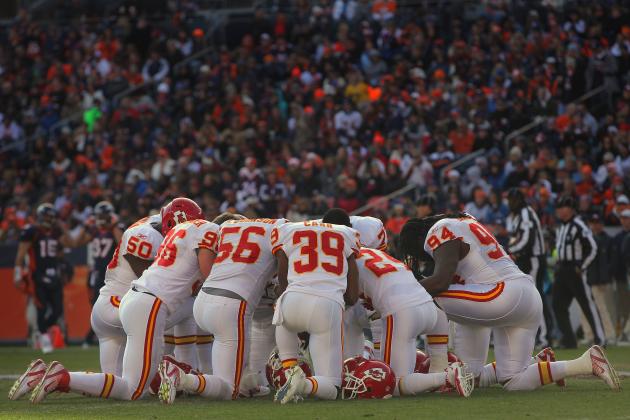 Doug Pensinger/Getty Images

With the month of March almost in the books, April is the biggest month of the offseason for football fans.
With the draft a month away, what will Romeo Crennel's starting lineup look like in Week 1 of the 2012 season?
In this slideshow, I will put together the 22 starters, predicting potential pickups from free agency and the draft. Let me know what you think!
Begin Slideshow

»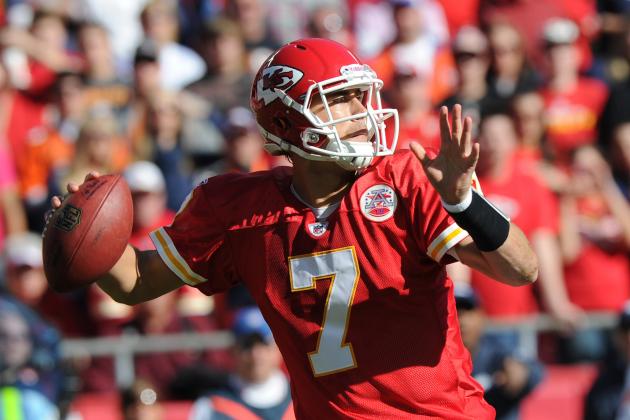 Peter Aiken/Getty Images

Some of these may seem obvious to many people. As for this call, some people will like it, and others will loathe it.
Matt Cassel will be the Chiefs' starting quarterback when the season opener arrives. Unless he gets hurt in the preseason, there is no way Brady Quinn and Ricky Stanzi are going to challenge Cassel for a starting job anytime soon.
Quinn has not played a game in over two seasons while Stanzi has yet to play a regular-season snap. Stanzi is a popular player in Kansas City because he was drafted from Iowa, a college a lot of Chiefs fans support. So the Stanzi love affair comes as no surprise.
Unfortunately, Hawkeyes fans need to understand that Stanzi was taken in the fifth round for a reason. He is going to serve as a backup and get some playing time in the fourth quarter when a game has been sealed.
Other than that, the Chiefs will build a football team around Cassel.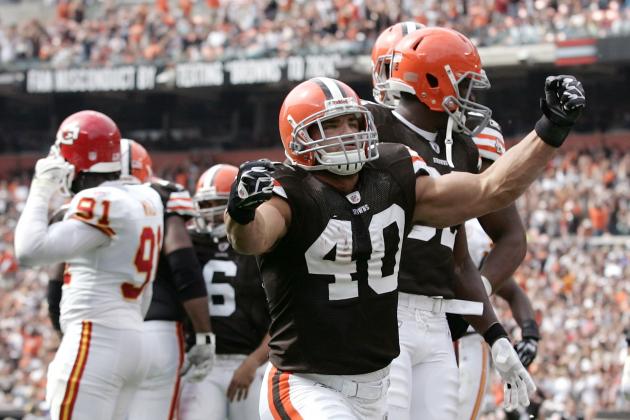 Matt Sullivan/Getty Images

Here is one position that will raise a lot of eyebrows. Chiefs fans are probably getting flashbacks of Thomas Jones and how Todd Haley handled the running backs in 2010.
Although Jamaal Charles was the better running back that season, Charles still managed to play well coming off of the sidelines and blazing through defenses for a large sum of yards.
If Peyton Hillis starts things off with a couple of carries, Crennel and offensive coordinator Brian Daboll will then put Charles on the field to take over.
As long as Hillis is not leading the team in carries, unless it turns out that he is the better rusher, the Chiefs will make sure that Charles is getting most of the carries, which is ultimately what angered a lot of Chiefs fans in 2010. Jones had 15 more carries than Charles when he could not crack the 1,000-yard mark.
Hopefully this coaching staff will be smarter with the rushing attack and use it wisely.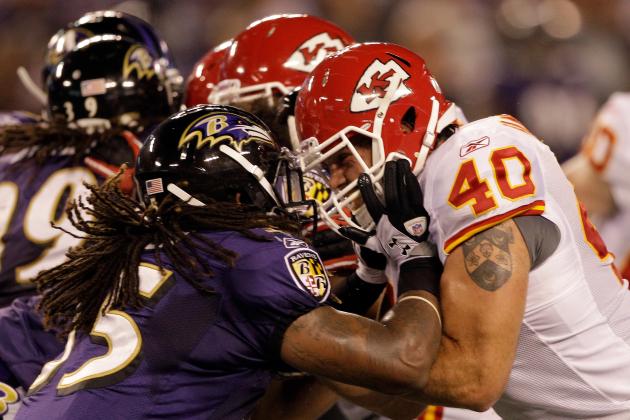 Rob Carr/Getty Images

Shane Bannon did not get a chance to show himself to the Chiefs during the regular season. With Mike Cox on the roster, the Chiefs snagged Le'Ron McClain and eventually released Cox and placed Bannon on the practice squad.
With McClain now in San Diego, the Chiefs should give the first Yale draftee a shot and put him in a place where he could go build holes for Hillis and Charles in 2012.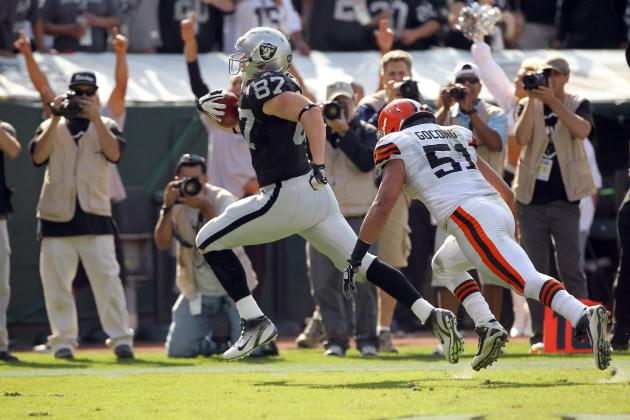 Ezra Shaw/Getty Images

Signing Kevin Boss this offseason was a very beneficial move for the Chiefs. The signing will help Tony Moeaki ease his transition back to football after missing all of the 2011 regular season with a torn ACL in the preseason.
The Chiefs are better off starting Boss at tight end over Moeaki. While Moeaki has the ability to be a good tight end, his past history of injuries, with his worst being last season, might prevent him from being great. In the short amount of time he has been in the league, Moeaki has missed more games than he has played.
With Boss entering a team that is surrounded with more talent, he is likely to succeed. He can help the Chiefs' passing game improve and help Moeaki prepare before his number is called.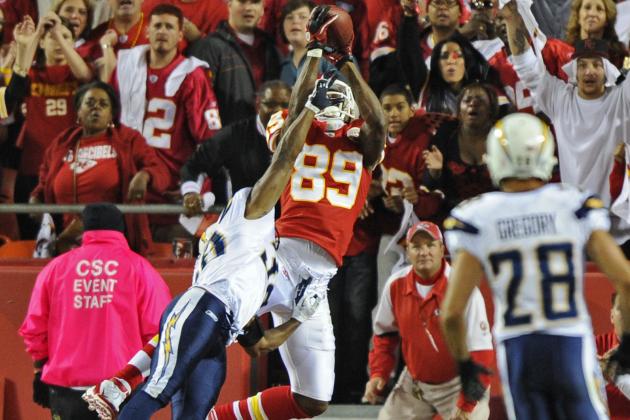 Peter Aiken/Getty Images

The Chiefs placed the franchise tag on Dwayne Bowe in hopes that he would return. In fact, he has to. Even when Bowe struggles, he manages to finish as Kansas City's top receiver. Therefore, the Chiefs need him to return.
For Bowe, he needs to focus and keep his head in the game. A lack of focus has prevented him from raising his level of play. If he can do so, the Chiefs will be dangerous on offense in 2012.
Jonathan Baldwin is a player Chiefs fans should be really excited about. Like Bowe, he needs to be smarter off the field after hurting his thumb over an incident off the field.
Baldwin caught 21 passes for 254 yards and one touchdown. If Baldwin gets to spend all of training camp practicing and learning the offense, he has the ability to be great and help Bowe carry the team through the air.
This would allow Steve Breaston to go back to the slot receiver position.
The Chiefs have a strong group of receivers who could surprise a lot of people in the league this season.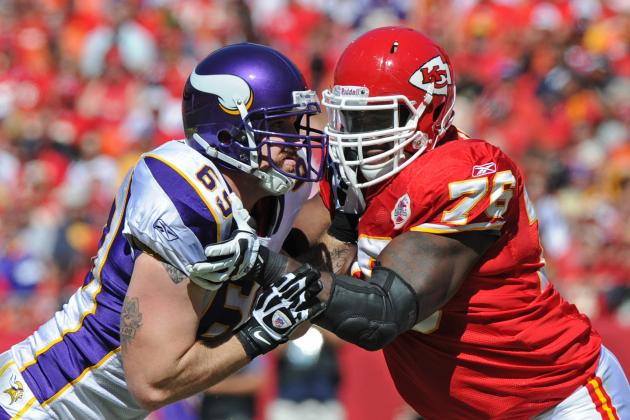 Peter Aiken/Getty Images

I know everyone wants to see Branden Albert play a different position. But he has spent four years playing left tackle in the NFL. Having him play a different position would be risky as it could cause him to step back and possibly hurt his career.
Albert is fine at left tackle, and there are no plans for him to move anytime soon.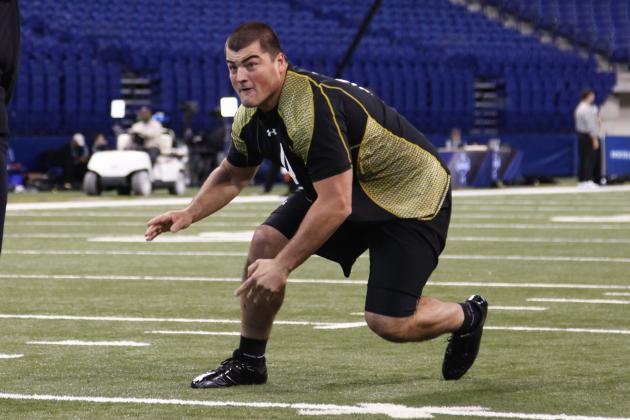 Joe Robbins/Getty Images

Can you compare David DeCastro to another top-ranked guard coming out of college?
With the way scouts describe DeCastro for his ability to block, he could build a career similar to Will Shields'.
DeCastro would be a great selection with the 11th pick, if he is available. If the Chiefs reach out to DeCastro and take him, he may help complete the rebuilding of the Chiefs' offensive line.
Although he is more familiar with right guard, shifting to the left is no problem for DeCastro. He could start and spend his playing time in the NFL at that position.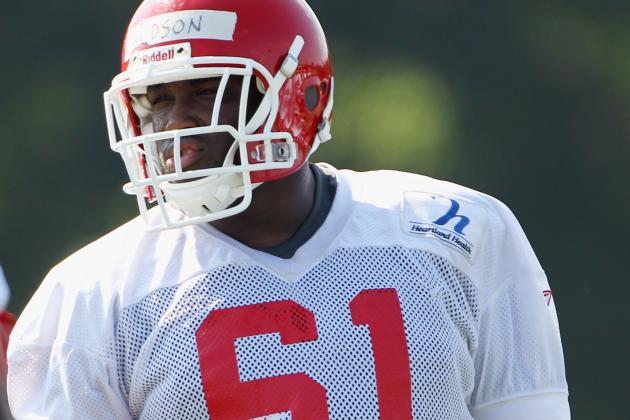 Jamie Squire/Getty Images

Rodney Hudson will have big shoes to fill after Casey Wiegmann played 10,141 consecutive snaps. Wiegmann has not been retained by the Chiefs as he will be 39 years old this July.
The Chiefs have likely parted ways with Wiegmann and are ready to let Hudson unfold his career at the center position.
Hudson was drafted in the second round in 2011 and hopes to help the Chiefs' offensive line improve in 2012.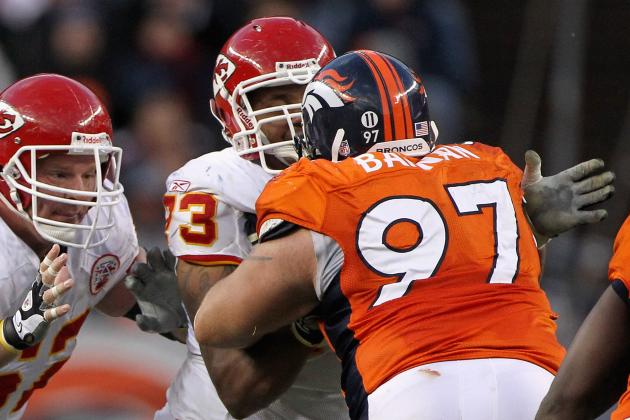 Doug Pensinger/Getty Images

With the departure of Brian Waters last year, Jon Asamoah got his career going at right guard when Ryan Lilja shifted over to left guard. Asamoah quietly played well and was one of the better linemen on the Chiefs' offense last season.
With Asamoah and DeCastro projected to start on this team, will there be any room left for Lilja? Lilja took a step backwards after a strong showing in 2010, his first season in Kansas City.
There might not be a place for Lilja in Kansas City if he is not okay with backing up another guard.
Bob Levey/Getty Images

Chiefs fans have labeled this as their favorite pickup this offseason when the franchise announced that Eric Winston was signed.
Winston had played right tackle for the Houston Texans since 2006 and has started 89 consecutive games. Winston stood by the franchise until they earned their first playoff appearance this past season.
Winston's release came to a surprise. General manager Scott Pioli took advantage of this move and landed Winston in Kansas City.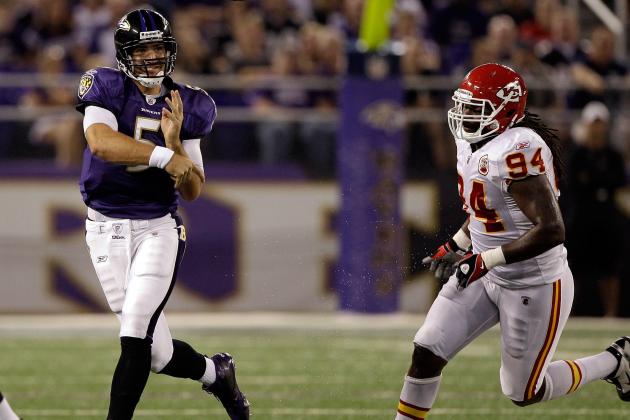 Rob Carr/Getty Images

Tyson Jackson has not been Kansas City's most popular player on defense because of the position he plays in the 3-4 system after being taken third overall in the 2009 draft.
Jackson lived up to Haley and Crennel's expectations in the past. With Crennel now the head coach, Jackson will more than likely stay at defensive end this season.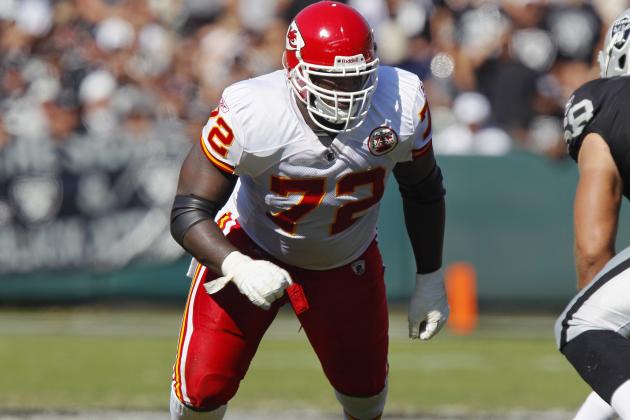 Brian Bahr/Getty Images

Glenn Dorsey's career as a defensive tackle did not last very long. With the transition to the 3-4, Dorsey is playing defensive end and has had his flashes.
He's been most serviceable when occupying an offensive tackle to allow outside linebackers go after the quarterback.
Dorsey has had his fair share of games where he has applied pressure on opposing quarterbacks, helping his defense get off the field sooner than expected.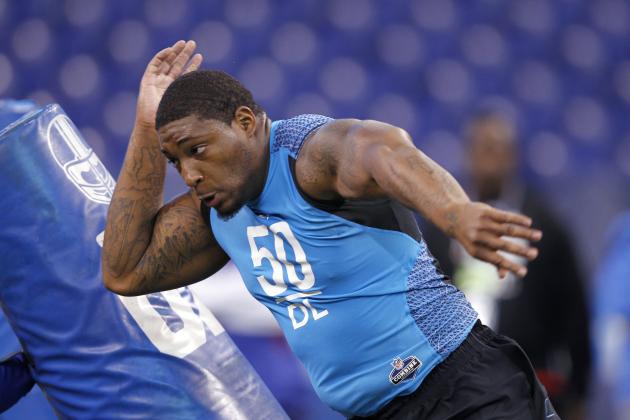 Joe Robbins/Getty Images

If the Chiefs can get a little lucky in the draft and have a certain player fall to their lap in the second round, they would like to have Devon Still as their new defensive tackle.
Still was an All-American while playing at Penn State and led his team in tackles for a loss with 17. Still anticipates that he can continue to play well against the run in the NFL.
If he can also provide a push through the middle in passing plays, Kansas City's 3-4 defense might be too much for quarterbacks to handle.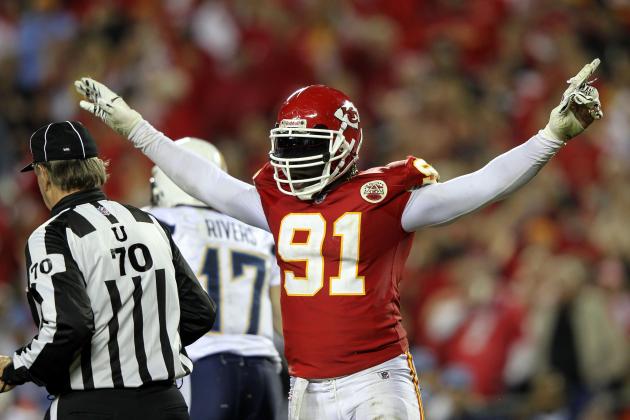 Jamie Squire/Getty Images

Tamba Hali is no longer the league's most underrated pass-rusher anymore after receiving a Pro Bowl invitation in the last two seasons. When Jared Allen was traded, Hali slowly climbed his way up as the team's top pass-rusher.
The Chiefs can rely on him to consistently make the effort to invade the quarterback's pocket and end a play sooner than the offense would like.
But while Hali was on his own, many wondered who would step up. Justin Houston had a strong rookie season and was able to prove his critics wrong. He showed he deserved to be taken sooner than the third round.
Houston recorded 5.5 sacks last season, all of them coming in the final five weeks of the season.
With Hali and Houston, the Chiefs hope to have a better defense and give quarterbacks trouble throughout 2012. These two players could very well make a difference for the Chiefs.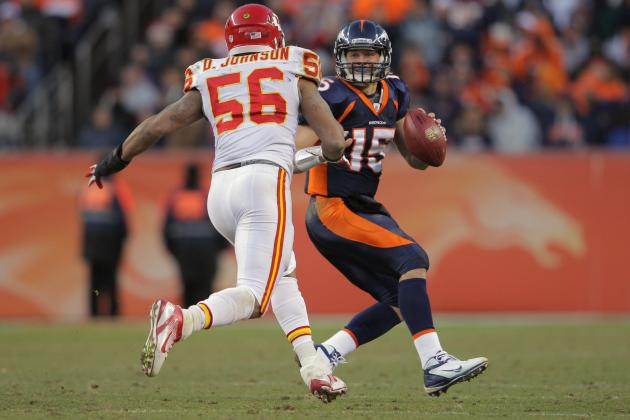 Doug Pensinger/Getty Images

Like Hali, Derrick Johnson has solidified himself as one of the better inside linebackers in the game today. He earned his first, long overdue, Pro Bowl ticket last season.
Johnson made himself noticed after being able to limit many running backs for a short gain.
Jovan Belcher is likely to return to the starting lineup, unless the Chiefs bring in competition for him. Belcher hopes to learn from Johnson and be a better player in 2012.
With Demorrio Williams released, it is becoming more likely that the second inside linebacker job will go to Belcher, since no one else would be worthy of taking over.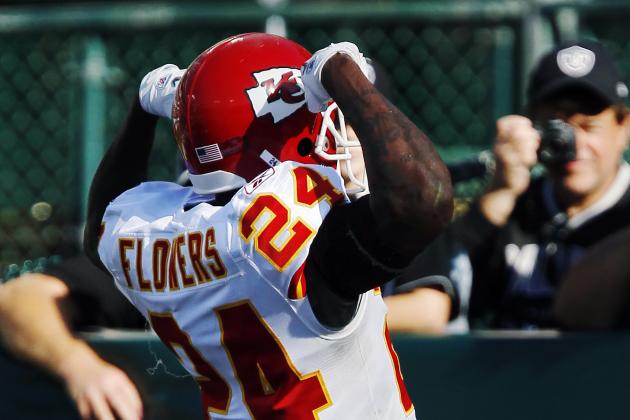 Brian Bahr/Getty Images

Although the Chiefs lost Brandon Carr to the Dallas Cowboys, fans should be excited to see what Brandon Flowers and Stanford Routt have to offer together as a team.
Flowers has been in the league since 2008 and has made himself a top-10 cornerback.
Routt has many good things going for him, but he has had a hard time avoiding the yellow flags. Playing for Crennel might be what Routt needs to become a complete corner in the NFL.
Ultimately, opposing offensive coordinators and quarterbacks will not want to face the Chiefs' defense when they have two very good cornerbacks.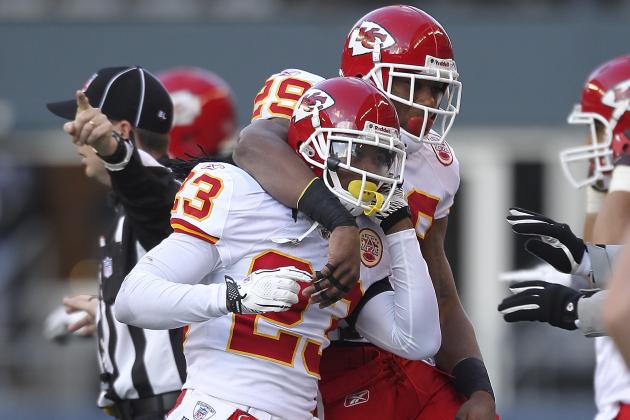 Otto Greule Jr/Getty Images

Kendrick Lewis stepped up in 2011 when he had to fill in for Eric Berry, who missed all of last season after an injury in the first half of the first game ended his year.
Lewis played and started all 16 games at safety in 2011 while the Chiefs juggled around with Jon McGraw and Sabby Piscitelli.
Once Berry returns, fans are hoping he can return and perform the same way he did in 2010, when he quickly made himself one of the best safeties in the league.