Asante Samuel Trade Rumors: Conflicting Reports on the Future of the Cornerback
March 29, 2012

Nick Laham/Getty Images
First he was headed to Tennessee. Then it was Detroit. Now it's possible the Eagles could cut him altogether. 
Earlier this morning a report from CSNPhilly.com's Derrick Gunn shed more light on the possibility of Samuel being moved to the Titans.
Not only that, but it appeared that a trade was imminent. According to the report,  "A league source tells CSN's Derrick Gunn that Samuel could be traded to the Tennessee Titans for a conditional third-round pick some time in the next few days."
Then, just as it appeared things were getting serious, Jim Wyatt of the Tennessean reported that the Titans were hardly interested in Samuel, especially for the price the Eagles were reportedly asking.
Wyatt stated, "The Titans aren't on the verge of trading for Eagles cornerback Asante Samuel, and any interest in the four-time Pro Bowler is lukewarm at best"
The reports kept coming. FoxSports Detroit reported that the Detroit Lions were in the mix for the 31-year-old corner. Of course, the Lions were a reported trade partner last offseason, but a trade fell through at the last minute when the Eagles and Lions couldn't agree on fair compensation.
According to FSN Detroit's Mike O'Hara, "The Detroit Lions have departed the NFL meetings in Palm Beach, Fla., with a buzz that their interest has continued in obtaining cornerback Asante Samuel from the Philadelphia Eagles."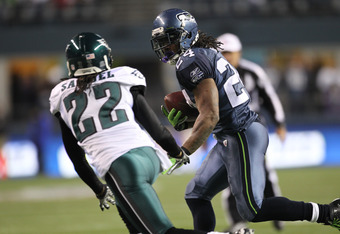 Otto Greule Jr/Getty Images
While these three reports were intriguing, the most interesting report on Samuel today came from Bob Grotz of the Delaware County Times.
Grotz theorizes that the Eagles will be happy just cutting Samuel and the $9.5 million he's due this season.
According to Grotz:
"It's going to be next to impossible to trade Samuel for much more than a bag of footballs. Which makes the proposed deal of Samuel to the Titans for a conditional third-round pick comical. Conditions? Maybe the Titans could pretend it's a third-round pick. If they feel like it, they could surrender a late seventh-round choice. Just don't tell anyone. There's your condition."
So, just when everyone thought the Eagles were going to steal a third-round pick from the Titans, it appears things could be getting ugly—fast.