CBI 2012 Scores: Championship Will Belong to Pittsburgh Panthers
March 29, 2012

Jim McIsaac/Getty Images
Washington State let a good thing slip away because there is no way the Pittsburgh Panthers will be turned away from the CBI Championship now. 
Game 1 told us everything we needed to know about where Washington State stood in the best-of-three title series. 
They staved off a hot Pittsburgh team and closed out in the waning moments, despite a near buzzer beater finish. 
The traveling Panthers were not going to go easy into the night and clawed back from a late 12-point deficit. A team that tenacious has to be put away immediately. 
Instead, Washington State dropped a close one in Pittsburgh and now has to deal with a Panthers team that now owns the whole of the momentum going into the deciding Game 3. 
Adding salt to an already gaping wound is the fact that Brock Motum may again be leaving a team that can go through dry spells all the more susceptible to scoring dehydration.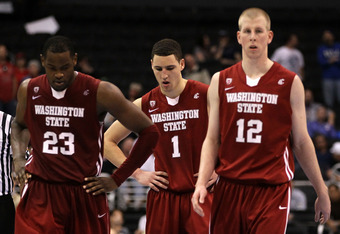 Jeff Gross/Getty Images
The junior forward averaged 18.1 points per game this season but is yet to feature in the CBI finals after suffering an ankle injury. 
The Cougars may again be a man down on Friday, and it's a rather crucial man at that. 
Pittsburgh is deeper and hotter at the moment, making it almost unfair that they will also have the privilege of yet another home game to close things out. 
The Panthers have a couple of guys that can beat you and have shown as much this week, with Tray Woodall carrying the load in Game 1's near victory and Talib Zanna coming off the bench for 14 points on 4-for-4 shooting in Game 2. 
Zanna also chipped in with eight rebounds to signal how deep this team is right now in all aspects of the game. 
The Cougars have to contend with a hobbled Motum and a surging Panthers team. In the end, it will be just too much for them to deal with.
Scores
Game 1: Washington State 67, Pittsburgh 66
Game 2: Pittsburgh 57, Washington State 53
Game 3: Friday, March 30th - 7:00 p.m. ET - HDNet